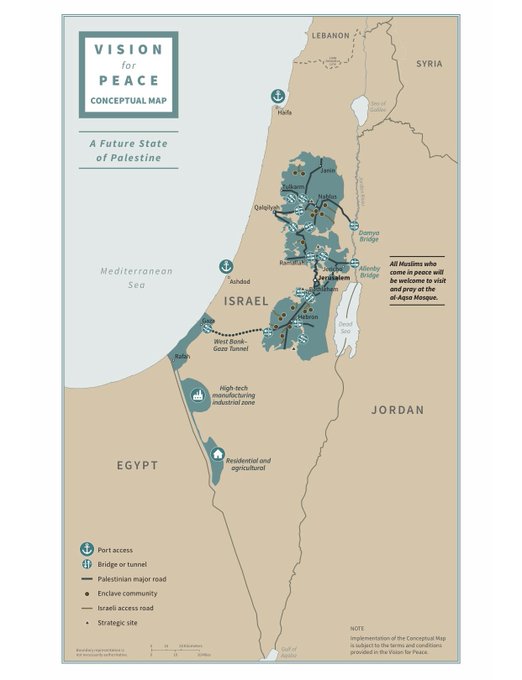 Not quite the deal of the Century of course considering that the leaders of the Palestinians continue to refuse to talk. What it is though is extremely bad news for that leadership.
This is the roadmap going forward regardless of their input. The all critical transportation corridor has been put into the whole plan. This makes it all feasible as it is the critical act of Nation building.
What remains now is just what sort of Nation will we have? An increasing number of Palestinians will soon enough be working in Israel as trusted guest workers. We presently have 48,000 doing this with as many doing it unofficially. It will serve Israeli interest to have many more do so.
With the corridor in place it is easy enough to declare the City of Gaza as a Palestinian Nation State along with some part of the West Bank. The rest of the land then can come under direct Israeli management. All this serves to provide citizenship for the Palestinians.
After that it is no trick at all to allow Palestinians to own land and to actually become a resident in Israel and leave it all at that. They can even insist on educational standards as well. All this diminishes the role of the Palestinian leadership.
All this can be
imposed.
And all the other Arab States have either signed on or remain neutral.
.
Revealed: Trump Releases 'Deal Of The Century' Map Of Future "Palestinian State"
by Tyler Durden
Tue, 01/28/2020 - 13:40
https://www.zerohedge.com/political/watch-live-trump-unveils-deal-century-peace-plan-netanyahu
update: Trump's 'Deal of the Century' unveiled less than an hour ago alongside Netanyahu at the White House is expected to be dead on arrival, given Hamas quickly officially rejected the peace plan according to Al Arabiya, and given the Palestinian Authority is certainly expected to do the same imminently. The full lengthy document detailing the deal has now been uploaded to WhiteHouse.gov.
"I want this deal to be a great deal for the Palestinians. After 70 years this could be the last opportunity" for Palestinians to have their own state, Trump said earlier. "My vision provides a win-win opportunity for both sides. A realistic two-state solution that resolves the risk of Palestinian statehood to Israel's security," the president said.
The road map to a two-state solution envisions a future Palestinian capital in East Jerusalem where according to Trump the US "will proudly open a US Embassy".
Donald J. Trump ✔ @realDonaldTrump
Replying to @realDonaldTrump
This is what a future State of Palestine can look like, with a capital in parts of East Jerusalem.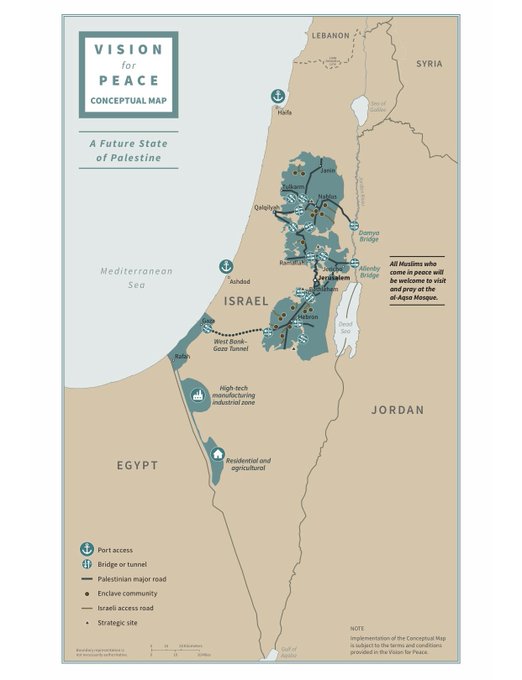 The president subsequently tweeted out a map of what a "contiguous Palestinian state" would look like under the deal, expected to take "years" to implement (during his unveiling the plan, Trump referenced a 10-year long path, making its actual implementation sounding even more unlikely - again given the Palestinians have long promised it's dead on arrival). Trump further promised the Palestinians will eventually receive "more than double" the territory they currently administer under the PA.
The obvious problem remains that it takes two sides to negotiate, and it doesn't appear the Palestinian side had any role in hammering out much less agreeing to the multiple significant "conditions":
"They called me from Washington and I did not pick up the phone," Abbas said. "I said no and I will continue to say no... We are going for difficult days and we are beginning to bear the consequences of the refusal. Resistance must be escalated at all points of friction. All young people must be encouraged."
This after on Monday Abbas was heard to have provocatively said "Trump is a dog and the son of a dog," according to The Jerusalem Post.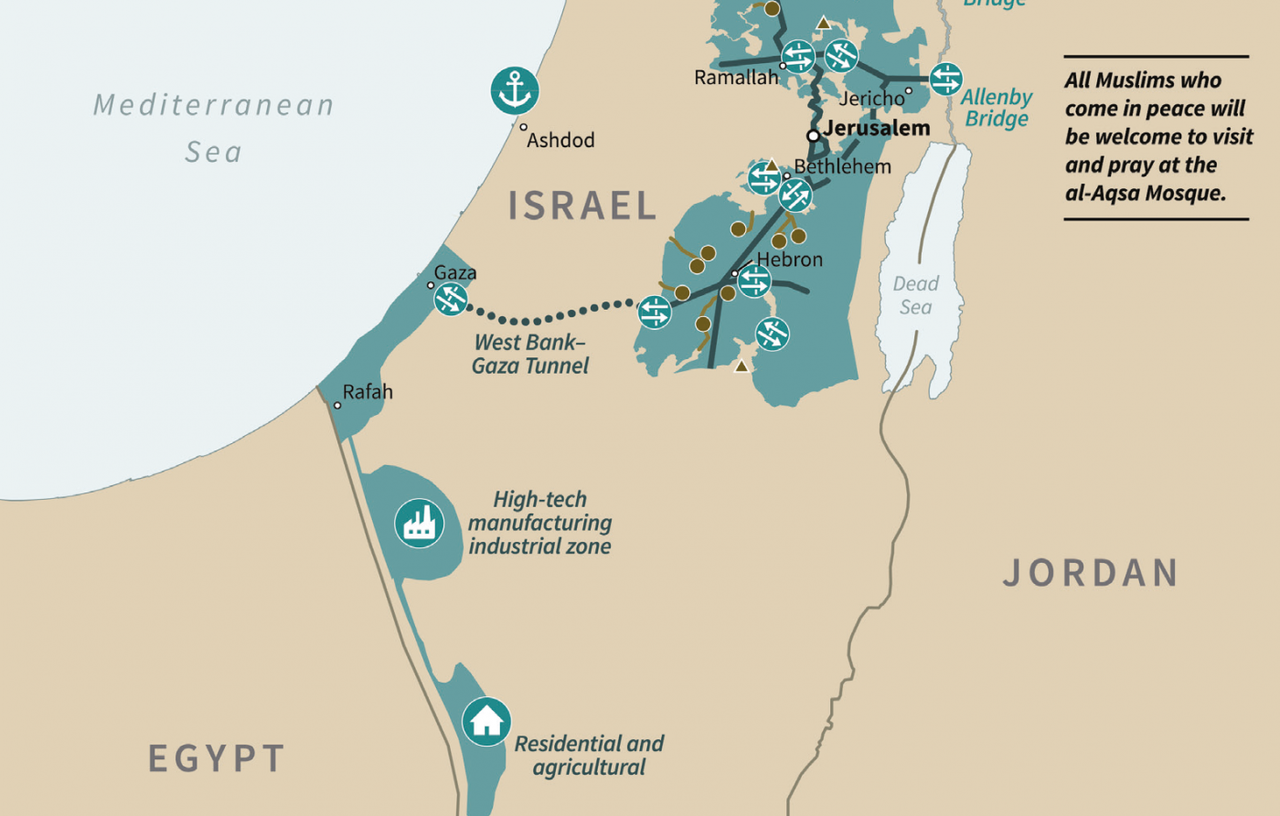 * * *
President Trump and Israeli Prime Minister Benjamin Netanyahu will be delivering joint remarks from the White House, scheduled for noon EST on Tuesday.
TRUMP PEACE PLAN CALLS FOR 2 STATES, ISRAEL AND PALESTINE: AP
Trump:
"I was not elected to do small things or shy away from big problems"
"This vision for peace is fundamentally different from past proposals"
80 pages are the "most detailed proposal every put forward by far"
Trump touted his experience as a "Deal-maker" and that what's being proposed is a win-win "two-state solution"
Both Netanyahu and Gantz willing to endorse vision as basis for direct negotiations with Palestinians. A joint US-Israeli committee will work on implementing conceptual map.
US will work toward recognizing contiguous territory within the Palestinian state "when conditions for statehood are met"
"Jerusalem will remain Israel's undivided capital"... "But that's no big deal because I've already done that for you…"
"We will not allow a return to… relentless bloodshed… we will never allow Israel to compromise its security."
"I want this deal to be a great deal for the Palestinians. After 70 years this could be the last opportunity" for Palestinians to have their own state.
Palestinian capital in East Jerusalem proposed in future where the US "will proudly open a US Embassy"...
No Israelis or Palestinians will be displaced from their homes. Palestinians' GDP will triple over next decade if peace plan conditions implemented.
Yesterday the president met with both Israeli Prime Minister Benjamin Netanyahu and Blue and White party rival Benny Gantz separately at the White House. Both have briefly paused campaigning ahead of Israel's March 2 elections.
Trump had sought to assure the press that the Palestinians would "ultimately" come around to giving their support, though statements of Palestinian leadership have made this highly doubtful.
"I think it might have a chance," he said Monday. Trump touted that both Netanyahu and Gantz "like very much" what they've heard of the plan thus far. President Trump described the plan has having been "many, many years in the making".
The administrations last big move, albeit deeply controversial, was to relocate the US Embassy in Tel Aviv to Jerusalem in recognition of it as the official Israeli capital in 2018.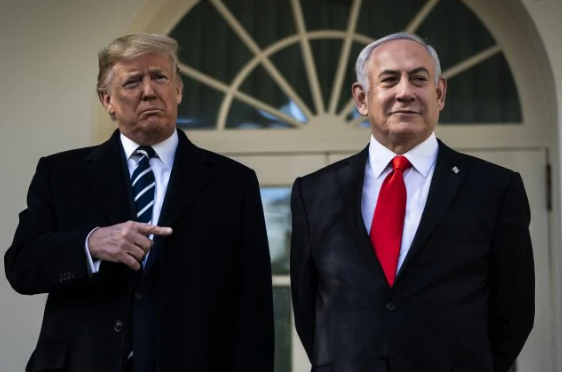 Netanyahu's arrival at the White House yesterday, via Washington Post.

"We'll see what happens," Trump said. "We have something that makes a lot of sense for everybody," the president added after describing that most people think of the prospect for Israeli-Palestinian peace as something impossible.

Despite Trump's measured optimism, Palestinian Authority leaders as well as Hamas have previously repeatedly said the plan would be dead on arrival.

For its part the Palestinian side has not been invited to Washington, and even threatened over the weekend to withdraw from key provisions of the 1993 Oslo Accords.