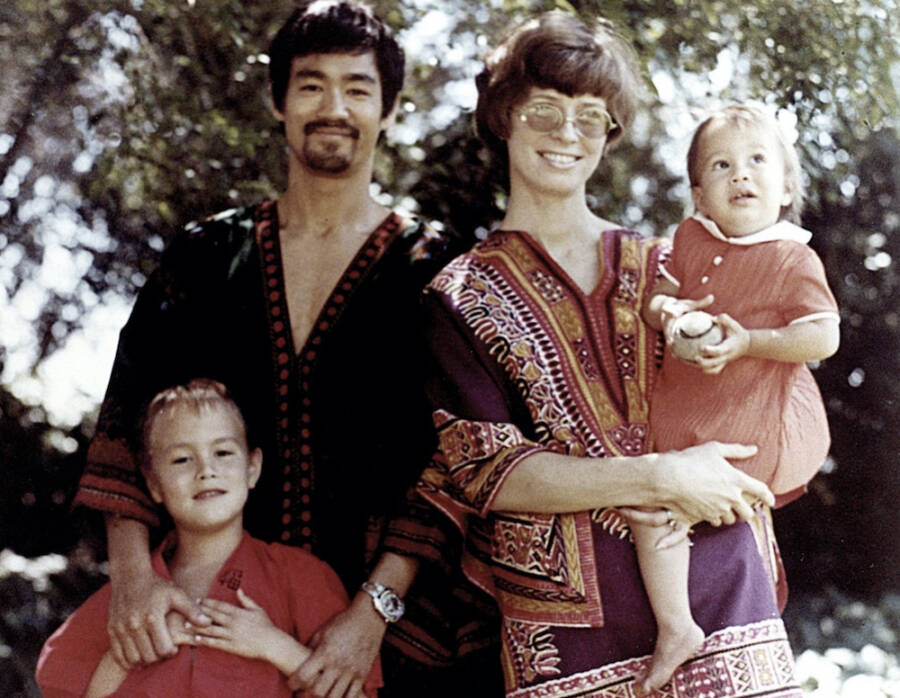 The tragedy of Bruce Lee is that we have so little of him and at 32, he was at his prime. No one knows why he died then.
Our bodies have small low risk vulnerabilities unless you train up to an atheletic peak. Which is why you need to retire before fifty to avoid something nasty. Peak performance typically runs from 32 through 42 for sports generally and a lot of that is experiencev driven.
His wife has made a life after him and that is as good as it gets and obviously something is been done to preserve his legacy. He certainly established a high bar for his disciples.
.
Inside The Little-Known Story Of Linda Lee Cadwell And Her Marriage To Bruce Lee
By Marco Margaritoff | Checked By John Kuroski
Published October 1, 2022
Updated October 26, 2022
From her time as Bruce Lee's wife to her work as a teacher and philanthropist, Linda Lee Cadwell has lived a life marked by great triumph and great tragedy.
Linda Lee Cadwell is many things: a devoted wife, a caring mother, and a proud life-long learner. Those who've heard of her know she was Bruce Lee's wife, but the now-widowed philanthropist can't — and shouldn't — be solely described as such.
The Bruce Lee FoundationFrom left to right: Brandon Lee, Bruce Lee, his wife Linda Lee Cadwell, and Shannon Lee.
She met Bruce Lee as a student of martial arts, a practice in which even the most dire-seeming situation often provides a hidden way out. Since then, she's not only survived the sudden loss of her husband in 1973 but also the shocking death of their son in 1993.
But like a true student of martial arts, she continues to evolve and flow through each new phase, however tragic.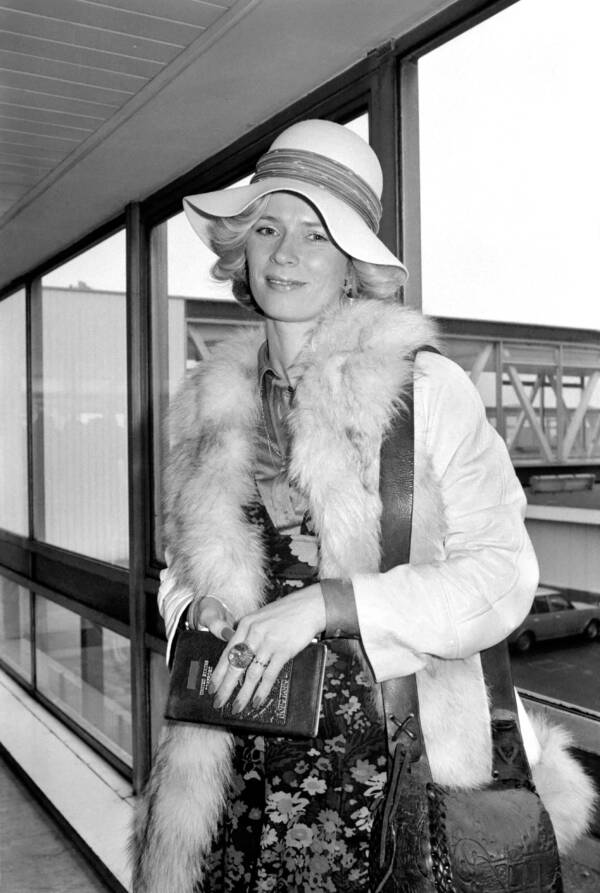 Linda Lee Cadwell at the airport in 1975 — two years after her husband died.
She's authored several books, most notably the bestselling Bruce Lee: The Man Only I Knew which was later adapted into a biopic called Dragon: The Bruce Lee Story. Linda Lee Cadwell used her personal tragedy to produce something that her late husband's fans cherish.
From grieving wife and mother to tireless humanitarian, her late husband's words certainly seem apt: "Do not pray for an easy life; pray for the strength to endure a difficult one."
How Linda Emery Met Bruce Lee
Before she was Bruce Lee's wife — and long before he ever made it to the silver screen — Linda Emery was a middle-class Baptist girl. Born on March 21, 1945, she was raised in the drizzly landscapes of Everett, Washington by parents with Swedish, Irish, and English descent.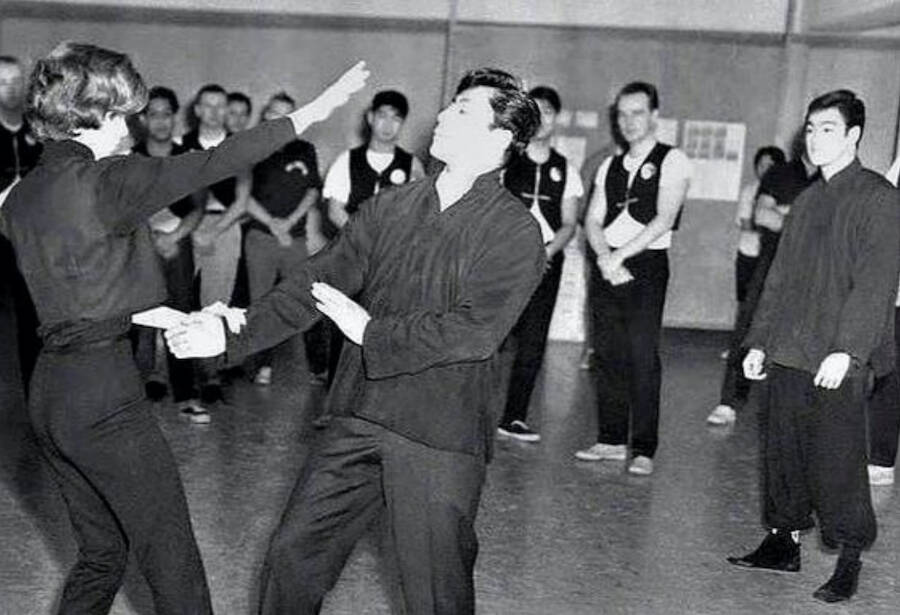 The Bruce Lee FoundationLinda Lee Cadwell (left) training with Taky Kimura (center) as Bruce Lee (right) observes. The couple married a year later.
She attended Garfield High School where she spent her after-school hours cheerleading. There, she saw interesting visitors from all walks of life stop in to inspire students. Her life changed forever when a young man named Bruce Lee dropped by for a martial arts demonstration.
Before his roles in Hong Kong cinema turned to Hollywood stardom, Lee was tinkering with his fledgling Jeet Kune Do craft — a martial arts style that employed Wing Chun for the physical aspect and philosophical musings to mold the mind. His demonstration at Garfield High stunned Cadwell.
"He was dynamic," she once told CBS News. "From the very first moment I met him, I thought, 'This guy is something else.'"
Linda Emery was so enamored by his intellect and physical mastery that she became one of his students upon graduating. She also enrolled at the University of Washington — which Lee had been attending already.
It didn't take long for the young romance to blossom into a lifelong commitment.
Being Bruce Lee's Wife
In the same year that Bruce Lee competed in the Long Beach International Karate Championships and performed the iconic "one inch punch," he tied the knot with Cadwell. On August 17, 1964, wedding bells tolled.
The happy couple had a small ceremony with few guests and no photographer for fear that their interracial relationship wouldn't be accepted. Shortly afterward and still a few credits shy of graduating, Bruce Lee's wife discovered that she was pregnant.
Her husband had been teaching martial arts for the last five years and opened his own school in Seattle called Lee Jun Fan Gung Fu — or Bruce Lee's Kung Fu. As Linda Lee Cadwell tended to home life, Lee refined his craft into a text called The Tao of Jeet Kune Do.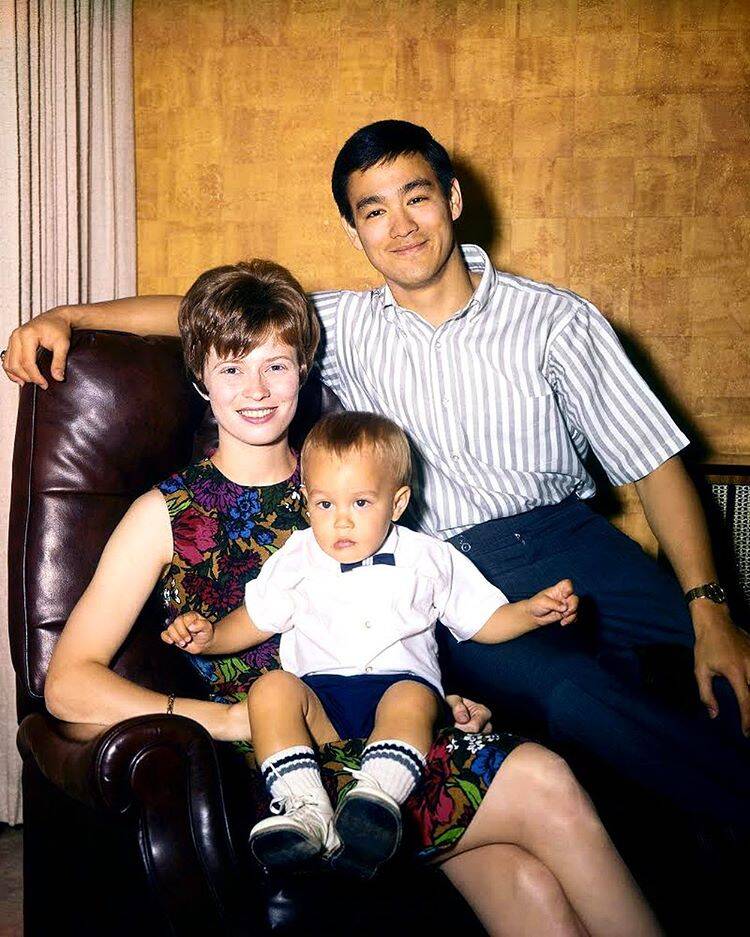 InstagramLinda Lee Cadwell was married to Bruce Lee for nine years. The pair had two children — with Brandon Lee pictured here dying 20 years after his father.
His exciting new blend of Wing Chun and Lee's philosophical contributions became increasingly popular and celebrities like Steve McQueen studied his teachings.
Their son Brandon was born in 1965. The next year, the family moved to Los Angeles. In 1969, they had another child, a daughter Shannon. Both children studied martial arts at a young age and grew up surrounded by their father's teachings.
Unfortunately for Lee's Hollywood prospects, no studio at that time wanted a Chinese man in a leading role, so he sought stardom in China instead. Cadwell, Lee, and their two young children moved to Hong Kong in support of his career.
"It was difficult for him to break into the Hollywood circuit as an established actor because of prejudice towards him being Chinese," said Cadwell. "The studio said that a leading Chinese man in a film was not acceptable, so Bruce set out to prove them wrong."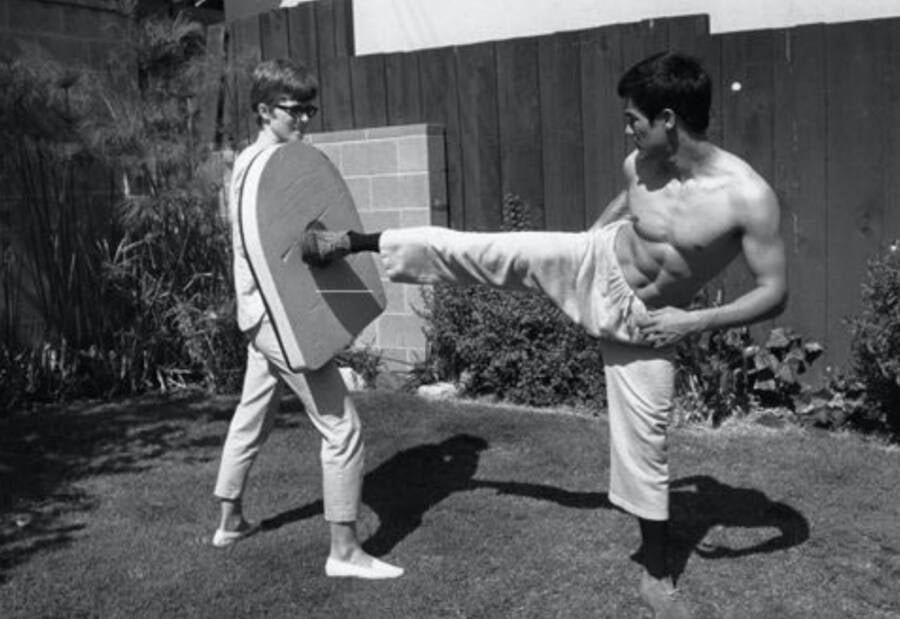 The Bruce Lee FoundationLinda Lee Cadwell helping her husband practice his kick.
Cadwell had a difficult time assimilating to Hong Kong culture but never wavered in her love for Bruce. Later speculation in the tabloids would label Lee a womanizer who tormented his wife with unscrupulous gallivanting. According to Cadwell herself, however, that was never the case.
"Having been married to Bruce for nine years and being the mother of our two children," she said, "I am more than qualified to give a correct recital of the facts."
Hard work and a lucky reversal of fortunes saw Lee blossom into a bonafide celebrity. The Big Boss took the world by storm in 1971 and the family soon settled back in the United States. Tragically, he would not get to enjoy his stardom for long, as Lee died on July 20, 1973. He was 32.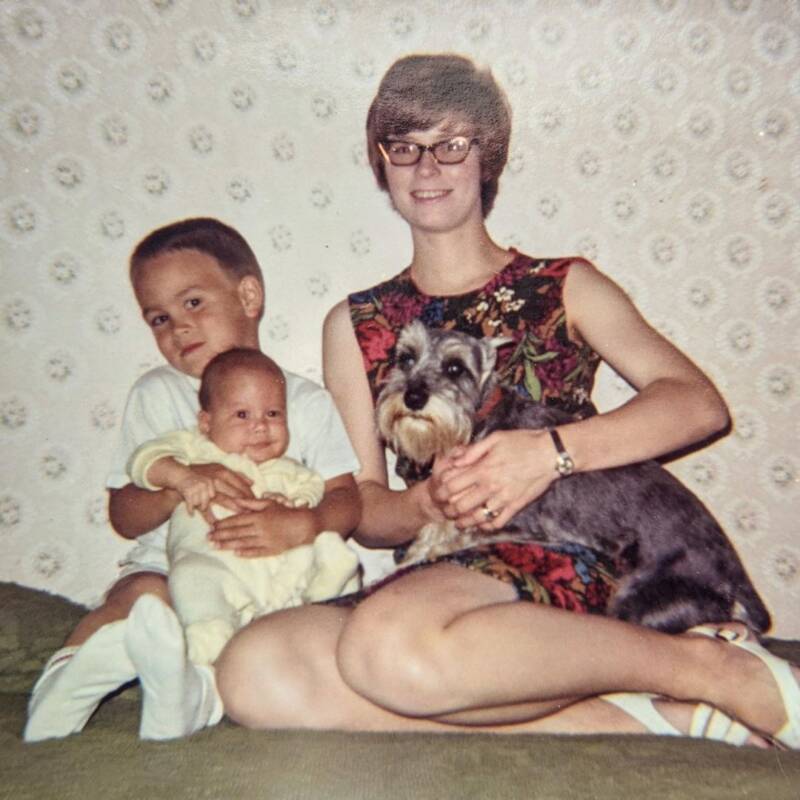 Linda Lee Cadwell playing with her son Brandon and baby daughter Shannon.
Linda Lee Cadwell was devastated. The press speculated endlessly about Bruce Lee's death, with theories ranging from heatstroke to murder. Lee had died in another woman's apartment, an actress he knew professionally — a fact which would only spark more rumors.
To process her grief, Cadwell wrote Bruce Lee: The Man Only I Knew two years later, which became a bestseller.
Unfortunately, Hollywood would soon be responsible for yet another familial loss — and far more directly.
The Tragic Death Of Brandon Lee
Linda Lee Cadwell married a second time in 1988, to Tom Bleecker. That partnership was shortlived, however, and they divorced in 1990. In 1991, she married stockbroker Bruce Cadwell and the two settled in southern California.
Meanwhile, her son Brandon Lee had begun a career in Hollywood. Like his father, Brandon starred in action movies that made use of his martial arts prowess. Brandon reportedly met with Marvel's Stan Lee who felt the young actor would be ideal casting for Shang-Chi.
Linda Lee Cadwell fondly remembering her years as Bruce Lee's wife.
However, at that time comic book movies were far from the juggernauts they are now, so Brandon Lee fatefully turned that role down in favor of starring in The Crow. That role cost him his life — when a stunt gone wrong saw Brandon Lee shot dead with what had appeared to be an unloaded prop gun on March 31, 1993.
Linda Lee Cadwell took years to reconcile what had happened to Brandon. After her son's death, she sued 14 entities and accused various crew members of not following standard protocol to ensure the safe use of firearms on set.
Her lawsuit alleged that after they ran out of dummy bullets, crew members used live ammunition to create a dummy bullet of their own instead of waiting a day to buy a new pack. Nonetheless, she threw her full and immediate support behind the ramshackle reshoots necessary to finish the film and see it released.
Though Linda Lee Cadwell was grateful that "Brandon was a young man who had found his own identity" separate from his father's shadow, her son's death remains unfathomable.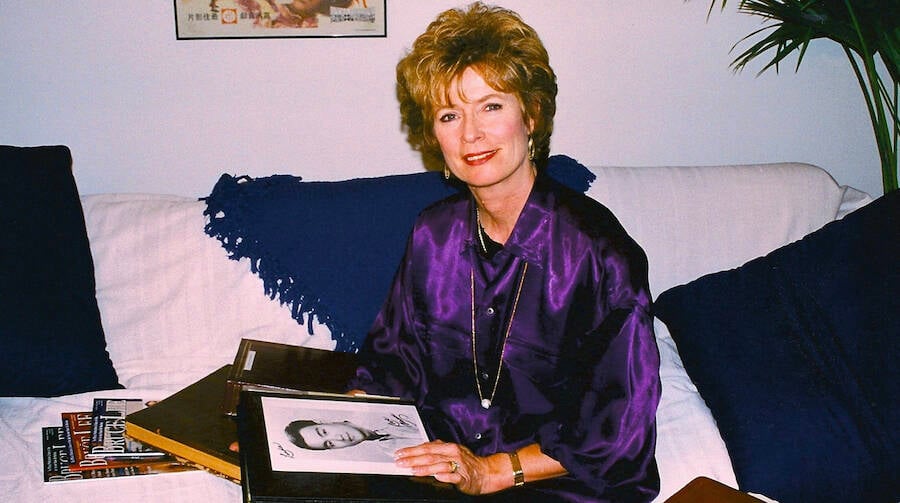 The Bruce Lee FoundationLinda Lee Cadwell lives in Boise, Idaho with her third husband, stockbroker Bruce Cadwell.
"It is beyond my realm of cosmic thinking to think that it was meant to be," she said. "It just happened. I'm not beginning to make sense of it. I just think we were fortunate that he had as many years as he did. They say time cures anything. It doesn't. You just learn to live with it and go on."
How Linda Lee Cadwell Moved On Following Two Terrible Tragedies
Ultimately, Linda Lee Cadwell focused on what she could change and completed her remaining college credits required to graduate. She went on to teach kindergarten. Her late husband's own philosophical musings suggested as much: "Adapt what is useful, discard what is not, add what is uniquely your own."
As for that latter part, Cadwell and her daughter Shannon Lee founded The Bruce Lee Foundation in 2002. She had just retired in 2001 and left the nonprofit in the hands of her last remaining child. Cadwell continues to serve as a Volunteer Advisor at the foundation, which runs various programs to spread Bruce Lee's philosophy and teachings.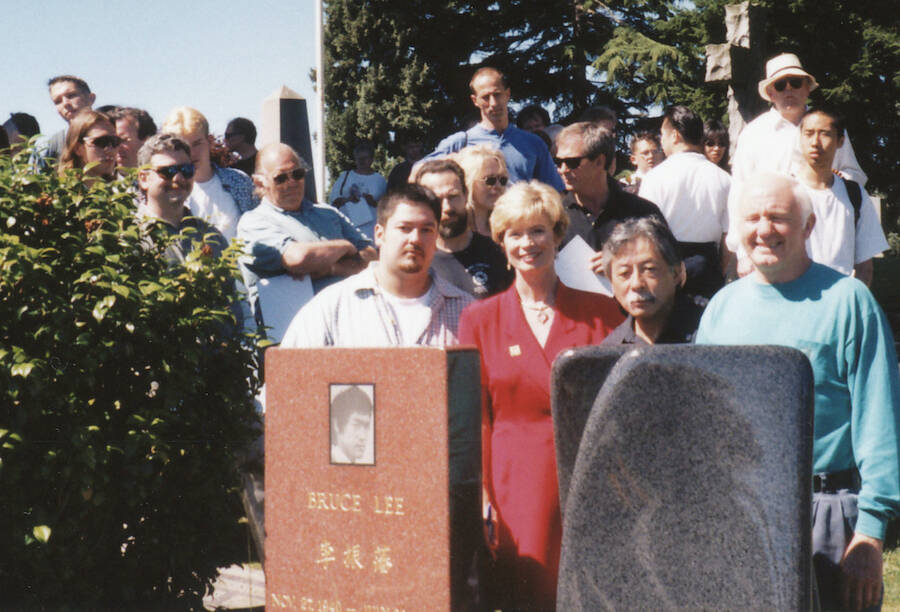 The Bruce Lee FoundationLinda Lee Cadwell and supporters of The Bruce Lee Foundation visiting the grave of the martial arts legend.
In the end, Linda Lee Cadwell is doing what she does best. Inspired by the strength and fortitude of her late husband and his teachings, she's adapting. As Bruce Lee inked in his Tao of Jeet Kune Do, "You must be shapeless, formless, like water like water."
Perhaps Linda Lee Cadwell put it even better, herself, in 2018:
"Life changes as you go along, and as Bruce always used to say, 'To change with change is the changeless state.' So it's like that water flowing – you never step in the same water twice in a river. It's always flowing. So you always have to go with the change."