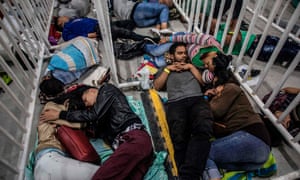 We gave been fed a lot of bunkum here whose intent it to rationalize the landing of USA troops. Other reports are saying nothing of the kind and even here we quote 1000,000 making it into Columbia. Any other direction is impossible. The real numbers are likely much lower and may actually be around a couple hundred thousand.
We have an apparent effort to remove Maduro who may or may not have been fairly elected.
What we now lack is real facts on the ground.. The whole situation can surely be settled since sanctions are actually blocking money transfers.
Venezuela: nearly 2m people have fled country since 2015, UN says UN refugee agency chief called for a 'non-political and humanitarian' response to the exodus
Agence France-Presse in Geneva
Mon 1 Oct 2018 18.10 BST Last modified on Mon 1 Oct 2018 18.32 BST
Nearly two million people have fled Venezuela's economic and political crisis since 2015, according to the UN which called for a "non-political" response to an exodus that is straining regional resources.
"Some 5,000 people are now leaving Venezuela daily – the largest population movement in Latin America's recent history," UN refugee agency (UNHCR) chief Filippo Grandi told the organisation's executive committee on Monday.
"A non-political and humanitarian approach is essential to help states receiving them in growing numbers," he added.
UNHCR spokesman William Spindler told AFP that 1.9 million people had left the country since 2015, an increase on a previous count of 1.6 milion.
According to the UNHCR, 2.6 million Venezuelans are now living abroad.
Grandi applauded Latin American countries for keeping their borders open, but said the regional response needed more "coherence". But the countries concerned also needed more support, he conceded.
Oil income-dependent Venezuela's economic woes began in 2014 with the crash in the price of crude.
Venezuelan president Nicolás Maduro's government has since been slapped with a range of sanctions over its crackdown on the opposition and civil society critics.