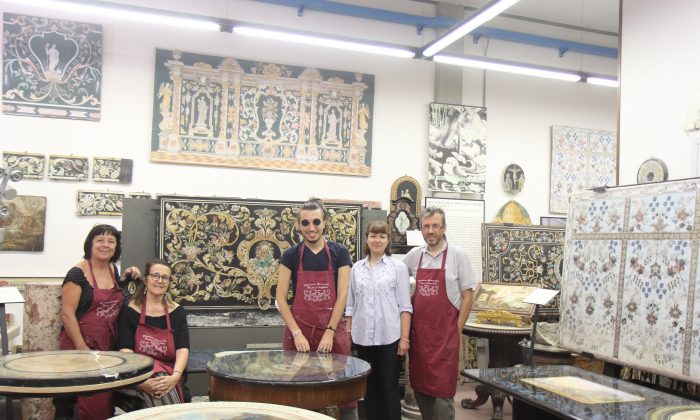 This is as it should be. The market truly wants this and will happily pay for it and it is hard to imagine a finer calling for a young artist. Now i want to see every art form so honored and every great master also so honored. The talent is out there, and we have many great masters whose work needs at least to be replicated.
This produces a large cadre of master artists as well whose own artistic vision may also surprise and certainly emerge.
This technique can obviously be reintroduced into all significant architectural work. The day is coming when we will start building magnificent Gothic Cathedral again throughout the world. Panels of this depicting sacred images would become welcome there to add to the panels under the stained glass windows at eye level.
.

The Bianco Bianchi workshop in Pontassieve, Italy on July 11, 2018. (L) Sylvia Berlincioni, Elisabetta Bianchi, Leonardo Bianchi, Paola Lupelli Bianchi and Alessandro Bianchi surrounded by historic pieces of scagliola. (Lorraine Ferrier/The Epoch Times) Art Lost, Then Found: The Story of ScagliolaPassion and perseverance in the Bianco Bianchi family workshopBY LORRAINE FERRIER, EPOCH TIMESOctober 4, 2018 Updated: October 10, 2018https://www.theepochtimes.com/art-lost-then-found-the-story-of-scagliola_2674796.html? PONTASSIEVE, Italy—Passion and perseverance are at the heart of the Bianco Bianchi workshop in the little town of Pontassieve, a short train ride from Florence. Bianchi (1920–2006) always had a passion for painting, and it was through his love of art that he dedicated his life to learning about and restoring the lost art of scagliola.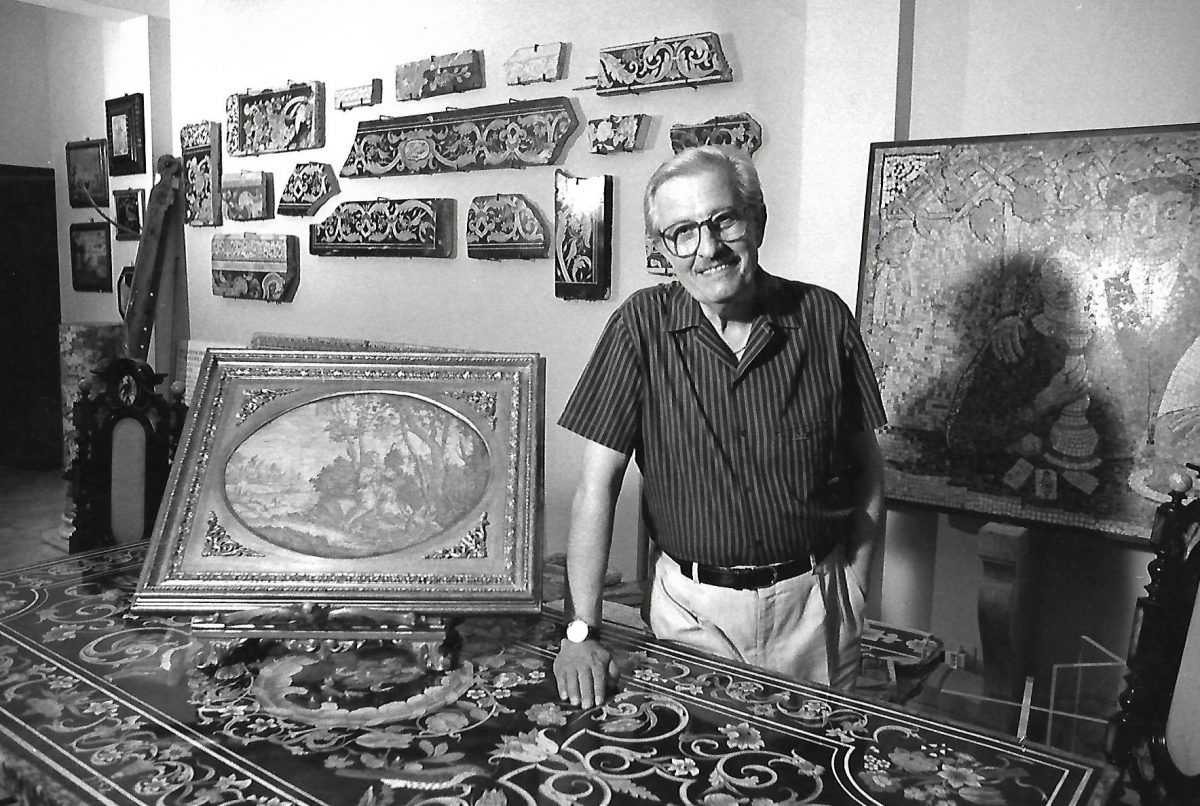 Bianco Bianchi (1920–2006) established his scagliola workshop in 1953 and dedicated his life to preserving the art. (Bianco Bianchi)Scagliola is a type of gypsum known as selenite. The stone appears clear and shiny like the light of the moon. Scagliola is also the name of the technique whereby selenite is ground into a powder and then mixed with natural glues and pigments to form a paste, which is then inlaid into slate, marble, or selenite itself.
Used since ancient Roman times, scagliola once illuminated the walls of the Circus Maximus stadium in Rome. Scagliola gained popularity in Carpi, Emilia-Romagna, in the 17th century, spreading to Florence and Tuscany in the 18th century, and then across Europe thereafter. Around the mid-19th century, scagliola disappeared.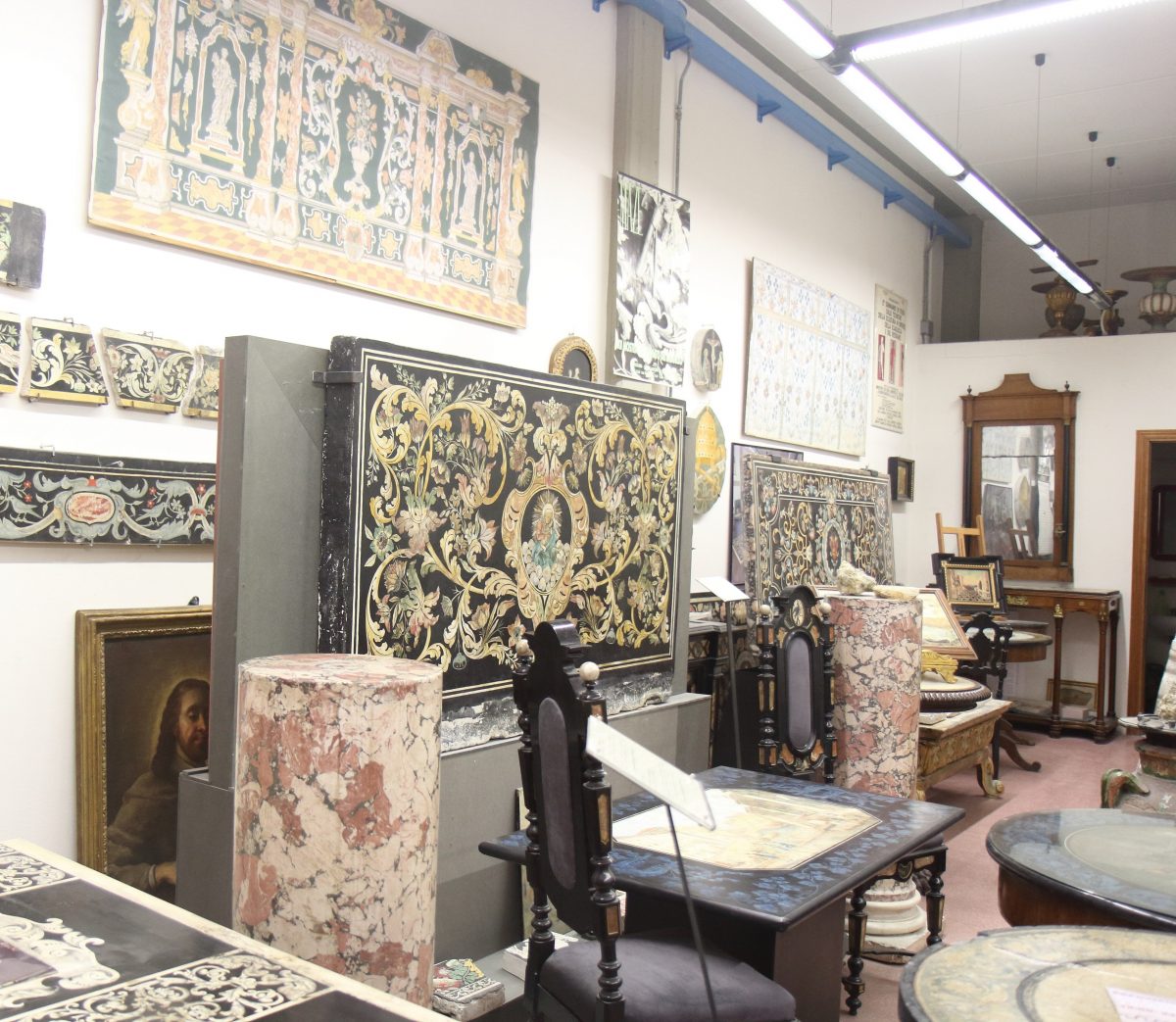 Historic scagliola pieces from Bianco Bianchi's personal collection at the Pontassieve workshop. (Lorraine Ferrier/The Epoch Times)With no living master to learn from, Bianchi began visiting churches and monasteries to learn from antique scagliola, and he began purchasing antique scagliola pieces at auctions. It was these masterpieces that served as his teachers. In the late 1940s, Bianchi began searching for formulas for scagliola mixtures. It took him a decade to perfect the mixtures.Bianco Bianchi became known to Giuliano Prezzolini, the son of the famous writer Giuseppe Prezzolini. The young Prezzolini, who had connections with Macy's, invited Bianchi to exhibit in the United States, and from this exhibition his fame grew, first in the United States and then Italy. Bianchi then left his desk job to dedicate his life to the art of scagliola, working until he was 82 years old. The company has made commissions for many famous customers, such as Their Royal Highnesses Prince and Princess Michael of Kent at Kensington Palace, opera singer Luciano Pavarotti, and Italian designer Gianni Versace.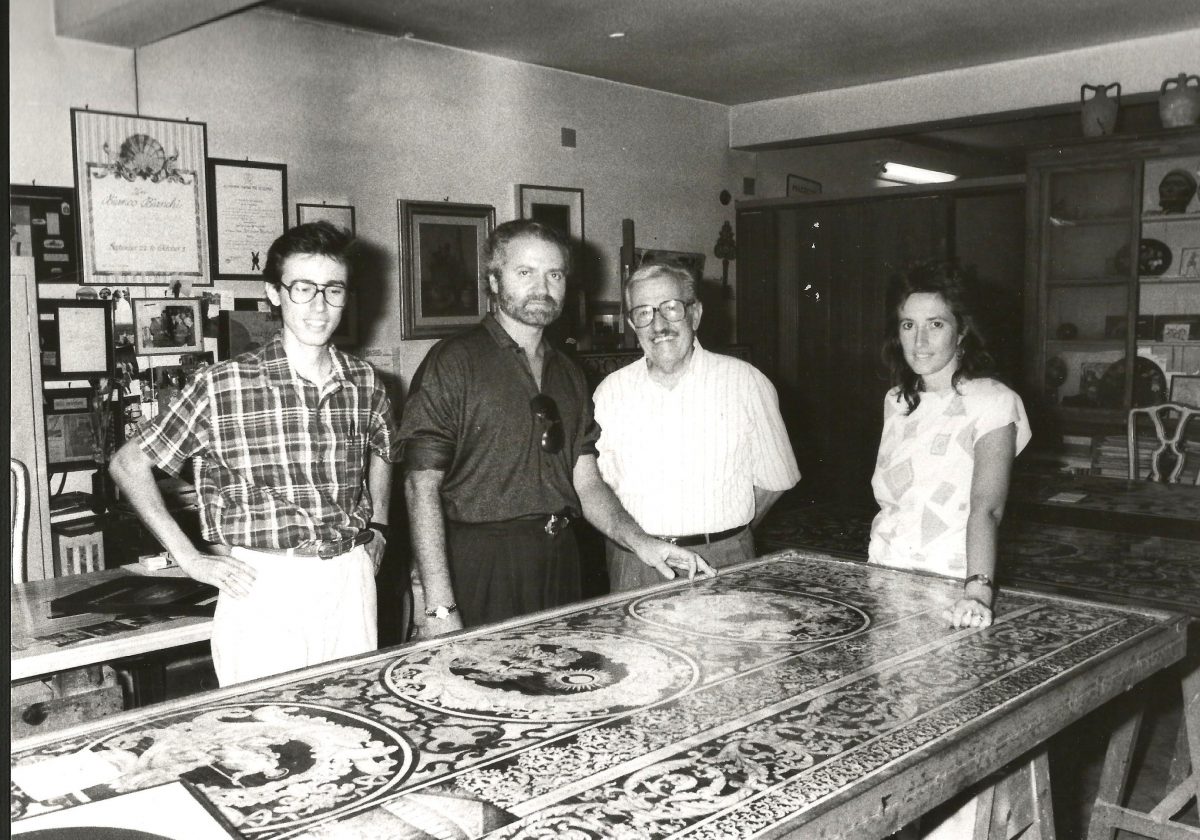 (L–R) Alessandro Bianchi, Gianni Versace, Bianco Bianchi, and Elisabetta Bianchi in 1987.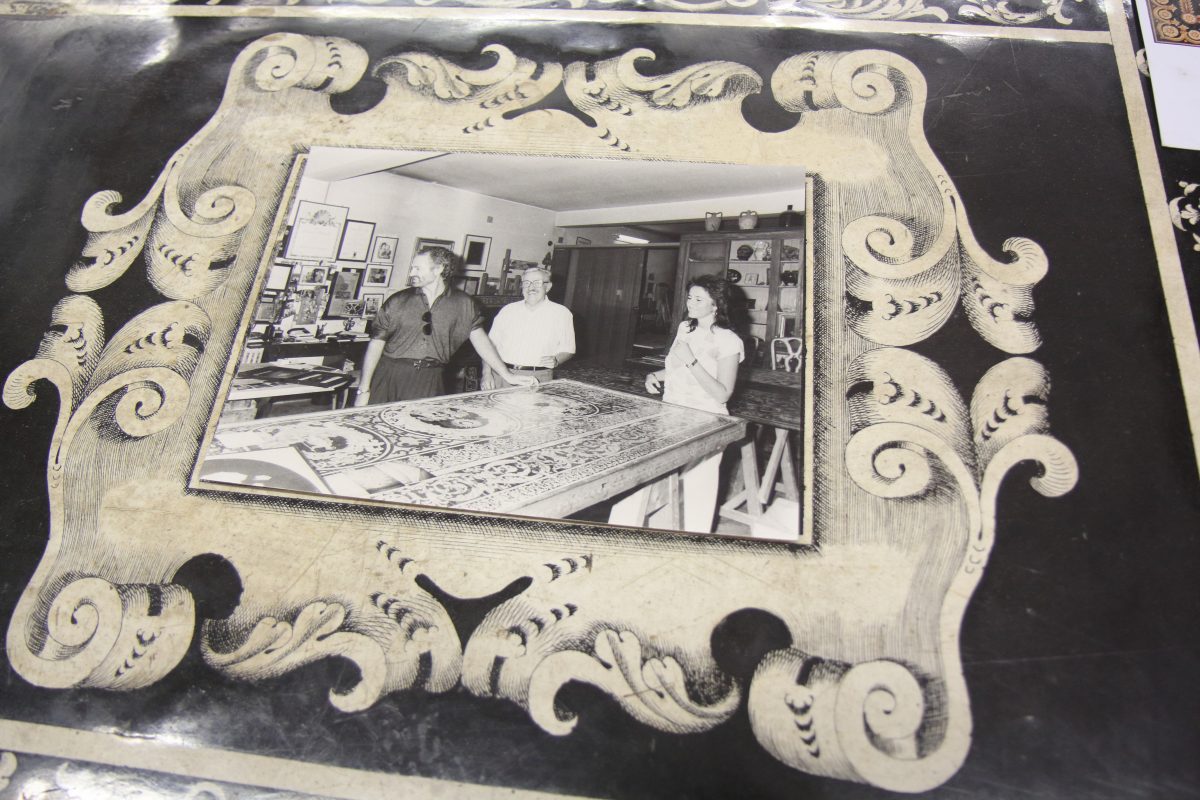 A photograph on a scagliola tabletop. The picture shows Gianni Versace with Bianco and Elisabetta Bianchi in 1987. (Lorraine Ferrier/The Epoch Times)Gianni Versace loved scagliola, and he commissioned many pieces for his villas in Lake Como in Italy, Miami Beach in Florida, and so on. Versace particularly enjoyed the baroque style and classical themes; indeed, it was Bianchi's image of Medusa that inspired Versace to use the mythical figurehead for his iconic brand. Bianchi and Versace became close friends, as did their families.Bianchi's passion for scagliola has been passed down through the bloodline to his son Alessandro and daughter Elisabetta and their families. In the Bianchis' workshop, they continue to make unique scagliola pieces, mainly with classical designs. Their scagliola can be found in the homes and businesses of famous clientele, such as the Sultan of Brunei in London, The Pierre hotel in New York, and Bergdorf Goodman in New York. Many unique objects are available for purchase in the workshop and online, or can be completely custom made.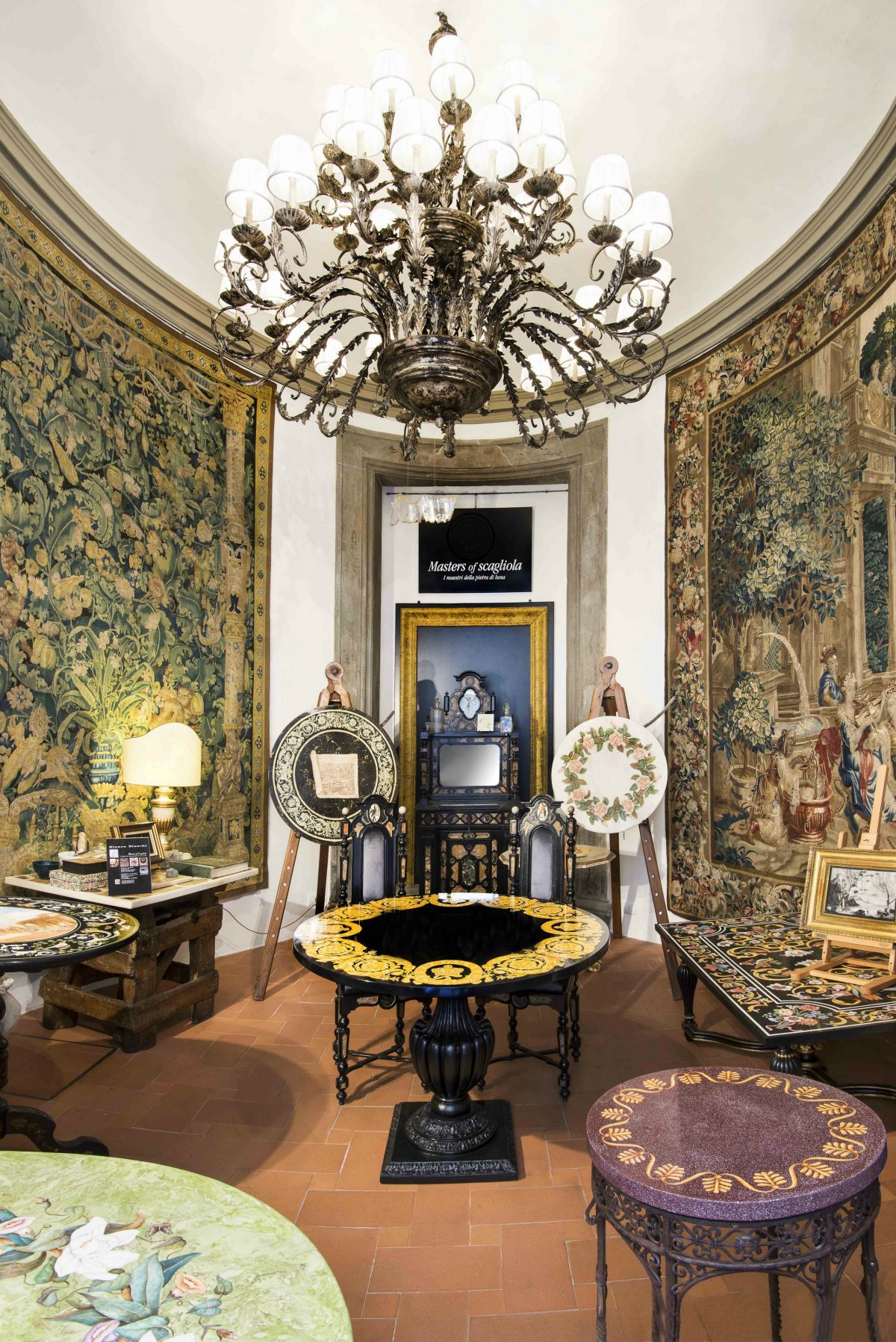 The Bianco Bianchi showroom in the center of Florence, Italy, near the Ponte Vecchio. (Bianco Bianchi) Below, Bianchi's family—Elisabetta (daughter of Bianco Bianchi), Alessandro (son of Bianco Bianchi), Alessandro's wife Paola Lupelli, and their son Leonardo—as well as longtime employee Silvia Berlincioni, tell us how they continue to promote and preserve the traditional Italian art of scagliola at their Pontassieve workshop.The Epoch Times: Please tell us about the Bianco Bianchi workshop.Alessandro Bianchi: Our scagliola pieces are not merely items you might find in a store. If we want to make a table, we need two or three months. Everything we do is done by working hard and with passion, so when an object is sold, we are selling a part of ourselves. Even for little items. We're not in an industry where we just produce objects one after another; we are not like a car company that produces identical cars. We customize, we follow our customers' requests, and we put our heart into what we do. It's not a process done with apathy.Our relationship with our customers is very important. The customer has to love art, be cultured, and appreciate this technique. We are talking about people who are interested in art, with a particular love for aesthetics.If this work is based on passion, passion also must reside in the hearts, in the souls, and in the minds of the customers who buy it. I always say, "We don't sell objects, we sell emotions"—the feelings that are behind the work.The Epoch Times: Who are your customers?Leonardo Bianchi: Designers, architects, and people who love art. We have English, American, Russian, and Arab customers. It's strange, but scagliola is appreciated more abroad, not here. It's hard to find Italian people who love this art.I think people here don't have much money to buy things, and don't care about art. They are only interested in visiting Florence and buying small objects as souvenirs. They don't have the passion to recognize the work behind this technique. But people abroad do, so they are our customers.For example, we recently completed a large tabletop full of scagliola flowers for the Houston Museum of Natural Science. They are placing it in a special room in the museum.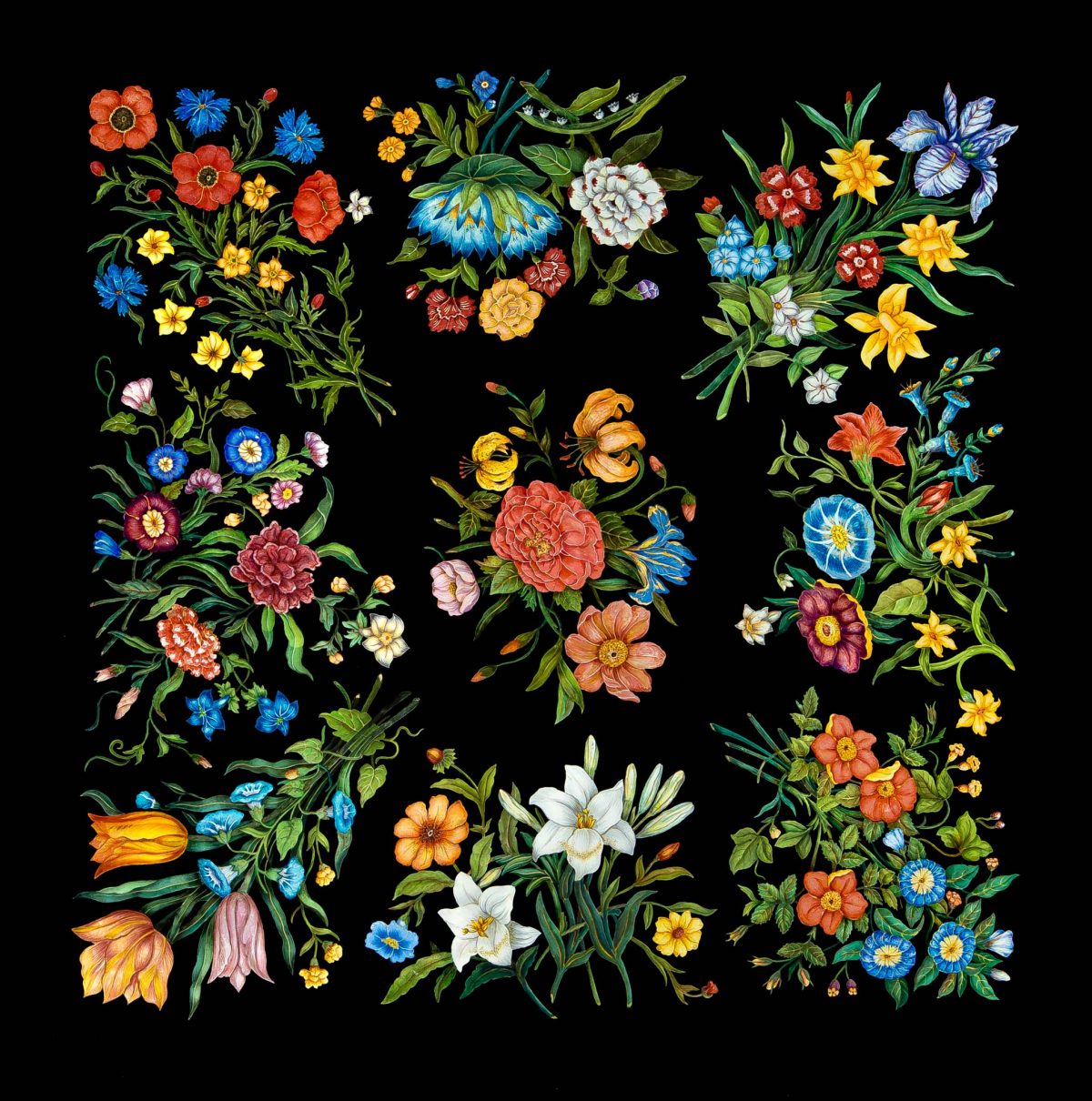 A 2018 commission for the Houston Museum of Natural Science; 55.12 inches by 55.12 inches. (Bianco Bianchi)The Epoch Times: What steps are involved in inlaying with scagliola?Mr. L. Bianchi: We want people to understand that here everything we do, we do by hand.Mr. A. Bianchi: The first step is drawing the design and deciding which colors to use. The colors we use depend on what room the object will be placed in. We give customers a small section of the hand-painted design as a sample, and then from that we know how to continue the work.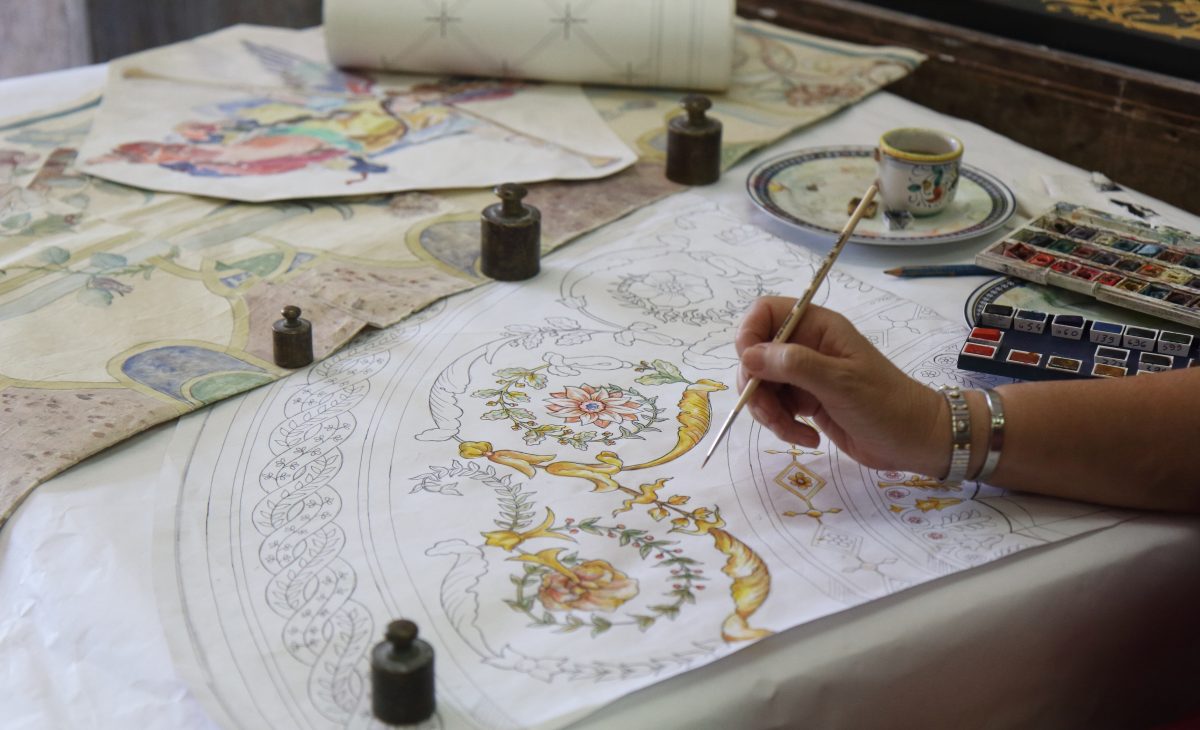 Elisabetta Bianchi paints a custom design. (Lorraine Ferrier/The Epoch Times)Mr. L. Bianchi: The next step is the inlay. Using chisels, the design is cut into a piece of marble, slate, or scagliola itself. The design is cut in such a way that when the colors are inlaid, they don't merge. It's a very delicate process; you must be highly skilled and very patient. Silvia is the best here. Observing the process, it looks like painting, but using these small heavy chisels, it's easy for your hand to slip.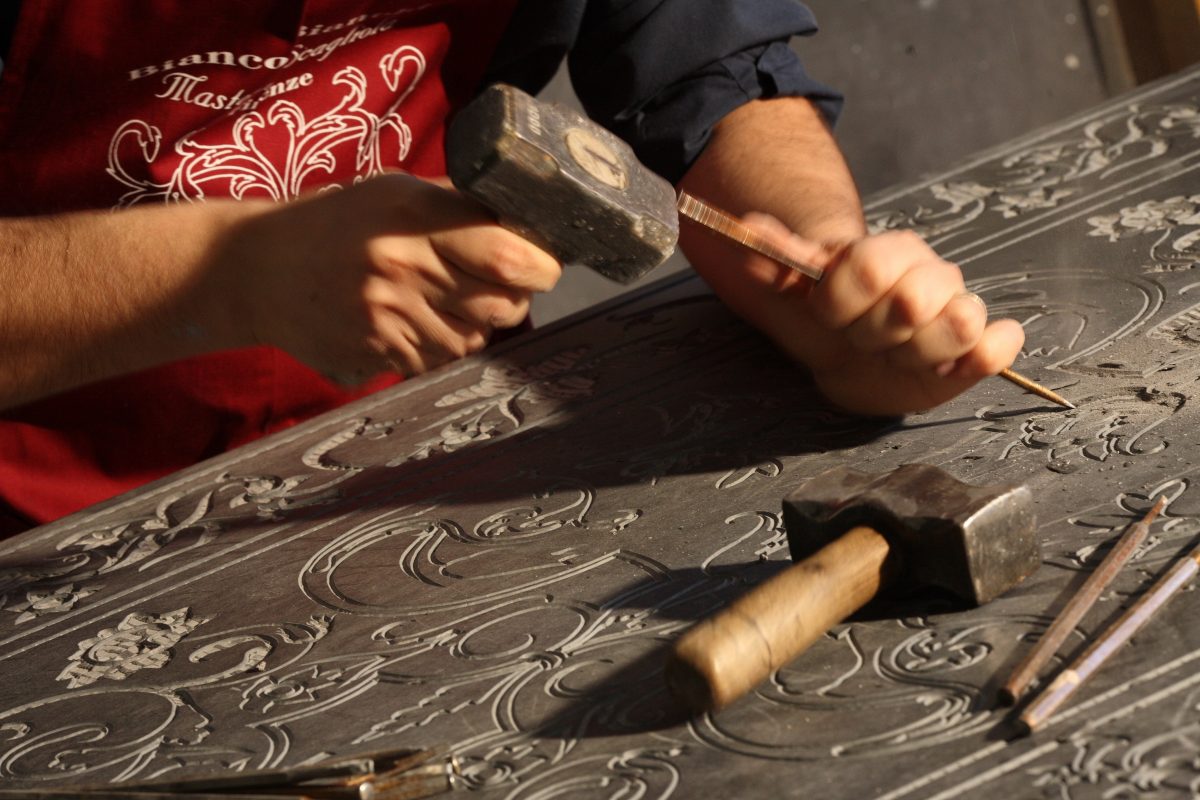 Alessandro Bianchi engraving a design in preparation for scagliola inlay. (Bianco Bianchi)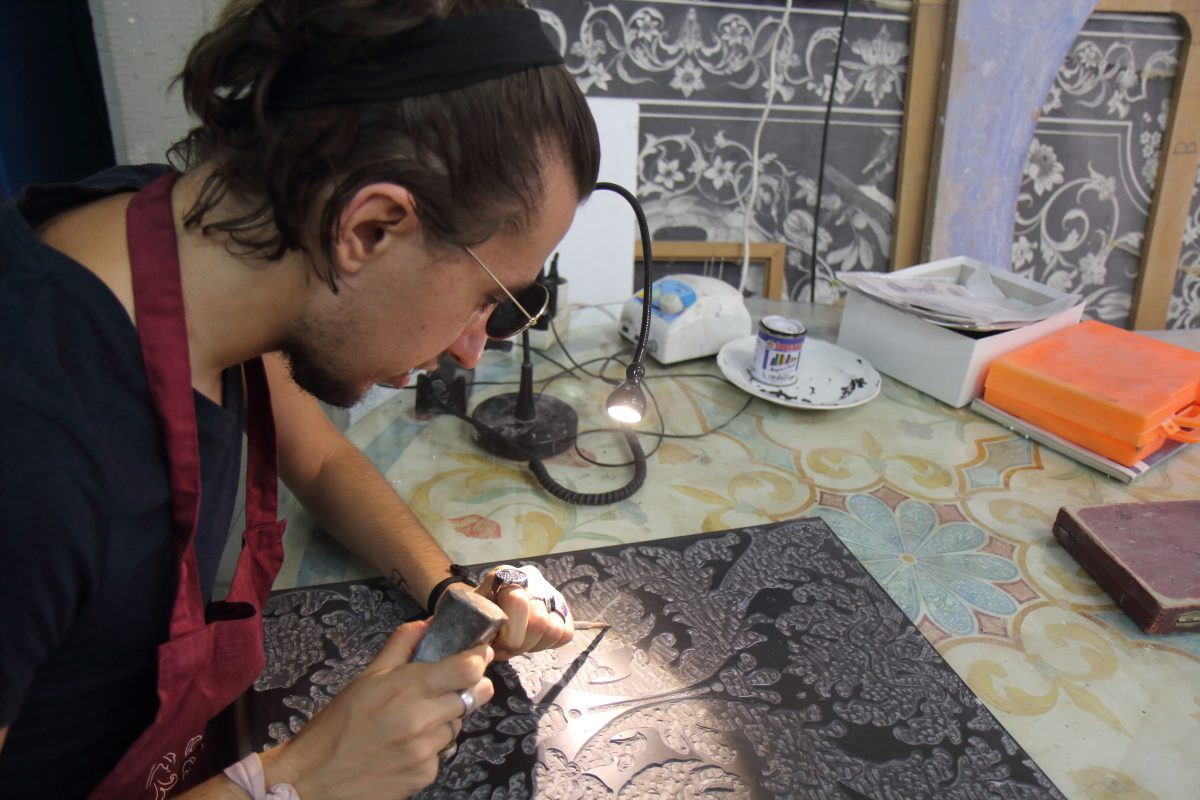 Leonardo Bianchi demonstrates engraving an intricate design into slate. (Lorraine Ferrier/The Epoch Times)The Epoch Times: Silvia, how did you start working at Bianco Bianchi's?Silvia Berlincioni: I came to Bianco Bianchi's workshop when I was very young. Bianco Bianchi said, "Copy by using your eyes." He started teaching me how to draw the designs, and when I learned that, I went on to learn the inlay, and so on. I did everything alone, step by step.
Mr. L. Bianchi: "Learning by watching" is the first thing that my dad said to me when I tried to learn scagliola. But I am quite impatient. I don't want to spend too much time watching. I want to do; I want to create.The Epoch Times: What have you learned through making scagliola?Mrs. Berlincioni: The most important thing in this work is passion and love, and I've always had a lot of love and passion for what I do. I did whatever Bianchi asked me to do. I didn't want to do anything for myself.I arrived here as a girl, and I have the same enthusiasm now as when I was that teen, some 40 years ago. Every object we make is different. I always want to develop and improve myself, even now that I am pretty skilled.The Epoch Times: How do you make the scagliola mixture?
Mr. L. Bianchi: The ground-down scagliola is mixed with water, glue, and pigment and then inserted into the slate, marble, or scagliola that was carved earlier.
Elisabetta Bianchi: When you mix the pigments with the scagliola powder, water, and glue, the color loses a bit of its strength. After it dries, it turns into a more natural color. The drying time depends on the season: In the summer when the temperature is high, it takes around two hours, and in the winter when it is colder and there's no sun, it may take eight hours. The finished product seems painted, but it isn't.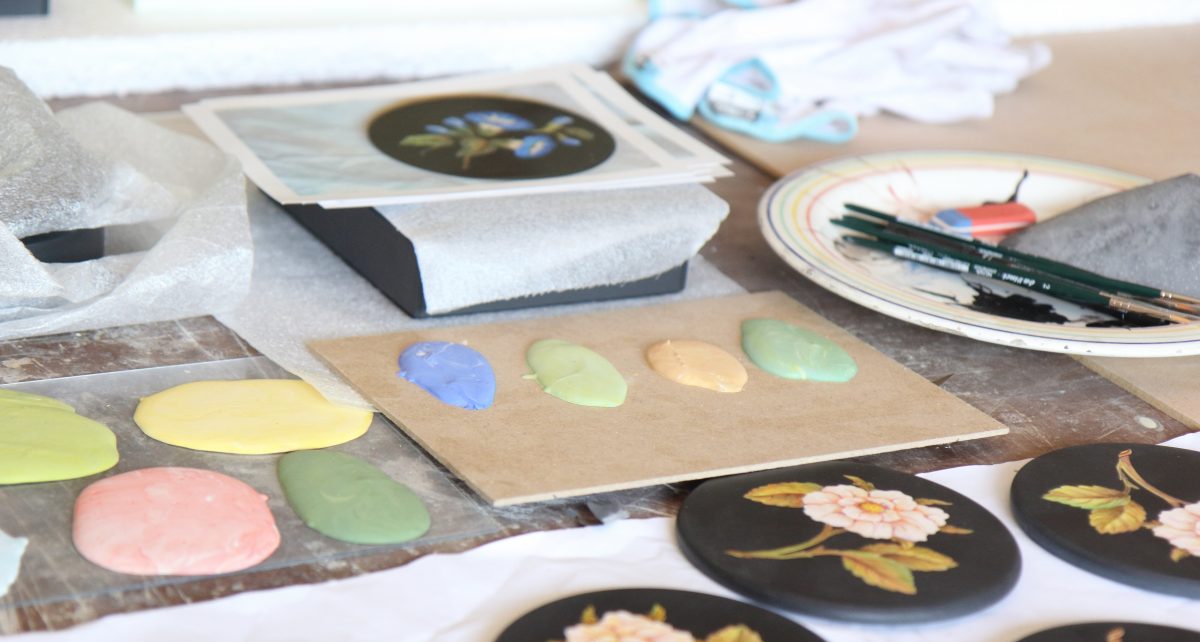 Scagliola color samples. The scagliola pigments become lighter when dried. (Lorraine Ferrier/The Epoch Times)Mr. L. Bianchi: After the inlay has dried, the next step is sanding and polishing the surface to make it smooth. This is done by hand with a pumice stone. It's very hard work, taking many hours, and when you finish, your arms really ache.Mr. A. Bianchi: For larger objects like tables, we have a particular sanding tool that does this work.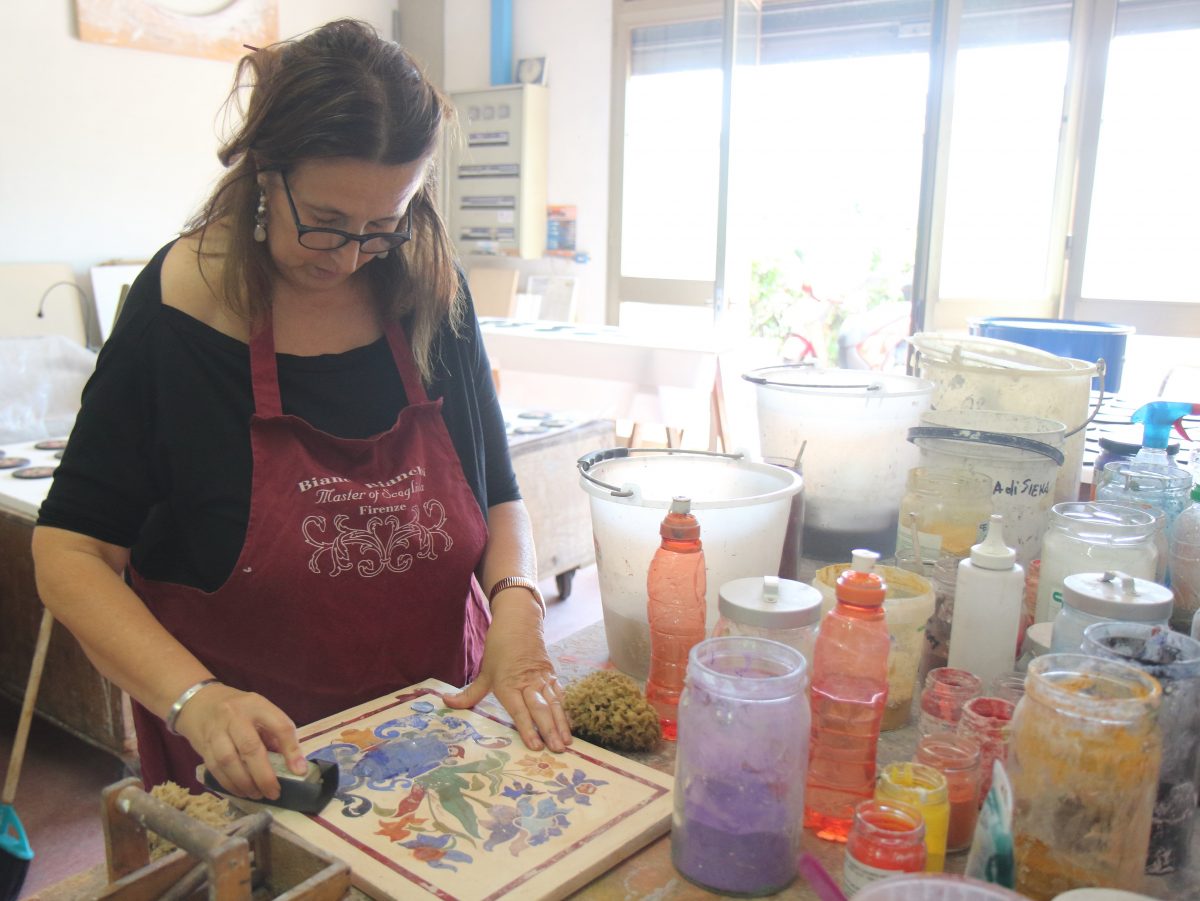 Elisabetta Bianchi sands a scagliola design. (Lorraine Ferrier/The Epoch Times)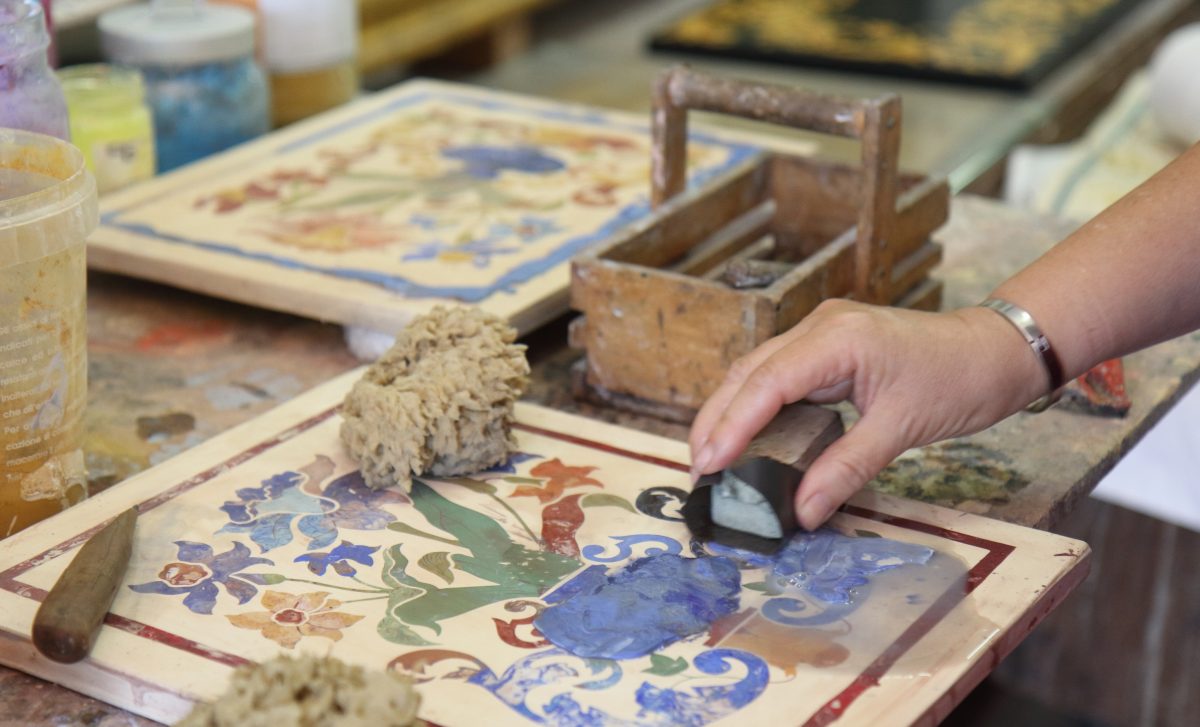 Sanding down the scagliola after each inlay is a particularly arduous process. (Lorraine Ferrier/The Epoch Times)Mr. L. Bianchi: Then we engrave the finer details, such as feathers or the stamens in a flower. The work is never-ending; there is always something to do, from the drawing, to inlaying, to adding color, and more inlay.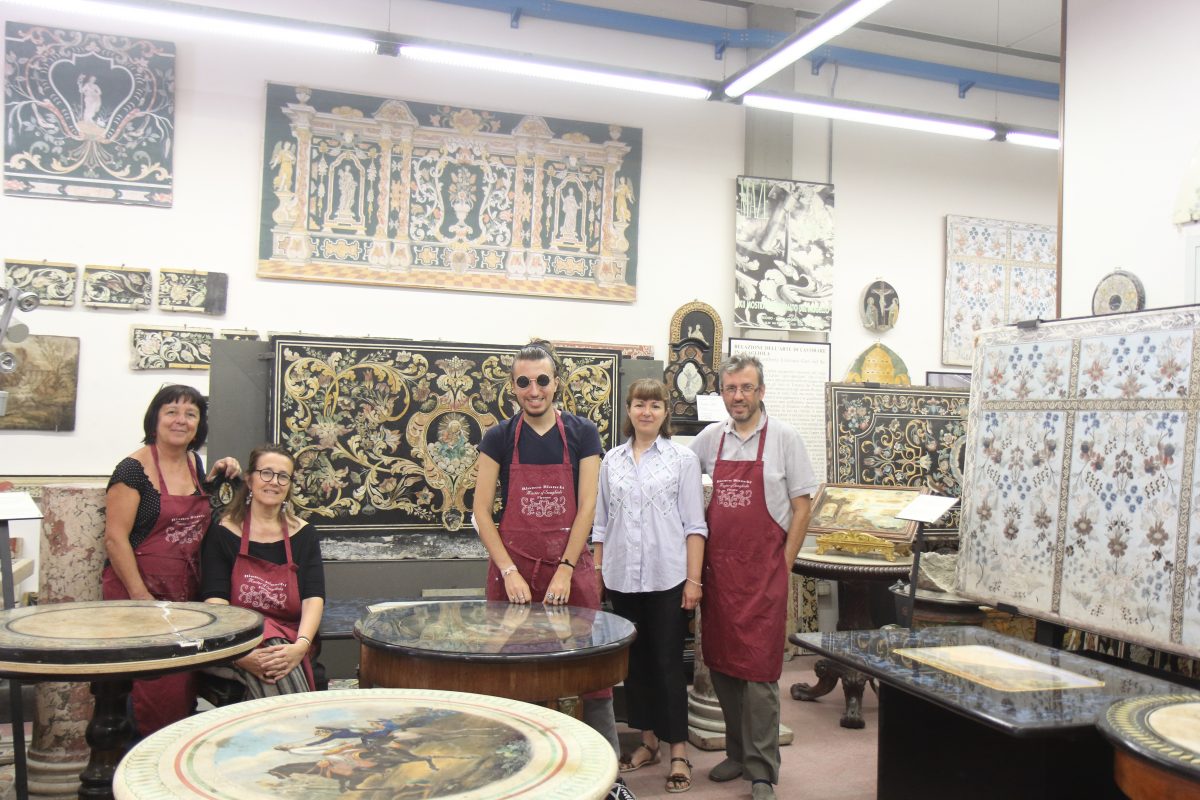 The Bianco Bianchi workshop in Pontassieve, Italy, on July 9, 2018. (L–R) Silvia Berlincioni, Elisabetta Bianchi, Leonardo Bianchi, Paola Lupelli Bianchi, and Alessandro Bianchi surrounded by historic pieces of scagliola. (Lorraine Ferrier/The Epoch Times)
The Epoch Times: Why do you think it is important to keep up the tradition of scagliola?
Mrs. E. Bianchi: We are different from other scagliola artists. We don't just produce new things. We are very fortunate that my father collected many antique scagliola objects. Some of these objects are linked to the Italian state, so in a way they belong to Italy. We have no intention to sell them; we want to create a museum in partnership with Florence and with Italy so the pieces can belong to everyone. Then the art can be appreciated. These are historical pieces of art, masterpieces, and we need to let people know about them. Then it will be possible to preserve scagliola.That's our dream: to have a specific museum that values the scagliola technique and the history of Bianco Bianchi. There isn't a museum in the world that has only pieces of scagliola, but you can find it here, in this workshop, in this little town of Pontassieve near Florence.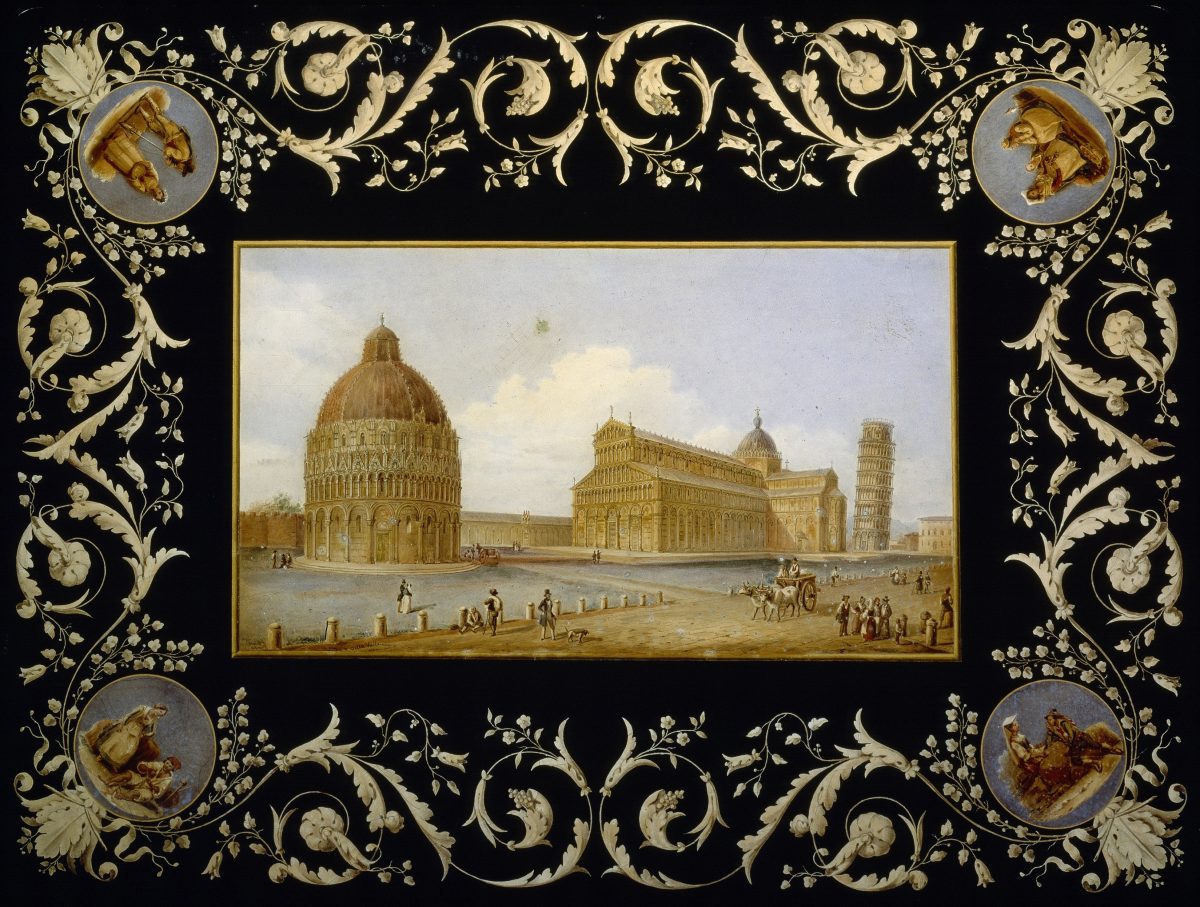 A scagliola picture of Pisa, each corner depicts the craftspeople of Pisa. (Bianco Bianchi)

Paola Lupelli Bianchi: The fact that Bianco Bianchi did what he did for scagliola is important for new generations. He created a foundation for my husband, sister-in-law, my son, and nieces and nephews. If you have a great past, you are compelled to make a better future. So we must grow, do more to modernize ourselves, and be open to innovate. Scagliola must exist in the future, and it must become more famous. This couldn't have been possible if Bianco Bianchi hadn't done what he did. It all started with him.

Mr. L. Bianchi: I didn't have a chance to ask my granddad about his work. I learned a lot about him thanks to my parents, my aunt, and his friends who are still alive. They always tell me that he was a great man; he had to have a great personality in order to do what he did.


I have a tattoo of his initials because I think the legacy he left is important. I am very fortunate to have been left a sort of empire. I mean to say this immodestly as we could have a museum here, and be known for scagliola. I am very grateful to my granddad, even though I didn't know him much. My three cousins also share this passion, and all work here in some capacity.


Italian boys and girls don't care about what we do. That's a terrible thing for me. I'm young; I appreciate modern things: music, discos, and so on. But I am angry at my generation because they don't appreciate art, poetry, and so on.


I have friends who don't care about art. They think it's too vintage, or retro, and that you cannot make a living from it. I said to them you can earn money in art. I mean, you can do whatever you want; I don't want to put limits on myself.


I am still young, but I won't be "Forever Young" like the song says, so I have time to learn from my father and aunt to become better, and to try to emulate my granddad. That's what I hope.