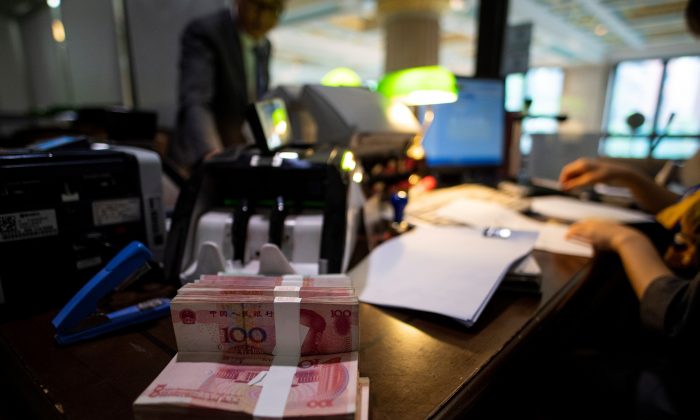 It will be interesting to see how the Chinese do with the problem of taxation. This is usually the most contentious aspect of governance and the one most likely to throw a government completely of its stride particularly since it is so easy to have a bad idea.
Usually though the Chinese will copy what works best elsewhere. They are not stupid that way.
All good though and we are seeing the end of a pure managed fiat expansionbthat was the greatest in history...

Chinese Regime Pulls All Stops to Boost Tax Revenue as Debt Balloons
BY ANNIE WU, EPOCH TIMES
October 9, 2018 Updated: October 9, 2018.
100 yuan notes at a bank in Shanghai on August 8, 2018. (Johannes Eisele/AFP/Getty Images)
https://www.theepochtimes.com/amid-mounting-debt-chinese-regime-pulls-all-stops-to-boost-tax-revenue_2684034.html
Saddled with heavy debt, the Chinese regime has begun doubling down on enforcing the collection of taxes across all sectors of society.
Not only are most of China's provincial and municipal governments in the red, but China's debt-to-GDP ratio—which includes central and local government, corporate, and household debt—has grown to 2.55, according to the International Monetary Fund (IMF).
It's no wonder the Chinese regime is devising a number of methods—both fair and foul—to extract taxes from its citizens. The most recent notable example is the case of movie star Fan Bingbing—which implicated China's entertainment industry at large.
Entertainment Industry
After allegations of tax evasion emerged earlier this year, Fan disappeared from public view for months. Media reports later revealed that she was under surveillance at a holiday resort in Jiangsu Province while being investigated by the Chinese regime.
On Oct. 3, state-run media Xinhua reported that Fan was ordered to pay about 884 million yuan ($129 million) in overdue taxes and fines, for evading taxes on payments for her acting roles, as well as on amounts owed by companies she represented.3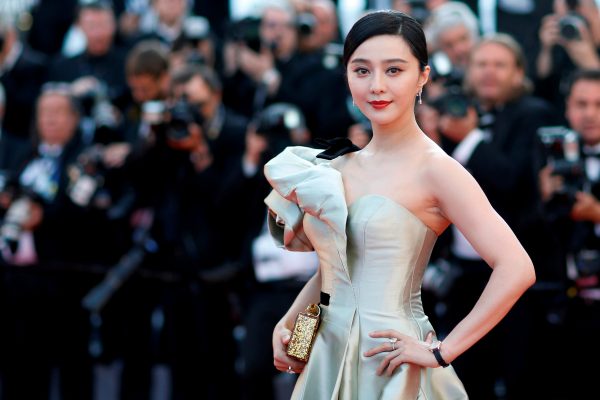 Fan 3
Bingbing poses at the 71st Cannes Film Festival in Cannes, France on May 11, 2018. (Stephane Mahe/Reuters)
Punishment for a high-profile, A-list star such as Fan was taken as a stark warning to others in the industry. One of Chinese Communist Party's security agencies even published an article titled, "This absolutely is not simply aimed at Fan Bingbing alone."3
Since June, the Chinese regime has been investigating tax evasion in the film and television industry, following reports that Fan and other famous actors have been signing so-called "yin-yang" contracts, one of which sets out the real terms, while a second—with a lower figure cited—is meant for tax officials.
The State Administration of Taxation (SAT) has stepped up enforcement: it announced that companies and individuals in the industry who voluntarily pay back taxes evaded prior to Dec. 31 will be exempt from administrative punishment and fines, according to a Xinhua report.
Hong Kong newspaper Ming Pao also noted that the Chinese Communist Party is likely concerned that Fan's case of tax evasion will negatively impact the public's confidence in China's tax system, or even prompt public anger at celebrities being able to get away with breaking the law—hence, the decision to crack down on tax evasion in the entertainment industry.
Resellers' Import Duties
The Chinese regime also has plans to boost tax levies on regular citizens.
Recently, Chinese social media has been abuzz with news that authorities at the Shanghai Pudong International Airport have been thoroughly checking travelers' luggage for undeclared goods upon their arrival. Travelers began posting photos and videos to social media as they waited in a long queue for authorities to check their bags.
Among the long list of undeclared goods that customs officials found were handbags, watches, electronic goods, skincare products, and more.
One traveler posted her receipts showing that she was fined a total of 17,000 yuan (about $2,400) for failing to pay duties on 10 Tom Ford lipsticks, three boxes of facial masks, and one Montblanc bag.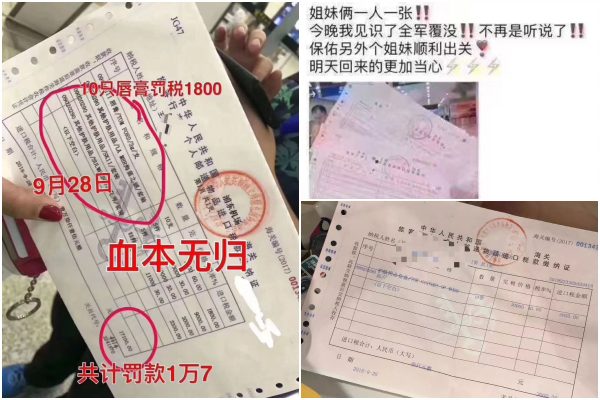 Screenshot of a traveler's social media post describing the fines she received on undeclared goods at the Shanghai Pudong International Airport. (Screenshot via WeChat)
Some travelers told Chinese media that such intense bag inspections began in late September.
The sudden stringent enforcement may be because many in China's middle class have begun working in the "daigou" business, whereby the buyer travels to other countries to procure coveted foreign products and resell them in China for a profit. Such products are in demand because imported products are often much more expensive when purchased in China.
A "daigou" reseller who returned to China from Hong Kong was stopped at the Futian Port in Shenzhen and held for eight hours while customs officials searched his bags, according to a post on WeChat, a popular social-media platform.
The sudden crackdown also may be related to a new "e-commerce" law enacted on Aug. 31, that people using social media to engage in the exchange of goods and services would be classified as an "e-commerce operator" and would need to apply for a business license and pay business taxes. The law is set to take effect on Jan. 1, 2019.
Violators—both the reseller and the online platform involved—could face penalty fees of 500,000 yuan ($72,000) to 2.5 million yuan ($364,000).
Although the law hasn't yet taken effect, some jurisdictions have already started to enforce the measure.
Hangzhou authorities recently conducted drop-in inspections on some "daigou" resellers, asking for their operating licenses and whether they paid import duties, an "insider" told Ebrun.com, a Chinese news site reporting on the e-commerce industry.
Meanwhile, customs officials in the southern city of Xiamen have confiscated and destroyed 300,000 pieces of high-end cosmetic products brought into China by travelers returning from South Korea, Japan, and other countries, state-run news site fjsen.com reported.
Social Security, Property Taxes
The Chinese regime also has plans to reform how it collects social security taxes in order to prevent evasion. Beginning in January, all such taxes will be collected by tax authorities. Previously, taxes were collected by different agencies, leading to loopholes in the system that allowed many businesses to dodge the levies.
The social security tax rate in China is very high when compared with most countries at any level of development. The tax burden is likely to negatively impact domestic consumption, according to economists' predictions.
The Chinese regime also is likely to soon impose property holding taxes. Local governments have relied on selling land to developers as their primary source of revenue (in China, the state owns all property). But now that much of the land in urban areas has already been developed, they need a new source of income: taxes.
China's real-estate market has been overheating for years and property prices are already prohibitively expensive for much of the middle class.
Summer Liu contributed to this report.