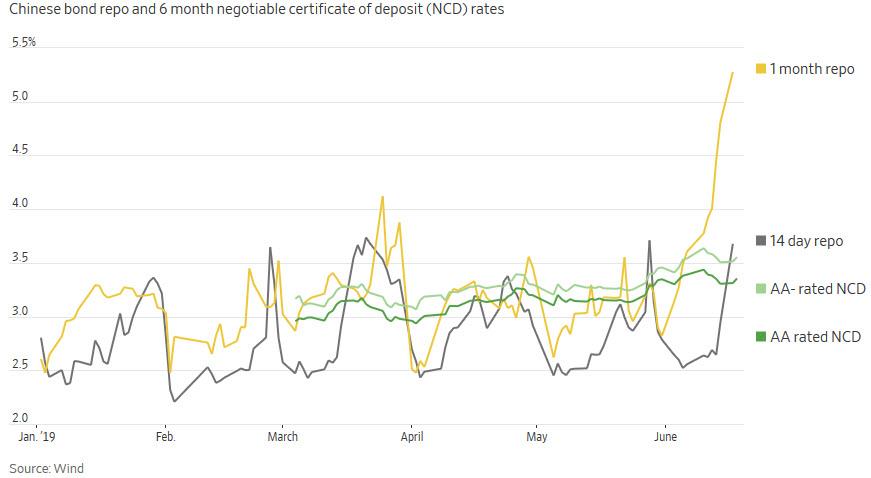 Keep an eye on this. Bank regulators should be well ahead of any of this. China is under massive economic pressure right now and the ongoing trade war is only part of the problem. Recall that they are now reporting almost zero growth as well.
In fact, although additional tariffs are on the table, i do not think that they should be applied simply because so much damage has already been inflicted with what is best described as a surgical cut. Their data has been gamed for years although we have seen ample real growth.
What we have also seen is vast amounts of non economic growth as well. That sector of the economy is not resolving and that means an increasing bubble of related debt that is never going to be paid. At some point such a bubble overtakes the economy itself and destroys the banking system.
Unpaid debt can never be retired and the bulk of it is an asset of the banking system
.
Second Bank Run In Two Weeks As China's Banks Are Caught In A Self-Destructive "Doom Loop"
by Tyler Durden
Tue, 11/26/2019 - 17:05
https://www.zerohedge.com/markets/second-bank-run-two-weeks-chinas-banks-are-caught-self-destructive-doom-loop
Three weeks ago we reported that China's Henan Yichuan Rural Commercial Bank, just outside the central Chinese city of Luoyang, was the latest small-to-medium Chinese bank to suffer a vicious bank run as long lines of depositors filled out its branches demanding their money, amid a rumor that the bank was going under. The bank was at least the fourth to be on the verge of collapse after recent prior nationalizations of Baoshang Bank ,Bank of Jinzhou, and most recently, China's Heng Feng Bank.
Now yet another Chinese bank has found itself scrambling to prevent a collapse: Yingkou Coastal Bank was forced to stack bundles of yuan notes high behind the counters of its branches earlier this month, as the northeast China lender fought off a run on deposits while onsite government officials battled rumors of a funding crunch.
As Reuters reports, Yingkou was the latest small bank to have its deposit-reliant funding base undermined by a flash mob of "running" depositors, spooked by the funding crunch that led to the shock state-led rescue of regional lender Baoshang Bank first which in turn prompted a cascade of small bank bailouts.
To avoid an almost instant death, Yingkou had no choice but to engage in what we have hence dubbed a self-destructive "doom loop: to help repair the damage and to keep the deposits from being pulled, the bank hiked its already high deposit interest rates to entice depositors. Alas by doing so, the bank - which can not possibly find investing opportunities to offset the higher deposit rates - has just accelerated its eventual insolvency.
The run on Yingkou came just as small banks' reliance on deposits for funding shot up this year after Baoshang's rescue sent interbank interest rates spiking, raising borrowing costs and making it virtually impossible for banks to fund themselves in the short-term funding market as we discussed in June.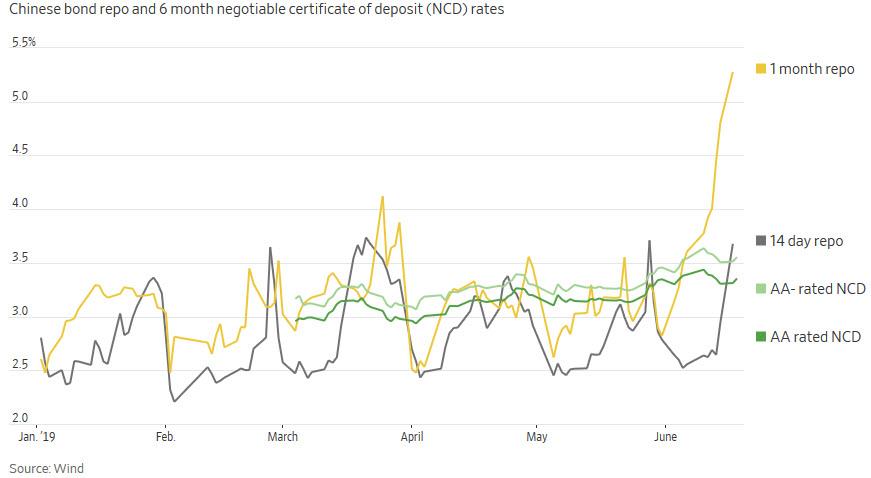 To be sure, bank funding was already under pressure for most but the biggest bank following government efforts to de-leverage the financial system starting in 2016. Meanwhile, small but deadly cuts in key lending rates since August to stimulate up a slowing economy have only exacerbated the pressure on banks.
With less income from lending and without the full suite of funding options available to much larger peers, the interest rates that China's legion of small banks may have to offer to attract deposits could further undermine their stability, analysts said. The irony is that to preserve their critical deposit base, small banks have to hike deposit rates even higher to stand out, in the process sapping their own lifeblood and ensuring their self-destruction. Hence "doom loop."
Dai Zhifeng, a banking analyst with Zhongtai Securities, told Reuters the funding difficulties risked distorting small banks' behavior, making failure even more likely: "Lacking core competitiveness, some of them have turned to high-risk, short-sighted operations," he said, adding that a liquidity crunch was possible at some institutions.
Institutions such as Yingkou, where "untruthful rumors about the bank's deep financial crisis spread online", the city police said, triggering a run on deposits on Nov. 6 when a Reuters witness saw piles of cash behind counters at six city-centre branches.
Just like at Yichuan Rural Bank, the local government stepped in to allay concerns, placing officials at Yingkou's biggest branch to help calm depositors, and hanging notices saying the bank had sufficient assets and that its operations and management were in good standing.
Why the panic to avoid outflows? Because as of June-end deposits made up 58% of Yingkou's funding. In the wake of the run, it raised its rate for one-year time deposits to 4.4% from 4.2% and kept the rate on its flagship three-month wealth management product above 5%. By comparison, the popular money market fund Yu'ebao backed by e-commerce giant Alibaba Group Holding Ltd offers a modest 2% annualized rate, while China's benchmark rate for a one-year time deposit is 1.75%; this means that the troubled bank has to offer interest rates more than double the prevailing ones just to keep depositors from fleeing.
"I thought about the risks of smaller lenders, but an interest rate of 4%-plus on deposits was too attractive for me," said Sun Wensheng, a perfect example of the gullible depositors the bank is desperately in need of, and a futures trader who deposited 420,000 yuan ($59,772.86) with Yingkou just before the bank run. Sun is in for a big surprise when in a few weeks that bank shuts down, this time for good, and his entire deposit is gone... all gone.
* * *
Though small, problems at China's more than 4,500 local banks matter because of their close ties to larger lenders and huge base of mom-and-pop savers; put enough banks under and suddenly you have a "Lehman moment", as the interbank market freezes.
Yingkou was the second bank run in less than two weeks, following the previously discussed panic at Yichuan Rural Commercial Bank in central Henan province amid a corruption investigation into a former boss. But in contrast to the May rescue of Inner Mongolia lender Baoshang Bank, when a takeover by the central government sent interbank lending rates sharply higher, local governments took the lead in managing both of the latest scares.
According to Reuters, the change in approach was deliberate and is now based on the specific situation of the bank in question, said an official at the Shanghai branch of the CBIRC. In both runs, funding from other local banks was swiftly brought in to allay liquidity fears under instruction from the authorities.
"The current smaller banking industry is fragile due to (its) high leverage and poor liquidity management," said another regional CBIRC official who oversees local rural banks.
"Smaller banks need to be treated carefully and problems rectified as they emerge, such as corporate governance, to avoid contagion risks."
Ah yes, "contagion risks" - the doomsday alarm for any authoritarian regime, such as China's. And precisely for that reason, regulators have refrained from cracking down on the high-return time deposits offered by small banks due to fear of squeezing their only remaining funding lifeline.
Local intervention should help contain problems and cut the cost of any rescue, said Rory Green, an economist covering China at independent investment research firm TS Lombard.
"That is long-term positive for China, but will create a lot of risks when local authorities don't have enough capital and don't act quickly enough to stabilize the situation," he said.
Regulators are also looking at recapitalization, mergers and other forms of support. On Nov. 18, another previously bailed out bank, Harbin Bank - a midsize lender with links to Baoshang stakeholder Tomorrow Holdings - saw its shares jump 9% after two local state-controlled groups became its key shareholders, paying an above-market price to do so. Because why not make a few shareholders richer if all it takes to prevent systemic collapse is what is an almost daily bailout of one of China's thousands of insolvent banks. The
alternative? It's took scary to even consider.