Everyone knows that there is a massive investigation of all forms of corruption in the USA and globally as well and it is all been unearthed by investigation of massive electronic communication databases led by Mil Intel in particular. They would source the central allegations.
What we are now seeing here is derivative activity which is obviously maturing. Are we surprised? Surely every judge likely had to pay a bribe for his posting in Chicago. The take down is going to be ugly.
As I have posted, the early phases will take down the king pins central to all the corrupt schemes discovered. I expect a lot of top officials to go down quickly. Underlings will be processed far more slowly not least because they will often also need the testimony and conviction of their bosses. as to the actual crime. 60,000 sealed indictments means a lot of walking dead.
4 Investigations Share a Common Thread
BY JEFF CARLSON
November 30, 2018 Updated: December 2, 2018
https://www.theepochtimes.com/the-common-thread-behind-four-investigations_2728104.html
News Analysis
If anyone tells you they are tired of nothing happening with regard to ongoing investigations, perhaps they should take a closer look at a number of events that came to light over the past few days.
In a matter that caused no small amount of worry and consternation among supporters of President Donald Trump, The Daily Caller reported on Nov. 29 that the FBI had raided the home of whistleblower Dennis Nathan Cain.
The raid, which took place on Nov. 19, involved 16 FBI agents who had obtained a court order signed on Nov. 15 by federal magistrate Stephanie A. Gallagher in the U.S. District Court for Baltimore, according to The Daily Caller. No reason for the 10-day delay between the raid and his lawyer's public announcement was given.
Cain, whose name is new to the public, isn't just any whistleblower. He retains a top-level security clearance and maintains a number of security-related credentials, according to his resume, which has since been deleted online. Specialties include the FISA Amendment Act (FAA) Section 702 and USSID SP0018 Minimization Procedures and Signals Intelligence Authorities.
According to the article, Cain "privately delivered documents pertaining to the Clinton Foundation and Uranium One to a government watchdog, according to the whistleblower's attorney."
"The Justice Department's inspector general was informed that the documents show that federal officials failed to investigate potential criminal activity regarding former Secretary of State Hillary Clinton, the Clinton Foundation and Rosatom, the Russian company that purchased Uranium One," the article states.
Cain also had obtained official whistleblower status from DOJ Inspector General Michael Horowitz. Michael Socarras, Cain's lawyer, told The Daily Caller that Cain had met with a "senior member of Horowitz's office" and delivered a flash drive along with a sealed envelope containing documents. The same materials reportedly were also delivered to the Senate and House Intelligence committees.
The FBI agents seized all of the original documents in Cain's possession, according to Socarras. The Daily Caller said that one document they reviewed showed that then-FBI Director Robert Mueller "failed to investigate allegations of criminal misconduct pertaining to Rosatom and to other Russian government entities attached to Uranium One." How The Daily Caller was able to review any documents, following what was reported to be a full seizure, remains unexplained.
There have been strong reactions to the news, with many perceiving it as some sort of coverup. However, a few facts are worth entertaining. Regardless of the FBI's seizure, both IG Horowitz and the House and Senate intelligence committees already have the documents in their possession. The FBI's seizure of documents from Cain doesn't indicate the documents are being hidden.
As noted in the article, the FBI agents obtained a court order which means their identities are known. FBI Director Chris Wray, if he doesn't already know, could easily determine the agents' identities—this wasn't a clandestine operation.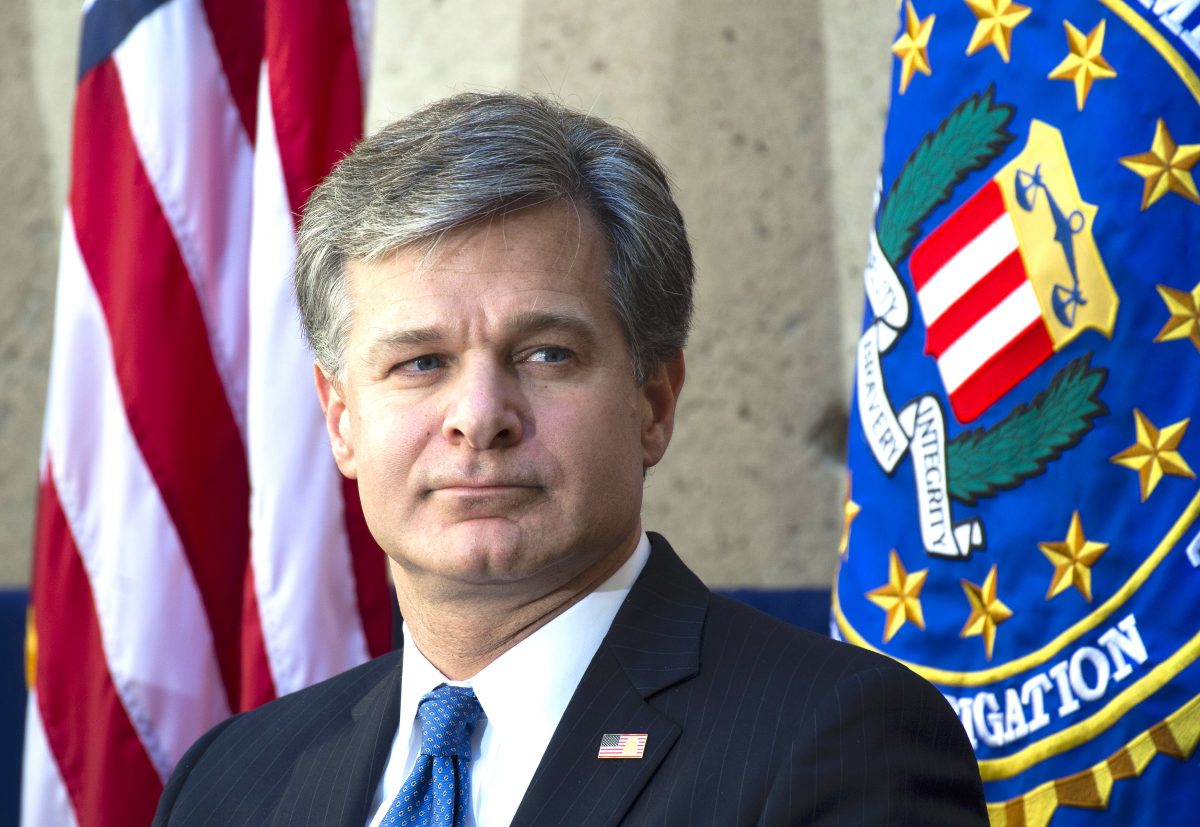 FBI Director Christopher Wray at FBI headquarters in Washington on Sept. 28, 2017. (SAUL LOEB/AFP/Getty Images)
Another possible issue might have to do with Cain himself. Very little is known about him other than that he's a whistleblower, which generally conveys images of positive actions taken by a well-intentioned individual. However, we know nothing of Cain's true motivations or the actions that lay behind them. It may turn out that an invasive raid by the FBI was fully warranted.
Another explanation may lie within the documents themselves. The FBI's actions may be related to chain-of-custody issues. The FBI may have been required to ensure that all evidence was accumulated and taken into their custody. It's possible this document seizure by the FBI may indicate a case against the Clintons and/or their Foundation is actively underway.
The Chicago Raid
The FBI raid on Cain's house wasn't the only one.
On Nov. 29, federal agents raided the offices of Alderman Edward Burke, a powerful Chicago politician who has held his position in Chicago politics for 50 years. Burke's office windows were covered and FBI agents remained on the premises for about seven hours, according to media reports.
Chicago Mayor Rahm Emanuel, who abruptly announced in September that he would not seek re-election, said his office had no advance warning of the raid, noting: "I know what I read in the paper. I'm out here. That's it. … You are asking hypotheticals and I am not going to do that with the FBI walking around his office."
Burke, who has been under federal scrutiny on several occasions, has never been convicted or indicted. His investigation is being handled by the public corruption squad from the local FBI office.
Burke's law firm specializes in property-tax reductions for his clients, and some have speculated that the raid could be connected to work that Burke's law firm did for the president, but there are several problems with that theory.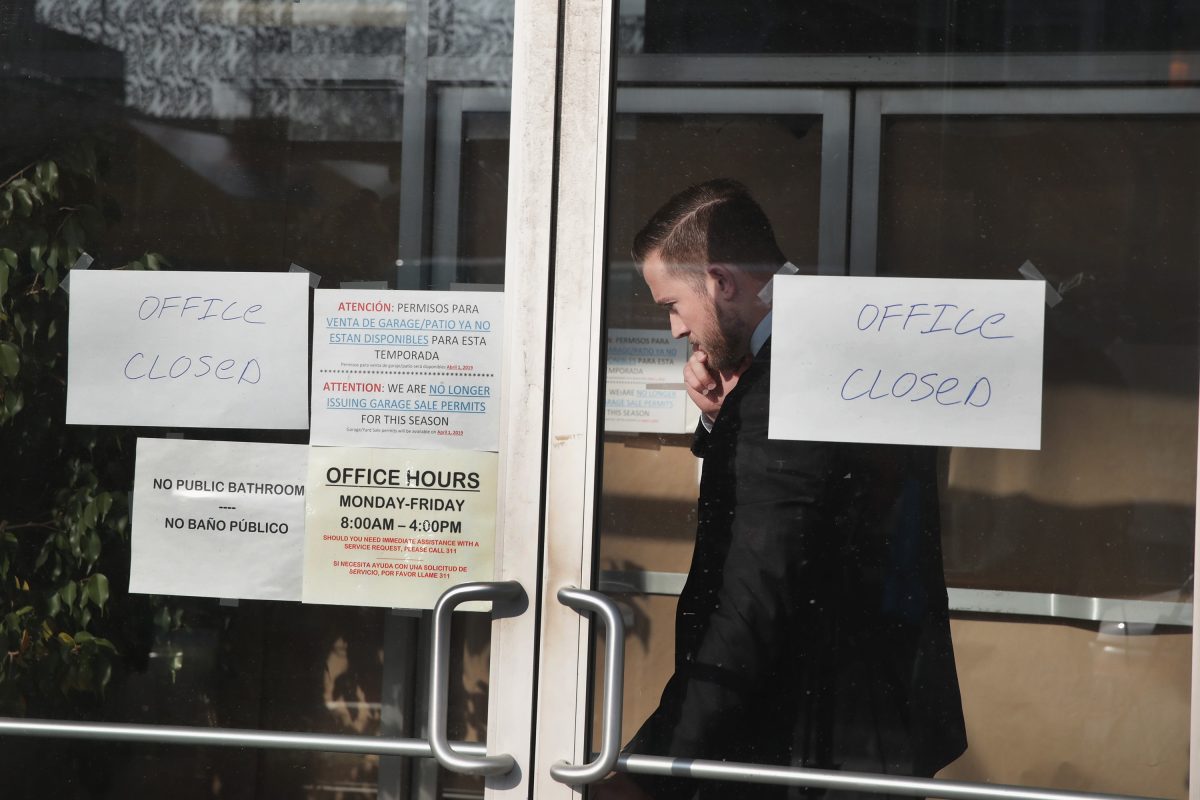 A federal agent leaves the Southside office of 14th Ward Alderman Ed Burke on Nov. 29, 2018. (Scott Olson/Getty Images)
The Burke investigation, according to the Chicago Tribune, "was being conducted in conjunction with the U.S. Attorney's Office in Chicago, not Mueller's office." Additionally, the Sun-Times reported, "the raids were in response to new allegations, and not prompted by any past controversies that have swirled around Burke."
Dan Mihalopoulos, a reporter for WBEZ in Chicago, was somewhat more direct: "Worth also noting today: Burke's huge role in the local Democratic judge-making process. One judge just told me, 'Everyone's crapping themselves here.'"
The investigation probably has more to do with corrupt Chicago politics than anything related to the president.
Money-Laundering Probes
Two other events with a more international scope also have been underway.
Several banks are currently under investigation for a massive money-laundering scandal that is likely to only grow larger.
Danske Bank is being investigated by the U.S. Department of Justice, and new charges were filed this week by Danish authorities. The bank's CEO and chairman both have been forced to resign and numerous current employees are under investigation. Danske Bank has admitted that approximately $230 billion has flowed through one of its units in Estonia, but the focus now appears to be shifting to other financial institutions:
"Howard Wilkinson, a former Danske Bank A/S manager who blew the whistle on its multibillion-dollar laundromat, told lawmakers in Brussels that when it comes to shell companies, or limited liability partnerships, the U.K. is 'worst of all.' He said he was legally prevented from naming the other banks involved, but urged lawmakers to treat the Danske scandal as a case that goes well beyond its core in Estonia," Bloomberg reported Nov. 21.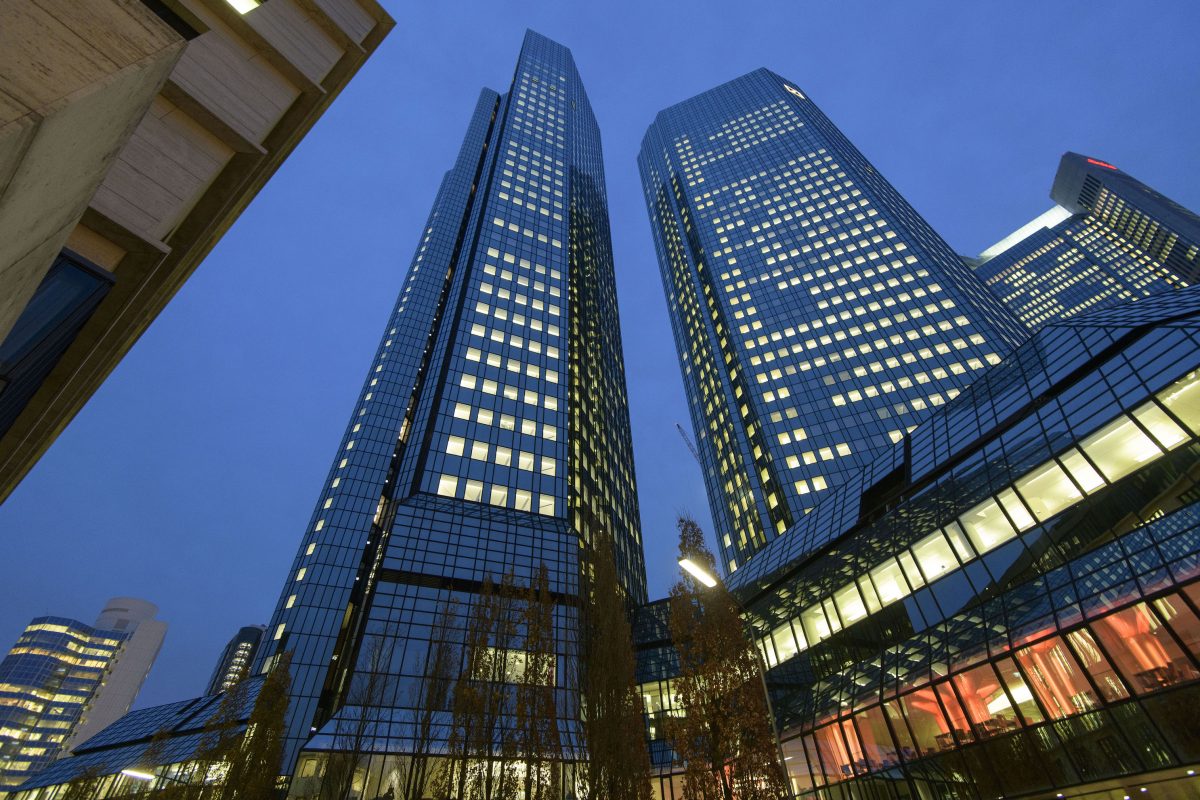 The corporate headquarters of Deutsche Bank in Frankfurt, Germany, on Nov. 29, 2018. German law enforcement and tax authorities raided the offices over suspicions of tax evasion and money laundering. (Thomas Lohnes/Getty Images)
Also on Nov. 29, Deutsche Bank's headquarters was also raided by German officials. Transactions being examined by investigators relate to the bank's wealth-management division, which previously has come under scrutiny.
According to a spokeswoman for prosecutors, the investigation covers the five-year period from 2013 to 2018 and is related to disclosures made in the Panama Papers—11.5 million leaked documents from Panamanian law firm Mossack Fonseca, then the world's fourth-biggest provider of offshore services.
The Deutsche Bank raids continued for a second day and reportedly included the executive management board's floor. Deutsche was one of Danske's correspondent banks, as are JPMorgan Chase and Bank of America. Any potential involvement of other banks will bear close watching.
Clinton Donor Charged
Lastly, in a Nov. 29 DOJ press release, three executives including Abul Huda Farouki were charged "for their roles in a scheme to defraud U.S. military contracts in Afghanistan, engaging in illegal commerce in Iran, and laundering money internationally." Farouki was the CEO of Anham, a defense contractor based in the United Arab Emirates
This wasn't the first time Farouki or his company have been involved in allegations of misconduct. In a 2013 article by The Daily Caller, headlined "Clinton Donors Get a Pass on Shady Contracting," Farouki and his company were highlighted:
"In June 2011, the Defense Department's Office of the Special Inspector General for Iraq Reconstruction (SIGIR) released a scathing report on a defense contracting company called Anham. The title of the report and its conclusion were the same: 'Poor Government Oversight of Anham and Its Subcontracting Procedures Allowed Questionable Costs to Go Undetected.'"
The article then asked a simple question: Given prior violations, how was Anham able to secure an $8 billion contract in Afghanistan that "allowed it to illegally ship supplies through two Iranian border crossings and a seaport controlled by the Iranian Revolutionary Guard?"
The $8 billion contract, along with the illegal shipment of supplies, being cited in the 2013 article appear to be exactly the same violations being alleged in the 2018 DOJ indictment. So why weren't Farouki and his company charged with these same, known violations back in 2013?
The answer may lie within Farouki's many connections to the Democratic Party. The Daily Caller notes that Farouki is a longtime donor to Sen. Dianne Feinstein (D-Calif.), and donated to Obama for America in 2008. But Farouki's closest ties lie with the Clintons and their Foundation.
Farouki, a member of the now-shuttered Clinton Global Initiative, participated in annual CGI meetings since the group's formation in 2005 through at least 2010 and made multiple donations to the Clinton Foundation. Farouki also made donations to Terry McAuliffe and has been photographed with Huma Abedin.
There appears to be a common thread among what might appear to be unrelated events: the raid on the whistleblower, the raid on the Chicago politician, the investigations of European banks, and the charges brought against a Clinton donor. All the activities targeted were either occurring during the Obama era or, in the case of the DOJ whistleblower, were directly related to underlying events from that time.
There may be more going on than meets the casual eye.