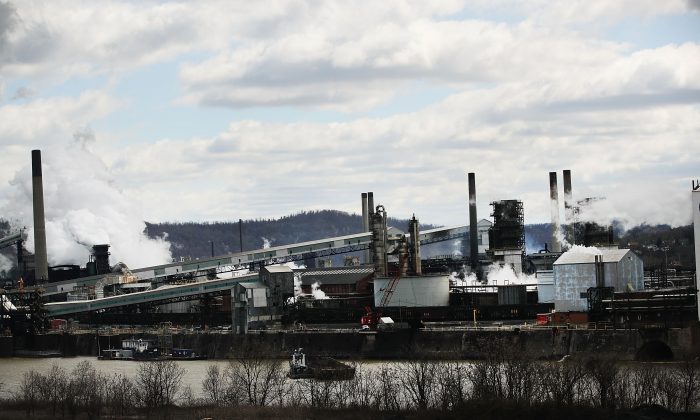 I may well be old fashioned, but i do not believe the business press on good news until they start investing in the steel mills. They are the ultimate knock on investment. Here we have it and it is only two years into this rising business cycle as well. Granted though that the Obama interlude served to discourage business investment for eight years and that this created a massive pent up demand.
We now have experienced two years of Presidential booster-ism which proves to be rather important. After all the economy went on a tear at the gate before he even had a chance to actually do a thing. It helps hugely and his activist program of rationalizing the regulatory regime is broad and deep which is why this recovery is sustained and could actually enter overdrive for the first time in decades.
As i have posted in the past the ultimate market floor will arrive from the outright of eliminating poverty itself through effective social and credit engineering. Do that and our growth rate will hit eight percent annually.
The United States Steel Corporation plant stands in the town of Clairton on in Clairton, Pennsylvania, on March 2, 2018. (Spencer Platt/Getty Images)
US Steel Corp to Pour $1 Billion Into Pennsylvania Operations
By Bowen XiaoMay 3, 2019 Updated: May 3, 2019 https://www.theepochtimes.com/us-steel-corp-to-pour-1-billion-into-pennsylvania-operations_2905182.html The United States Steel Corporation announced on May 2 that it will invest more than $1 billion in constructing cutting edge facilities in western Pennsylvania, drawing praise from President Donald Trump.The company said the new investment will improve its "environmental performance" and "energy conservation" with a new sustainable endless casting and rolling facility at its Edgar Thomson Plant in Braddock and a cogeneration facility at its Clairton Plant. Both facilities will be part of the company's Mon Valley Works.Trump's tariffs on imported steel and other efforts to boost American manufacturing have helped to revitalize a steel industry that has been in decline for decades. The billion dollar investment comes as the White House on May 3 touted a number of positive economic indicators, including a strong jobs report for April with the addition of 263,000 new hires and a declining 3.6% unemployment rate."Congrats to @U_S_Steel for investing $1+ BILLION in America's most INNOVATIVE steel mill. 232 Tariffs make Pennsylvania and USA more prosperous/secure by bringing Steel and Aluminum industries BACK. Tariffs are working," Trump wrote in a May 2 Twitter post. "Pittsburgh is again The Steel City. USA Economy is BOOMING!"The new technology will make Mon Valley Works "the first facility of this type in the United States, and one of only a handful in the world," the company said."This is a truly transformational investment for U. S. Steel," said David B. Burritt, president and CEO of U. S. Steel. "We are combining our integrated steelmaking process with industry-leading endless casting and rolling to reinvest in steelmaking and secure the future for a new generation of steelworkers in Western Pennsylvania and the Mon Valley."
The steelmaker's cogeneration facility will feature an emissions control system that can convert some of the coke oven gas generated there into electricity to power other parts of the plant.
Tens of thousands of American workers have faced layoffs and dozens of factories have been shut since 2000 due to imports, according to the Alliance for American Manufacturing (AAM), a nonprofit organization formed by manufacturers and United Steelworkers. With the recent tariffs on imports, the steel industry is starting to seeing some positive signs.Over the past few decade, steel imports have steadily increased, comprising nearly 33 percent of the U.S. steel market in 2017. The majority of U.S. steel producers have been taking losses since 2009, losing their ability to invest in new technologies and labor.The Pittsburgh-based company expects the first coil production facility to be operational in 2022. It's the second major operational upgrade U.S. Steel has announced this year.In February, the company announced it was restarting construction on an idled manufacturing facility in Alabama, crediting Trump's trade policies. U.S. Steel said Trump's "strong trade actions" were partly responsible for the resumption of work at a plant near Birmingham.Trump imposed a 25% tariff on steel imports last year. The company reported adjusted earnings of $957 million in 2018.The United Steelworkers trade union said in a statement that they welcomed the new investment. The union's international vice president Tom Conway said the proposed improvements will not negatively impact employment, but will instead bolster the long-term job security of the employees at the company's new facilities."Together, these projects will reduce U.S. Steel's carbon footprint significantly and improve regional air quality by reducing emissions of particulate matter and sulfur dioxide," Conway said. "Just as importantly, these investments will provide much-needed job security for current employees and future generations of Steelworkers at this historic and soon-to-be much more modern integrated steelmaking complex."