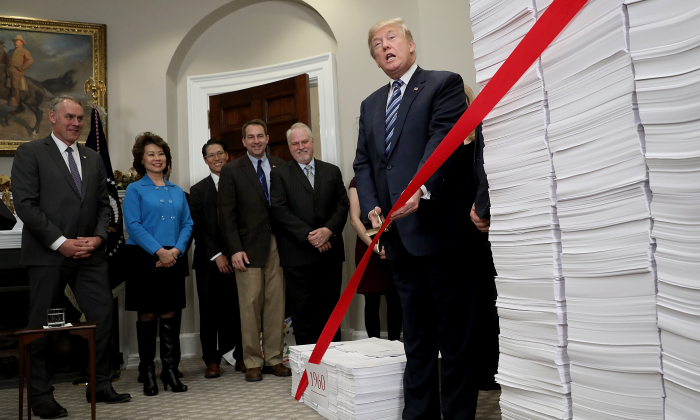 All of a sudden the internal economy of regulation creation is actually market driven. That means the costs have to be found by offsetting eliminations. Needless to say the low hanging fruit got clipped in a hurry.
Before this a government employee would prove his effectiveness and importance by creating a regulation however wise. It is easy to get those same employees to toss the ones that are not so important.
The math is straight forward. We will converge downward to a bedrock of regulations we must have and even these will be constantly stress tested.
Better yet it is all happening out of the public eye.
..

Trump's Push to Cut Red Tape Leads to Billions in Regulatory Savings for First Time on Record
By Ivan PentchoukovAugust 15, 2018 Last Updated: August 15, 2018 https://www.theepochtimes.com/trumps-push-to-cut-red-tape-leads-to-billions-in-regulatory-savings-for-first-time-on-record_2624718.html?utm_source=Epoch+Times+Newsletters&utm_campaign=ced3652edb-Epoch+10+08-16-2018&utm_medium=email&utm_term=0_4fba358ecf-ced3652edb-237982709
President Donald Trump cuts red tape draped between two stacks of papers representing the government regulations of the 1960s and the regulations of today, on Dec. 14. (Saul Loeb/AFP/Getty Costs related to new government regulations are on pace to decline for the first time on record as a result of President Donald Trump's deregulation agenda.New regulations finalized by the federal government so far this fiscal year will save American taxpayers $5.8 billion, according to federal data reviewed by the American Action Forum (AAF).With two months to go in the fiscal year, federal agencies are expected to save even more, making 2018 the first year when new regulations resulted in net savings to taxpayers since AAF began to keep track of the data in 2005.Trump signed an executive order shortly after taking office in 2017 that directed federal agencies to eliminate two old regulations for each new regulation they create. In addition, the order instructed government agencies to offset the costs generated by each new regulation with savings from cutting the old ones.The Trump administration also issued a regulatory budget, which capped the total regulatory costs some executive agencies can accrue at net zero and set regulatory savings goals for others. In total, the federal agencies are on pace to double Trump's savings goal this year."It's pretty much in its entirety driven by the regulatory budget executive order," Dan Bosch, the director of regulatory policy at AAF told The Epoch Times."That is something we've never seen before," Bosch added. "There's no doubt that these savings figures would not have been realized if there wasn't a call from the president for agencies to find these savings."This year, a Medicare regulation by the Department of Health and Human Services tops the list of cost-cutting regulatory actions, saving taxpayers $1.5 billion. A revision to food-labeling regulations by the Food and Drug Administration is second on the list with $1 billion in savings.The departments of Labor, Health and Human Services, Justice, and Transportation lead the rest of the government in regulatory savings. The four agencies' regulatory actions will save taxpayers $3.4 billion.Meanwhile, the departments of Interior, Energy, and Defense are the furthest behind on their savings targets. The Department of Interior does have a regulatory action on deck that would push it past the savings target if adopted by the end of the fiscal year on Sept. 31.This isn't the case for the Energy and Defense departments, neither of which has proposed regulations resulting in savings. Those departments may be trailing because it can take them years to finalize regulations.Bosch expects that the Trump administration will ask agencies to find savings again in next year's budget, the details of which will become clear later in the fall.According to Bosch, there are two benefits of the deregulation savings to the average American taxpayer."The agencies themselves aren't spending money enforcing regulations that aren't necessary," Bosch said. "That's a key driver."Meanwhile, fewer regulations result in less burden for businesses to comply with. Though no precise model exists for calculating the total cost for U.S. businesses to comply with government regulations, estimates range from $500 billion to $2 trillion."If the businesses that you're purchasing products from are not spending money complying with unnecessary regulations, the cost of their product or service isn't as great, so they can sell it for a lesser amount. So there should be savings realized for consumers on that end," Bosch said.The White House also has pushed for deregulation on other fronts. The administration has issued guidance to cut red tape in the approval process for infrastructure projects, and Trump allowed for the Keystone XL and the Dakota Access pipelines to move forward.
By December 2017, federal agencies were cutting 22 old regulations for each new regulation. At the time, Trump pushed the government to find even more savings.
"We have decades of excess regulation to remove to help launch the next phase of growth, prosperity, and freedom," Trump said at the time. "I am challenging my Cabinet to find and remove every single outdated, unlawful, and excessive regulation currently on the books."