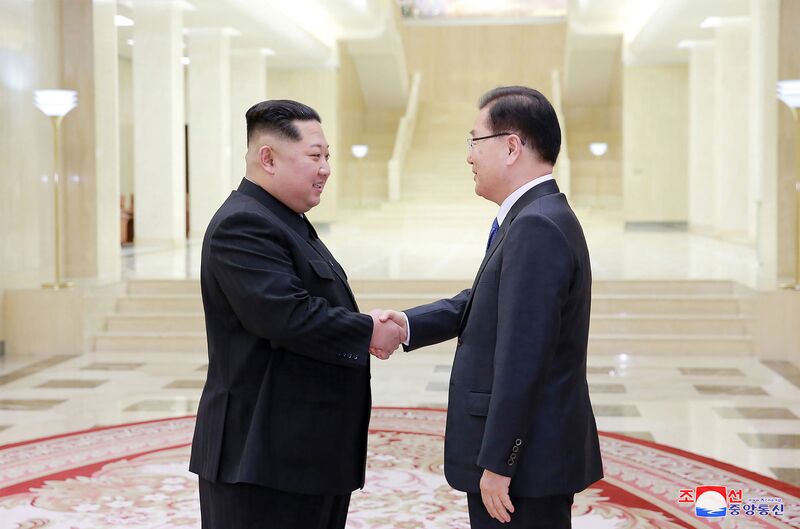 Stepping back a bit, I do think that an agreement to merge North Korea with South Korea is in the works along the lines used by East Germany. I do think that Trump made this his objective in Beijing and i do think that the NK leaders accepted the terms.
What we have now is working out the details and preparing the final agreement for all to sign in May.
The NK leadership will retire gracefully and a ten year transition will commence. Certainly South Korea can afford this..
Possible North Korea Talks With U.S.
By Kanga Kong ,
Jihye Lee , and
Nafeesa Syeed
March 6, 2018, 3:15 AM PST Updated on March 6, 2018, 1:34 PM PST
Kim Jong Un, South Korea's Moon, to meet for summit in April
U.S. intelligence chief 'seriously' doubts it's a breakthrough
https://www.bloomberg.com/news/articles/2018-03-06/north-korea-open-to-denuclearize-if-regime-safety-guaranteed
South Korea says North Korea is open to denuclearization. Bloomberg's Peter Pae reports.
President Donald Trump signaled that he's open to talks with North Korea after Kim Jong Un's regime told South Korean envoys that he's willing to consider giving up his nuclear weapons -- a potential breakthrough after months of bellicose threats from both leaders.

"They seem to be acting positively," Trump told reporters Tuesday. "I'd like to be optimistic."

At a press conference later, Trump said his tough stance was responsible for Kim's willingness to talk, joking the overture should be credited to "me." He also cited "biting" international sanctions against the Kim regime, particularly measures China has supported. "China can do more, but they've done more than they have for our country before," he said.

Trump commented after envoys from Seoul said that Kim told them he was ready to suspend weapons tests and hold candid talks with the U.S. to normalize relations, if the safety of his regime was guaranteed, the South Korean government said Tuesday. In response, South Korean President Moon Jae-in agreed to meet Kim for a summit along their shared border late next month.
"Possible progress being made in talks with North Korea. For the first time in many years, a serious effort is being made by all parties concerned," Trump said earlier Tuesday in a tweet. "The World is watching and waiting! May be false hope, but the U.S. is ready to go hard in either direction!"

The National Security Council didn't immediately comment, and Secretary of State Rex Tillerson made no mention of the development in a speech in advance of a trip he's making to Africa, even as he urged African nations to do more to isolate Kim's regime.

A South Korean delegation plans to visit Washington soon to brief the administration on the meeting with Kim. U.S. officials are likely to press them for details in light of Moon's continued optimism about the prospects for a diplomatic solution compared with the U.S.'s less sanguine approach.