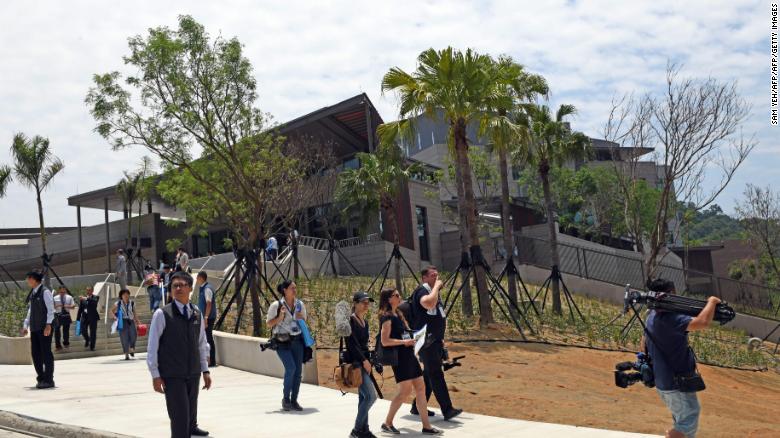 Actually, this is the proper and correct response to the action China has been taking to secure a de facto presence in the south China Sea.
It starts to put a clear price on unilateral action in the international arena.
It also challenges China's confrontation with Taiwan which is nonsense and would disappear the same day the communist party was disbanded. It is a diplomatic leftover.
Historically Taiwan was seized in the seventeenth century by a Chinese warlord from the Dutch who truly have the first rights for what those are worth after an indigenous population which then was scant. Thus an independent Taiwan is no far stretch and can be compared to England and France who have less legitimacy for separation.
China needs to learn that the more they push the more that the border states will act to strengthen ties with each other and the USA. There are smarter options.
.
.
Washington opens de facto embassy in Taiwan, angering China
Updated 1313 GMT (2113 HKT) June 12, 2018
https://edition.cnn.com/2018/06/12/asia/us-taiwan-de-facto-embassy-china-intl/index.html
Journalists tour the new office complex of the American Institute in Taiwan (AIT) during an opening ceremony in Taipei on June 12, 2018.
Beijing (CNN)China has lodged a protest with the US following the official opening of Washington's new de facto embassy in Taiwan, a self-ruled island off China's southeastern coast that Beijing considers a renegade province.
"The United States sending officials to Taiwan under any excuses is in serious violation of the 'one China' principle," Geng Shuang, a Chinese foreign ministry spokesman, said Tuesday. "It interferes with China's internal affairs and negatively impacts China-US relations."
"We urge the US to abide by its pledge to China and correct its mistake to avoid harming China-US relations and peace in the Taiwan Strait."
The American Institute in Taiwan, as the de facto US embassy in Taipei is called, was officially declared open Tuesday morning, in a ceremony attended by senior US diplomats and Taiwan President Tsai Ing-wen.
In an opening address, Assistant US Secretary of State for Educational and Cultural Affairs Marie Royce described the sprawling five-story complex, which cost $255 million to build, as much more than mere bricks and mortar.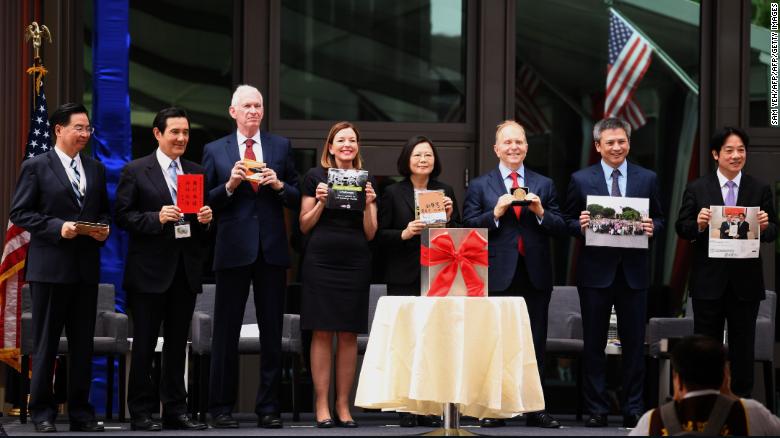 (L-R) Taiwanese Foreign Minister Joseph Wu, former Taiwanese President Ma Ying-jeou, chairman of the American Insitute in Taiwan (AIT) James Moriarty, US assistant Secretary of State for Education and Culture Affairs Marie Royce, Taiwanese President Tsai Ing-wen, Overseas Buildings Office Principal Deputy Director Ambassador William Moser and AIT Director Kin Moy pose for a picture during AIT the opening ceremony, Tuesday.
"AIT's new home is both a tangible symbol that reflects the strength of our ties, and a state-of-the-art facility that will make possible even greater cooperation for years to come," she said.
Like most governments of the world, Washington officially sticks to a "one China" policy, acknowledging Taiwan being part of China and maintaining formal diplomatic relations only with Beijing.
The island remains an important American ally in the region, however. Under President Donald Trump, close unofficial ties between the US and Taiwan have grown stronger.
Speaking at the ceremony Tuesday, Taiwan President Tsai underscored those ties.
"As free and open democracies, we have an obligation to work with one another to defend our values and protect our joint interests," she said. "As long as we stand together, nothing can come between us."
Despite condemnations from China, the US continues to sell advanced weapons to the island under the Taiwan Relations Act for its self-defense against a much bigger Chinese military.
In the past few months, the Trump administration also angered Beijing by authorizing US manufacturers to sell submarine technology to Taiwan, as well as enacting the Taiwan Travel Act to encourage official visits between the US and the island.
Complicated history
China and Taiwan -- officially the People's Republic of China and the Republic of China, respectively -- split in 1949 following the Communist victory on the mainland after a civil war.
The two sides have been governed separately since, though a shared cultural and linguistic heritage largely endures -- with Mandarin spoken as the official language in both places.
Although both Beijing and Taipei view the island as part of China, neither government recognizes the legitimacy of the opposing side.
There is a strong pro-independence sentiment within Taiwan's current ruling party led by Tsai, prompting Beijing to harden its stance and stress its long-standing promise to retake the island by force if necessary.
Chinese President Xi Jinping, the country's most powerful leader in decades who recently vowed to safeguard "every inch of our great motherland's territory," ordered ramped-up military exercises around the island in recent months.
These included live-fire drills, sailing China's only aircraft carrier through the Taiwan Strait, and dispatching its fighters and bombers for "encirclement patrols."
With its rapidly rising economic and political might, China has also seen greater success in poaching Taiwan's fewer than 20 remaining diplomatic allies -- mostly small and poor countries in the Pacific and the Caribbean.
"China's suppression will only make Taiwan's partnerships in the international community even closer," Tsai said last month. "We will never give in."