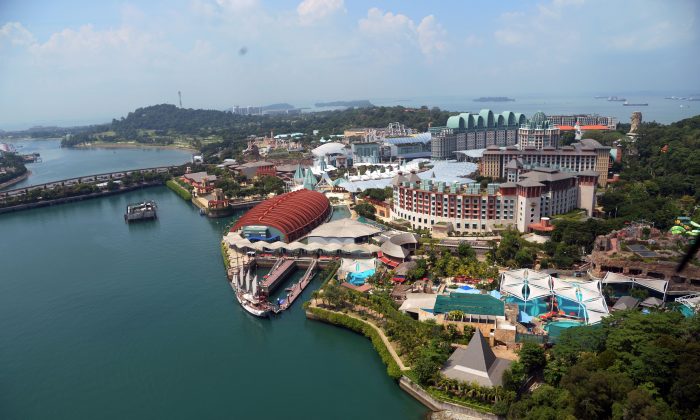 This is happening today.
I expect it to be thoroughly scripted but maybe not. The removal of three generals gives me confidence that the underlying regime will stay in line and prevent outbursts of more typical Korean behavior which is long on gratuitous bullying. In fact Trump's response to the one round of that we had likely drove that lesson home.
I do think that the deal is done and that the North Koreans are all profoundly relieved. They have spent 65 years trapped in an Orwellian nightmare that no one could really end even when all knew it was not working.
Let us all pray that this is as scripted as it should well be...
Trump-Kim Meeting Set for Private Island in Singapore
By Ivan Pentchoukov and Petr Svab
June 6, 2018 7:01 pm Last Updated: June 7, 2018 11:00 am
Sentosa island in Singapore on June 6, 2018. (Roslan Rahman/AFP/Getty Images)
https://www.theepochtimes.com/trump-kim-meeting-set-for-private-island-in-singapore_2552251.html
The June 12 meeting between President Donald Trump and North Korean leader Kim Jong Un will take place on a private island in Singapore, according to White House Press Secretary Sarah Sanders.
Sanders said the two leaders will meet at the Capella hotel on Singapore's Sentosa island. She also thanked Singaporeans for their hospitality.
Trump told reporters at the White House on Tuesday that plans for the historic summit are "moving along very well."
"A lot of relationships being built, a lot of negotiations going on before the trip," he said. "We'll see what happens. But it's very important—it'll be a very important couple of days."
Sentosa lies by the southern edge of the island nation. Less than three miles across, it's known for its beaches, hotels, casino, and a Universal Studios theme park. It used to be a graveyard and was named Pulau Belakang Mati, which roughly means "Rear Death Island" in Malay. It was developed as a tourist attraction in the 1970s, when it was enlarged through land reclamation.
Siloso beach in Sentosa island in Singapore on June 6, 2018. (Roslan Rahman/AFP/Getty Images)
The island is connected to the city by a single bridge. Even though the local government stated it will be "business as usual" during the summit, local businesses and residents expect disruptions.
"Sentosa has only one entrance and if the entrance is blocked completely, it will definitely be a major inconvenience," said Patricia Siswandjo, a Sentosa resident.The entrance of Sentosa island in Singapore on June 6, 2018. (Roslan Rahman/AFP/Getty Images)
The Capella hotel is a part of real estate development company Pontiac Land Group, which is owned by Singapore's billionaire Kwee family that bought the brand from former Ritz Carlton president Horst Schulze last year.
It has 112 rooms, suites, villas, and manors, including the three-bedroom colonial manor, which goes for 10,000 Singapore dollars ($7,500) a night. The grounds have three pools, tennis courts, and a spa.
The hotel has two colonial-era bungalows that used to accommodate British artillery officers and was also their regimental mess. According to the hotel's website, the officers buried the regimental silver in front of the mess before the Japanese invasion during World War II.
Part of the silver was recovered from Malaysia in later years "but the whereabouts of the rest is still unknown, and possibly still lying under the lawn", the website said.
Already one of the safest cities in the world, Singapore is expected to further ramp up security during the summit.
Both leaders will bring their own security teams, but elite Singaporean police, including the Gurkha Contingent, will be securing the summit venue, roads, and hotels, according to diplomats familiar with VIP security in the island state.
As part of its preparations for the summit, Singapore has designated certain parts of the city as "special event areas" for June 10 to 14. These include the central region, which is home to its foreign ministry, the U.S. embassy, several hotels, and Sentosa.
Singaporean aviation authorities posted a notice to airmen on Wednesday advising that airspace will be restricted on June 11, 12, and 13.
All aircraft arriving into Singapore Changi Airport will be required to reduce speed and face some restrictions on runway use "for reasons of national security," the notice said.
Items such as remotely piloted aircraft and public address systems will be prohibited in these areas throughout this period.
The United States is seeking complete, verifiable, and irreversible denuclearization of North Korea. Trump and Secretary of State Mike Pompeo promised North Korea a bright and prosperous future should communist leader Kim Jong Un commit to abandoning nuclear weapons.
The United States and North Korea are technically still at war, being the signatories along with China of the armistice that ended the 1950-53 Korean War. Trump has indicated he would try to sign a document that formally ends the war.
Reuters contributed to this report.
Watch Next:
An Oasis of Calm in London's Leicester Square
Wearing yellow costumes that glimmered in the sunshine, practitioners performed the slow-moving exercises of the practice in the bustling central London square.