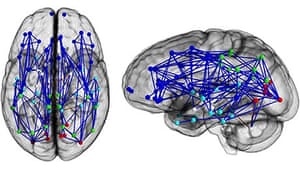 \
That they are clearly and significantly different is important, particularly in this era in which sex related variances are struggling for recognition on what is a non biological basis.
It is my contention that the maturation of intelligence needs to done differently for boys and girls as well. This surely supports just that. Yet we cannot seem to get education right to anyone's satisfaction either.
There is a real science here that will become increasingly important.
.
Male and female brains wired differently, scans reveal
Maps of neural circuitry show women's brains are suited to social skills and memory, men's perception and co-ordination Neural map of a typical man's brain. Photograph: National Academy of Sciences/PA
Monday 2 December 2013 20.40
https://www.theguardian.com/science/2013/dec/02/men-women-brains-wired-differently?CMP=share_btn_tw
Scientists have drawn on nearly 1,000 brain scans to confirm what many had surely concluded long ago: that stark differences exist in the wiring of male and female brains.
Maps of neural circuitry showed that on average women's brains were highly connected across the left and right hemispheres, in contrast to men's brains, where the connections were typically stronger between the front and back regions.
Ragini Verma, a researcher at the University of Pennsylvania, said the greatest surprise was how much the findings supported old stereotypes, with men's brains apparently wired more for perception and co-ordinated actions, and women's for social skills and memory, making them better equipped for multitasking.
"If you look at functional studies, the left of the brain is more for logical thinking, the right of the brain is for more intuitive thinking. So if there's a task that involves doing both of those things, it would seem that women are hardwired to do those better," Verma said. "Women are better at intuitive thinking. Women are better at remembering things. When you talk, women are more emotionally involved – they will listen more."
She added: "I was surprised that it matched a lot of the stereotypes that we think we have in our heads. If I wanted to go to a chef or a hairstylist, they are mainly men."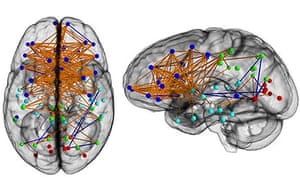 Neural map of a typical woman's brain. Photograph: National Academy of Sciences/PA
The findings come from one of the largest studies to look at how brains are wired in healthy males and females. The maps give scientists a more complete picture of what counts as normal for each sex at various ages. Armed with the maps, they hope to learn more about whether abnormalities in brain connectivity affect brain disorders such as schizophrenia and depression.
Advertisement
Verma's team used a technique called diffusion tensor imaging to map neural connections in the brains of 428 males and 521 females aged eight to 22. The neural connections are much like a road system over which the brain's traffic travels.
The scans showed greater connectivity between the left and right sides of the brain in women, while the connections in men were mostly confined to individual hemispheres. The only region where men had more connections between the left and right sides of the brain was in the cerebellum, which plays a vital role in motor control. "If you want to learn how to ski, it's the cerebellum that has to be strong," Verma said. Details of the study are published in the journal Proceedings of the National Academy of Sciences.
Male and female brains showed few differences in connectivity up to the age of 13, but became more differentiated in 14- to 17-year-olds.
"It's quite striking how complementary the brains of women and men really are," Ruben Gur, a co-author on the study, said in a statement. "Detailed connectome maps of the brain will not only help us better understand the differences between how men and women think, but it will also give us more insight into the roots of neurological disorders, which are often sex-related."