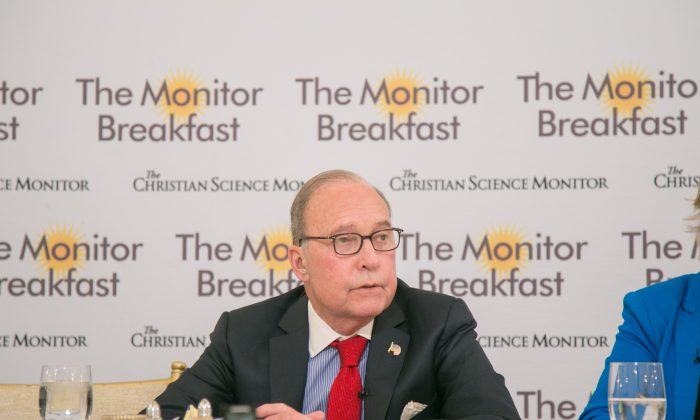 April 3, 2019
Updated: April 4, 2019
WASHINGTON—The Chinese regime for the first time admitted that the United States had "a point" with respect to intellectual property theft, forced technology transfer, and cyber hacking, said Larry Kudlow, the top White House economic adviser.
"The Chinese have acknowledged these problems for the first time. They were in denial," he told reporters April 3 at a breakfast roundtable hosted by the Christian Science Monitor.
"I think that has led to good negotiations," he added. "This is the largest scale, deepest discussion of trade between the two countries in history."
Kudlow also said both sides made headway during negotiations in Beijing last week. High-level trade talks between the United States and China will continue this week in Washington. China's Vice Premier Liu He and his team would stay "for three days or maybe more," Kudlow said, adding that he hoped both sides would get closer to a deal.
He said he saw the chemistry between President Donald Trump and Chinese leader Xi Jinping during their meeting on the sidelines of the G-20 Summit in Buenos Aires last November.
Xi was acknowledging the problems at the meeting and was open to listening, Kudlow said, calling it "great progress."
He also touted Trump's negotiating style, saying "he was right."
Last year, the Trump administration chose to take a tougher stance on China's decades-long protectionist and trade-distorting policies, and instituted a tariff campaign. Some trade experts criticized the president's style, particularly his use of tariffs and threats as a bargaining tool.
"The president, I think, has taught us all a lesson about being a tough negotiator," Kudlow said.
"He is the first president ever to be hard-headed with China and be unafraid to use tariffs to make his point," he noted. "It certainly has brought them to the table."
Recent progress on the U.S.-China trade deal has boosted both U.S and Asian equity markets. Asian stocks rallied to seven-month highs this week. And the Shanghai index, which fell nearly 25 percent in 2018 has gone up
27 percent
since the beginning of 2019, after Trump voiced optimism about the trade talks.
Chinese telecom company Huawei wasn't part of the trade talks, according to Kudlow. The U.S. Department of Justice announced criminal charges against the company over the theft of trade secrets and fraud.
"The Huawei stuff has generally not come up in the trade talks," Kudlow said. "We looked at it as a legal matter so far."
Huawei's Chief Financial Officer Meng Wanzhou was arrested in Vancouver on Dec. 1, 2018, by Canadian authorities at the request of the United States.
Separately, Kudlow spoke about a possible shutdown of the southern U.S. border.
He said the administration is exploring various options to keep the freight lanes open to avoid economic loss, should the border be closed.
When asked whether he agreed with Trump's suggestion that security was more important than trade, Kudlow said both are essential and intertwined.
"I know it came out that way. But he knows they are intertwined," he said.
He also defended Trump in his decision to close the border, saying that it sent a message to Mexico and the U.S. Congress.
"It is an exclamation point, it shows his seriousness."
Kudlow also discussed the administration's plan to revive the Venezuelan economy after the fall of socialist dictator Nicolás Maduro.
He said the administration is working on developing an "extremely effective" rescue package after the replacement of Maduro.
People inside the government are exploring "clever" ways to transfer dollars into Venezuela, using banks, iPhones, applications, he said.
"It will be a rescue plan, restructuring plan, it will be a plan to put cash into the country, into the hands of people who are starving," he said.
"We will be moving as fast as we can."