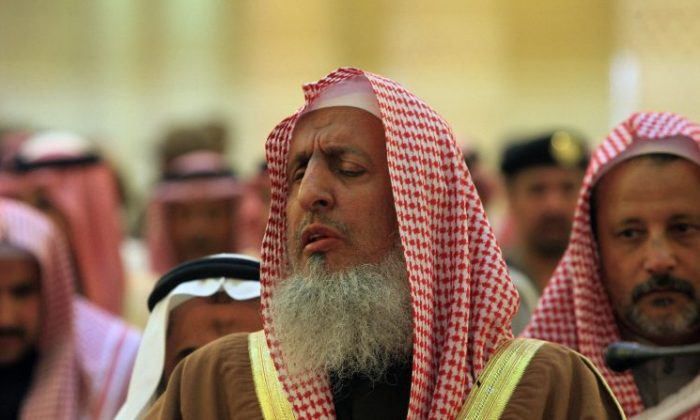 What the hell is going on? We are seeing winds blowing through the trees and no way to really understand what is coming down. The Saudi family is been shaken down and the Grand Mufti suddenly catches religion. We are seeing impossibility behind impossibility.
It is as if we are seeing the results of abject fear at work and certainly all those princes are feeling just that.
Without question the Saudi power position is over. It is also plausible that a cabal of princes bankrolled American Treason. And while we are seeing stories of those princes been hung upside down, we are also seeing of Hilary and McCain with possible ankle bracelets? All at the same time.
In Shift Ignited by Trump, Top Saudi Cleric Says It's Wrong to Fight Israel
Saudi Arabia's top Islamic law cleric, in unprecedented move, calls Hamas a terrorist organization
November 20, 2017 1:46 pm Last Updated: November 22, 2017 9:31 pm
https://www.theepochtimes.com/in-shift-ignited-by-trump-top-saudi-cleric-says-its-wrong-to-fight-israel_2362399.html
Saudi's Grand Mufti Sheikh Abdul Aziz al-Sheikh (C) leads prayer at a funeral on Feb. 6, 2008, in Riyadh, Saudi Arabia. (HASSAN AMMAR/AFP/Getty Images)
In an unprecedented shift, Saudi Arabia's top Islamic law cleric declared that it is wrong to fight Israel and called Hamas a terrorist organization.
The mufti's comments are the latest in a wave of historic changes in Saudi Arabia triggered by President Donald Trump's bold foreign policy offensive focused on the destruction of radical Islamic terrorism.
Grand Mufti of Saudi Arabia Abdul-Aziz al-Sheikh made the comments on television when asked about fighting Israel, reported Turkish newspaper Daily Sabah. The grand mufti is the highest authority on Islamic law in Saudi Arabia and has the power to issue legal opinions, known as fatwas.
Israel was quick to notice the mufti's groundbreaking statement. Israeli Communications Minister Ayoub Kara took to Twitter to praise the mufti and invited him to visit Israel.
"I congratulate the grand mufti and chairman of the Saudi scientists Abdul-Aziz Al ash-Sheikh, who issued a fatwa that preaches against war and killing of Jews, and said that Hamas is a terror organization that hurts the Palestinians," Kara wrote on Twitter in Hebrew.
"I invite the mufti to visit Israel and be received with honors."
Israeli Druze MP from the Likud party, Ayoub Kara, gestures during an interview in Jerusalem on
Feb. 21, 2005. (LIOR MIZRAHI/AFP/Getty Images)
Kara also praised the mufti for declaring Hamas a terrorist organization.
The mufti's comments are the latest in a wave of changes in the Middle East spearheaded by Saudi Arabia. CNN reported on Nov. 20 that the Saudis persuaded most of the 22 member states in the Arab League to declare Hezbollah a terrorist organization.
In October, the mufti praised the creation of the King Salman Complex for the Prophet's Hadith in Saudi Arabia. The Saudi Culture and Information Ministry said the center aims to "eliminate fake and extremist texts and any texts that contradict the teachings of Islam and justify the committing of crimes, murders, and terrorist acts."
These changes are among a multitude of others led by Saudi Arabia and initiated by Trump. The importance of Saudi Arabia to Trump's foreign policy cannot be overstated. Trump scheduled the first state visit to Saudi Arabia earlier this year and brought nearly his entire cabinet on the trip.
Trump's speech during the visit was addressed to leaders of the Arab nations and focused almost entirely on the global crisis of radical Islamic terrorism. Trump gave the leaders present and those listening remotely a clear-cut choice: continue on the current path, or choose to work with the United States to exterminate radical Islamic terrorism and the ideologies that allow it to thrive.
President Donald Trump speaks during the Arab Islamic American Summit at the King Abdulaziz Conference Center in Riyadh on May 21, 2017. (MANDEL NGAN/AFP/Getty Images)


"It is a choice between two futures—and it is a choice America cannot make for you," Trump said, according to the official transcript. "A better future is only possible if your nations drive out the terrorists and extremists. Drive. Them. Out. Drive them out of your places of worship. Drive them out of your communities. Drive them out of your holy land, and drive them out of this earth."

Saudi Arabia's willingness to work with Trump was already apparent during the state visit. After Trump's speech, he attended the opening of the aptly named Global Center for Combating Extremist Ideology.

It appears that the Saudis' cooperation can be attributed to Trump's deal-making prowess. Saudi Arabia's oil-based economy has been showing signs of decline for several years. On Nov. 4, Trump wrote on Twitter that he would welcome Saudi Arabia to list its state oil enterprise, Aramco, on the New York Stock Exchange (NYSE).

The listing would tie the Saudi oil business profits to the dollar, likely ensuring stability for the country's economy for decades. And given all the steps that Saudi Arabia took following Trump's state visit in May, the invitation to the NYSE could be Trump's way of fulfilling his part of the deal.