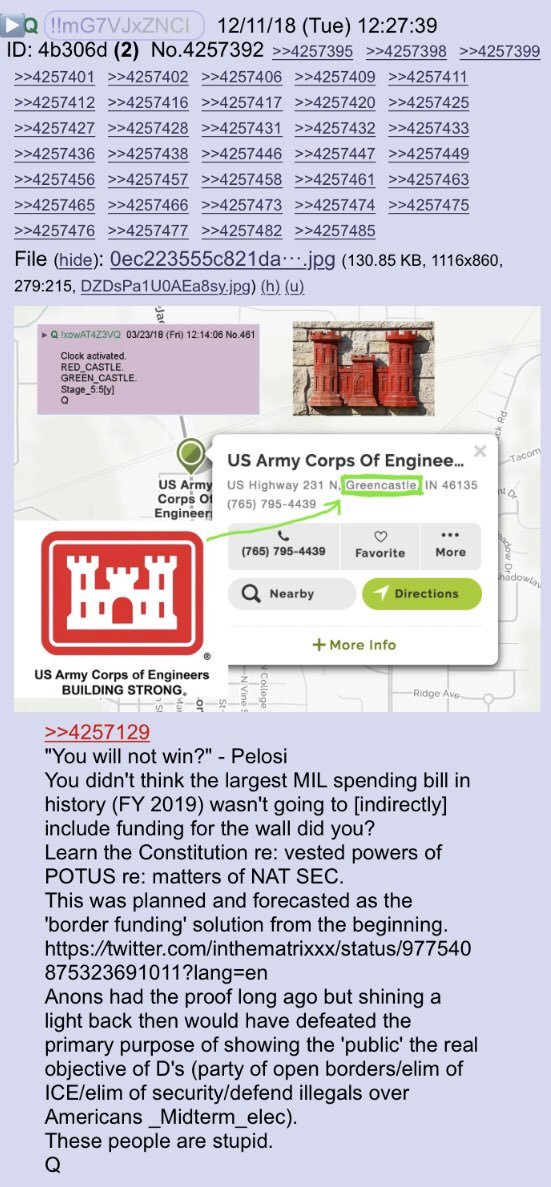 2683
Q

!!mG7VJxZNCI

ID: c3856a

No.5110466

https://twitter.com/ohboywhatashot/status/1094206741166866432
Would you know if not posted by individuals on social media?
FAKE NEWS attempting to 'CONTROL' the narrative by not providing coverage?
Do the protests in EU go against the narrative that majority of people are for globalism, open borders, and mass immigration?
1. Dilution of citizen voice
2. Dilution of citizen vote
3. Dilution of national independence
>Police turned against its own citizens
>Citizens turned against its own police
>People v People
Controlled media > prevent mass awareness
If the news doesn't report the facts (ie, truth) - how do people get informed in order to be heard?
Silence the people.
Localize disruption.
Target leaders of disruption (quietly take action).
Deploy scare tactics & political cross-talk
Control volume.
The media no longer represents the will of the people.
Think for yourself.
Research for yourself.
Trust yourself.
Sheep no more.
Q
2682
Q

!!mG7VJxZNCI

ID: 39082e

No.5109544

https://thehill.com/opinion/white-house/429292-the-case-for-russia-collusion-against-the-democrats
Define 'Projection'.
How do you fix something that is known to be broken (corrupt)?
Do you first need to remove those responsible?
Think FBI/DOJ 'exit' list.
How do you 'restore' the image (public faith) of our most prestigious 'law enforcement' institutions?
Hold people accountable?
Equal justice under the law?
The battle begins (as seen today) w/ public opinion.
The FIGHT to win PUBLIC FAVORABILITY.
The FIGHT to control the NARRATIVE.
How do D's control the NARRATIVE?
1) FAKE NEWS MEDIA push of 'by design' narrative [daily updates – 4am]
2) FAKEWOOD echo of 'by design' narrative
3) SOCIAL MEDIA stream/promote of 'by design' narrative + censor/block/ban of challenger(s) of that narrative
Do they provide evidence to support their conclusions?
POTUS/RUSSIA narrative - evidence?
None.
POTUS racist narrative - evidence?
None.
POTUS …………(you can play this game all day long)
'None'.
What do they count on?
How many experiments have been conducted by the C_A re: mind control?
Psych 101: If you hear & see something over and over again by multiple (supposedly credible) news agencies, elected officials, actors/actresses, documentaries on TV, movies, internet, social media, foreign press etc. all pushing the same narrative/conclusions…….what happens?
Do FACT-LESS claims become FACTS in the minds of many?
Do they count on the fact that w/ work, family, stresses of life, etc. that the typical person does not have enough time in the day to research topics for themselves and therefore would believe narratives projected in the echo chamber w/o the need to provide facts or substance other than opinion?
Why do they try so hard to keep you DIVIDED by race, gender, class, ……?
Notice an increase in this push over the past 2-years?
Are you stronger together/UNITED or DIVIDED?
If you dare to challenge their narrative are you cast out [banned] by society as a threat/conspiracy theorist etc..?
Are you cast out by members of your own family?
'DIVIDED'
'Group-Think'
THEY DO NOT WANT YOU TO THINK FOR YOURSELF.
A FREE-THINKING 'LOGICAL' PERSON WHO DRAWS CONCLUSIONS BASED ON FACTS ARE, PUT SIMPLY, A THREAT TO THEIR CONTROL/POWER GRIP.
ALL THEY CARE ABOUT IS CONTROL [I.E. POWER].
WITH CONTROL COMES PERSONAL GAIN.
They want to keep you poor and in need of government assistance.
Bigger the gov't, the more CONTROL they have, the more POWER they possess.
When you are in need, you are weak.
When you are weak, you are not strong.
When you are not strong, you do not FIGHT BACK.
This is as real as it gets.
They never thought she would lose.
Why? See above re: Control.
Transparency is the only way forward.
Transparency is the only way to PROVE TO THE PUBLIC that everything SOLD TO YOU as TRUTH was nothing but a FAKE NARRATIVE DESIGNED TO KEEP, YOU, THE PEOPLE, POWERLESS, AND KEEP THEM, IN CONTROL [I.E. IN POWER].
FAKE NEWS' [propaganda arm of the Democrat machine] sole responsibility is to prevent the TRUTH from ever being disseminated to the masses.

Mass Infiltration (everywhere).

Transparency is the only way forward re: public opinion.
Prosecution is the only way forward re: save & defend the rule of law.
Prosecution and Transparency is the only way to save our way of life.
Q
2681
Q

!!mG7VJxZNCI

ID: acc52d

No.5101092

[-30][-45][-60][-90]-Blockade removal ['Scaramucci' model]-[RR] removal [Goodbye #2 [#1 _ oversight of Mueller]-[Ohr] removal-[1-4] removal -Barr install-Barr (w/ Whitaker) review [RR] notes re: strong reservations to DECLAS due to sources & methods + Foreign CLAS (irreparable harm) > OIG review prior to executing order

-Barr (w/ Whitaker) pull DECLAS review assignment from OIG [cite: executive order from POTUS does not require special oversight - DOJ/FBI (Wray) fully capable in reviewing and commenting re: OP integrity (sources & methods) etc.]

-Barr executes order to DECLAS + provide members of H committee long requested supplemental documentation in C setting [scope memo + CLAS] as required by US Law.
-Whitaker remain DOJ senior staff
-Barr meeting Huber & OIG
-OIG report
-House D's threaten subpoena of Barr/Whitaker re: DECLAS, SC report, Huber, etc….
-House D's use subpoena power to ……………………Acts 1, 2, and 3. [spill +30]
-Meeting w/ NK > DENUC plan/process > sanctions lift meets subj A, B food for people (aid)
UK/AUS narrative shift re: in_country spy campaign v. POTUS (hops 1 to 2; 2 to 3; 3 to 4; 4 to target)
-D sky is falling push to public (scare to control)(projection)
-Public Awakening
-Narrative damage control
-Placeholders active
-Wall discussion end (public awareness of D's)
-Red/Green Castle per orig plan
Dark to Light.
https://www.youtube.com/watch?v=G2qIXXafxCQ