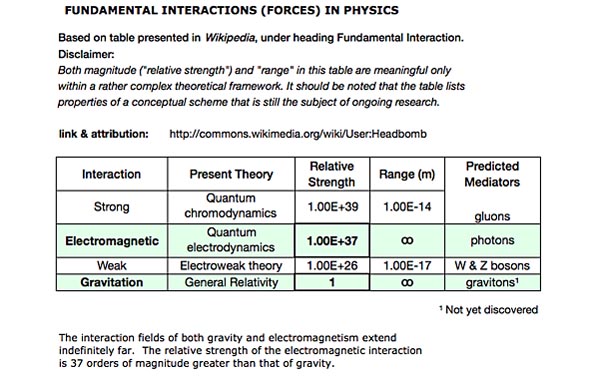 .
From the perspective of my Cloud

C

osmology there is only one 'force' and that is gravity itself.

A

ll the rest is the result of natural geometry. This is not yet proven but

th

e actual steps are now clear and the anal

ysis demanded is not impossible.

In the meantime we must

label

those results. It is best though that we keep what is said here in the bac

k of our minds to avoid over commitment to an idea.
Another conjecture that i want to share. It is now obvious that the method of shifting a comet out of its orbit best begins with even crude electromagnetic fields to produce trust. These could be a basic as a copper cable l

aid around the comet

to produce an arti

ficial field.

Add that into a close pass with a planet sized object and you have a sling shot able to send a

comet

on target to impact any planet.
Thus it becomes practical to bombard Venus with carbon and water.
The immediate take home though is that electrical and

magnetic

e

ffects are distributed throughout the solar envelope and are surely powerful as well..
Essential Guide to the EU – Chapter 2 Magnetic and Electric Fields in Space