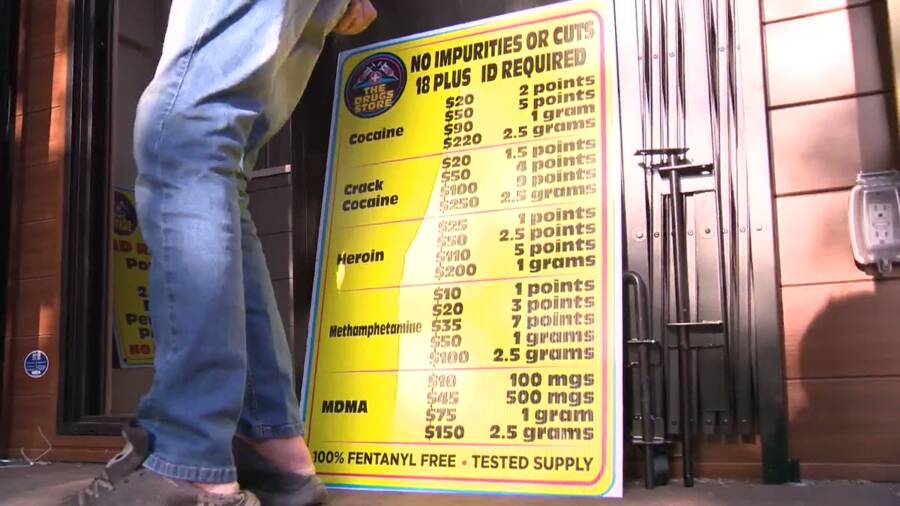 Oh well. this is a step too far for the politically correct who believe that criminalization is an effective control system when it is blindingly obvious that it is nothing of the kind.
I do not like any form of availability myself ,but i do understand that for all abuse to properly disappear, that a different strategy is necessary. I actually have a giness or a glass of fine wine once a month or so just to prove i am not a teetotaler. you get my point here. all such drugs work by impairing the brain. not good.
If we really wanted to end this racket, we would make it available for free and demand medical confirmation of such a addiction, easily obtained and provide mandatory rehabilitation for those who are caught impaired.
rehab should consist of months of tree pruning in the boreal forest, fighting with blackflies, mosquitos or sub zero weather. We need you.
Free drugs then drives industry away as well.
That of course is hard core. A better compromise is what has slowly evolved with alcohol and is now evolving with marijuana and needs to evolve with ayahuasca as well. Vaping can likely tame tobacco and marijuana somewhat although the extreme addictive nature of tobacco truly screams for simple eradication of supply for easy use and permiting only cigars and pipe tobacco. then if you are hooked. you have a legal option.
Understand that criminalization produces forced addeicts by other addicts. It is as simple as sticking a needle into a passed out drunk. No one remebers how.
Police Arrest Canadian Man For Opening Drug Store Selling Cocaine, Heroin, And More
By Kaleena Fraga | Edited By John Kuroski
Published May 5, 2023
https://allthatsinteresting.com/jerry-martin-drugs-store?utm_source=newsletter&utm_medium=email&utm_campaign=atinewsletter
British Columbia has begun decriminalizing up to 2.5 grams of some drugs — but unfortunately for Jerry Martin and the Drugs Store, it's still illegal to sell them.
Vice News/TwitterJerry Martin's store was not open very long, but he's hopeful it will start a necessary conversation about drug use in Vancouver.
A curious business appeared in downtown Vancouver, Canada, last week. Called the "Drugs Store," it offered Canadians a supply of cocaine, heroin, meth, and other drugs. Its owner, Jerry Martin, was promptly arrested, but he hopes that the shop's legacy will last longer than the store.
"Providing a safe, clean supply is going to hopefully stop a lot of the overdoses and a lot of the injuries and stop girls from having to do certain things just to get their drugs," Martin said according to CBC.
As Vice reports, Martin first sought to open the store to combat the frightening rise of drug overdoses in Canada. His drugs are tested and free of contaminants, including fentanyl, making them safer to consume.
Though possession of up to 2.5 grams of opioids, cocaine, methamphetamine, and MDMA has been decriminalized as part of a pilot program for British Columbians age 18 and older, Martin argues that people are still getting an unsafe and contaminated supply.
"People are dying," Martin pointed out to Vice, who reported that 11,000 British Columbians have died of a drug overdose since 2016. "Especially now, they've allowed the entire province to do these drugs… But they've provided no clean, safe supply. They're getting it from the same supply that everybody's overdosing from."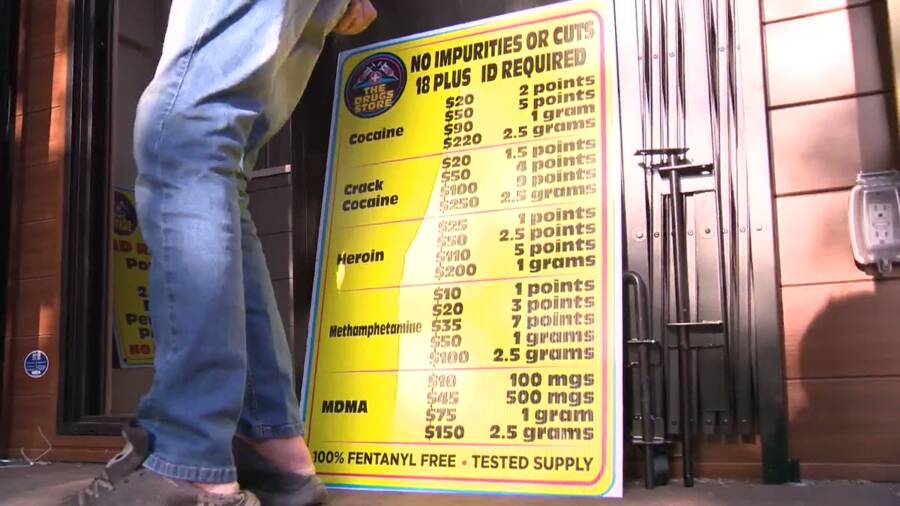 Jordan Armstrong/TwitterA sign posted outside the Drugs Store offered an array of illegal drugs.
For Martin, the battle is personal. West Coast Standard reports that he developed a drug and alcohol addiction after an adult stranger put a needle in his arm at the age of just 14. For Martin, that began a decades-long struggle with addiction and homelessness.
In recent years, Martin has also suffered from personal tragedy related to drugs. His older brother was killed in a drug-related stabbing in 2000, and Martin's stepbrother died of a drug overdose last year.
"That's the main reason I stepped forward — that was a few months ago when I found him under a bridge in Mission," Martin told the West Coast Standard.
Thus, Vice reports that Martin set out to establish his store, which he hoped could provide users with a safe supply of drugs.
"Both the government and the police have called for safe supply, and nobody's going to be filling that role for at least five years," Martin explained to the West Coast Standard, "and so I'm going to come in and do this just like we did with the cannabis dispensaries which all opened up under a grey area for years before weed legalization."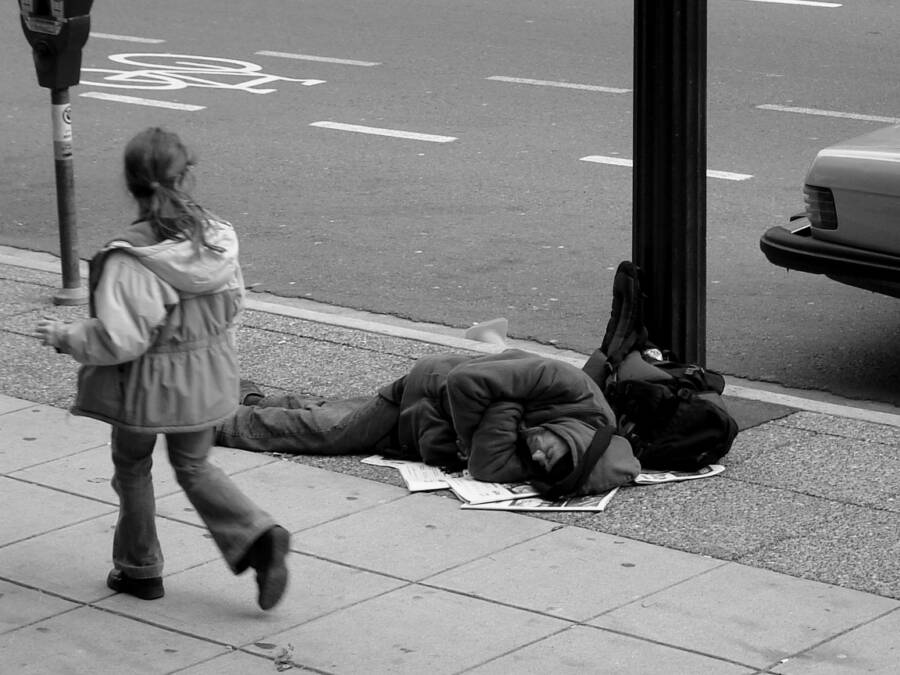 The Blackbird (Jay Black)/Wikimedia CommonsThere are thousands of homeless people in Vancouver.
Vice reports that Martin had difficulty finding a storefront and eventually settled on a mobile business. From the beginning, he was prepared to be arrested. His lawyer prepared an argument in advance, writing to Martin's potential landlords and business partners: "He would allege that laws that prevent a safe supply and result in death by poisoning contravene section 7 of the Charter of Rights and Freedoms and must be struck down."
Indeed, Martin was arrested just one day after he opened his business. The Vancouver police said in a statement that while they support "improving public safety for people who use drugs… drug trafficking will continue to be the subject of enforcement."
Martin has been released from custody pending his court appearance, and the police have seized his vehicles, body armor, and cash. But he's hopeful that his brief foray into selling safe drugs on the streets of Vancouver can make a difference, especially in attitudes toward homelessness in Canada.
"People walk down the street looking at these people with disgust, like they're not human," Martin told the West Cost Standard. "Not deserving to be a part of their society. They're a Canadian just like anybody else, and I think they need more help than anybody."