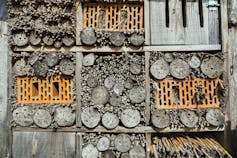 This is all vastly more sophisticated than i either imagined or suspected. Random access seemed to work well enough.
An excellent sensory suite also demands effective cognition as well. turns out this is all associated with the lone operator as well, so a hive mind concept while atttractive is likely unnecessary. It is still there, but likely just for purpose of flock management.
Insect life intel is thus limited by actual need, rather than imagative scope. as we ere once and largely still are.
Bees can learn, remember, think and make decisions – here's a look at how they navigate the world