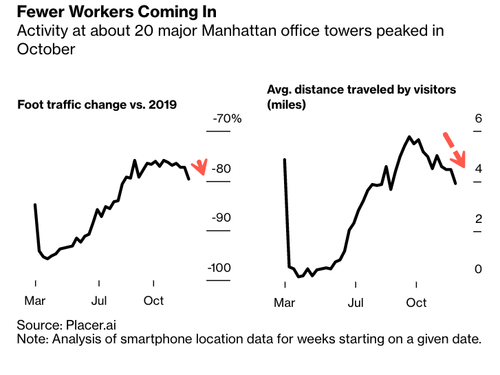 This applies everywhere. The ultimate casulty of the pandemic will be the city centres.
A profound consequence of internet and effective connectivity is that the need to go to the city centre is minimal. cities were founded to share common resources such as power and transportion links and information. All that has slowly gone out of the city.
About a third of the work force will likely stay out of the city. It is simply a better deal for all..
High-Frequency Data Reveals NYC Office Towers Are Empty
BY TYLER DURDEN
FRIDAY, DEC 18, 2020 - 10:43
https://www.zerohedge.com/markets/high-frequency-data-reveals-nyc-office-towers-are-empty
Aside from the fact that Mayor Bill de Blasio is threatening a full-scale shutdown after Christmas, the city's commercial real estate is in dire straits as the latest high-frequency data shows foot traffic inside the financial district is decreasing.
According to Bloomberg, this means that the city's skyscrapers are empty once again as coronavirus cases, hospitalizations, and deaths are surge, keeping workers at home.
Mobile-phone location data from Placer.ai shows foot traffic in the first week of December was 20.4% of what it was back in 2019 and down from 24.2% in late October to the lowest since August.
Placer.ai's data offers a sobering reality that despite vaccine distribution across the country, the once hopeful return of office workers to the financial district was nothing more than a distant dream as a second wave of the pandemic has resulted in companies allowing employees to work from home on a more longer-term basis.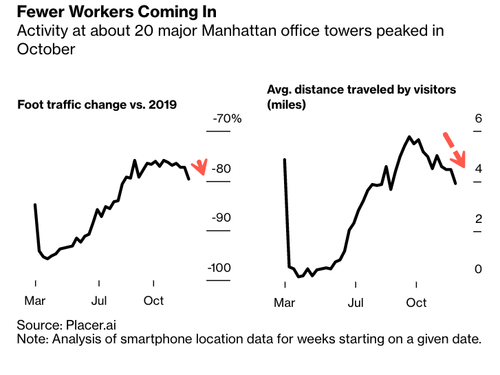 Foot-traffic data around major Wall Street banks and One World Trade Center and the Empire State Building have recently experienced a slump in activity. Offices of technology companies, including Alphabet's Google, and others showed the same as remote working has left Manhattan a ghost town.
Goldman Sachs and Morgan Stanley, which made strides over the summer to bring employees back to their offices, also exhibited similar declining foot traffic activity.
Ibrahim Rakhmad, who sells food around 200 Park Avenue, the MetLife building, warned of an apocalyptic outlook this winter:
"It's bad, so bad," Rakhmad said. "Bad winter is coming. What are we going to do? Everyone's gone."
The lack of workers in the financial district and across other parts of Manhattan is having a direct and indirect impact on the local economy that will prolong the downturn.
Another company with high-frequency data called Brivo, which has security and the employee-access system in more than 2,600 locations in Manhattan, said activity has fallen to the lowest levels since June.
Similar building-access data from Kastle Systems shows occupancy rates in the city have declined from 16.4% to 14% since late October.
The low rate of office workers returning to Manhattan is a significant disappointment for anyone who remotely thought NYC's economic recovery would resemble a "V" by the fourth quarter of 2020. It's likely the city's economy will lag the rest of the country's by a couple of years.
Other high-frequency data from the city shows more of the same.
According to Apple's Mobility Trends Tracker, driving, walking, and transit activity is slumping as the pandemic worsens late-year.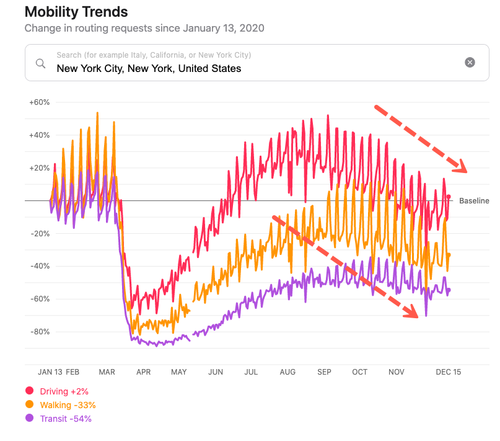 Tom-Tom traffic data citywide shows congestion is also subsiding.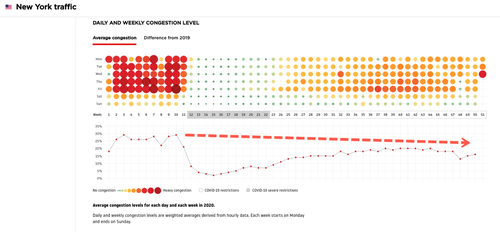 Source: Tom Tom
Maybe the economic recovery is not as promising as what has been pitched by the government and Federal Reserve. Perhaps, a double-dip recession is ahead (read the end of the note).