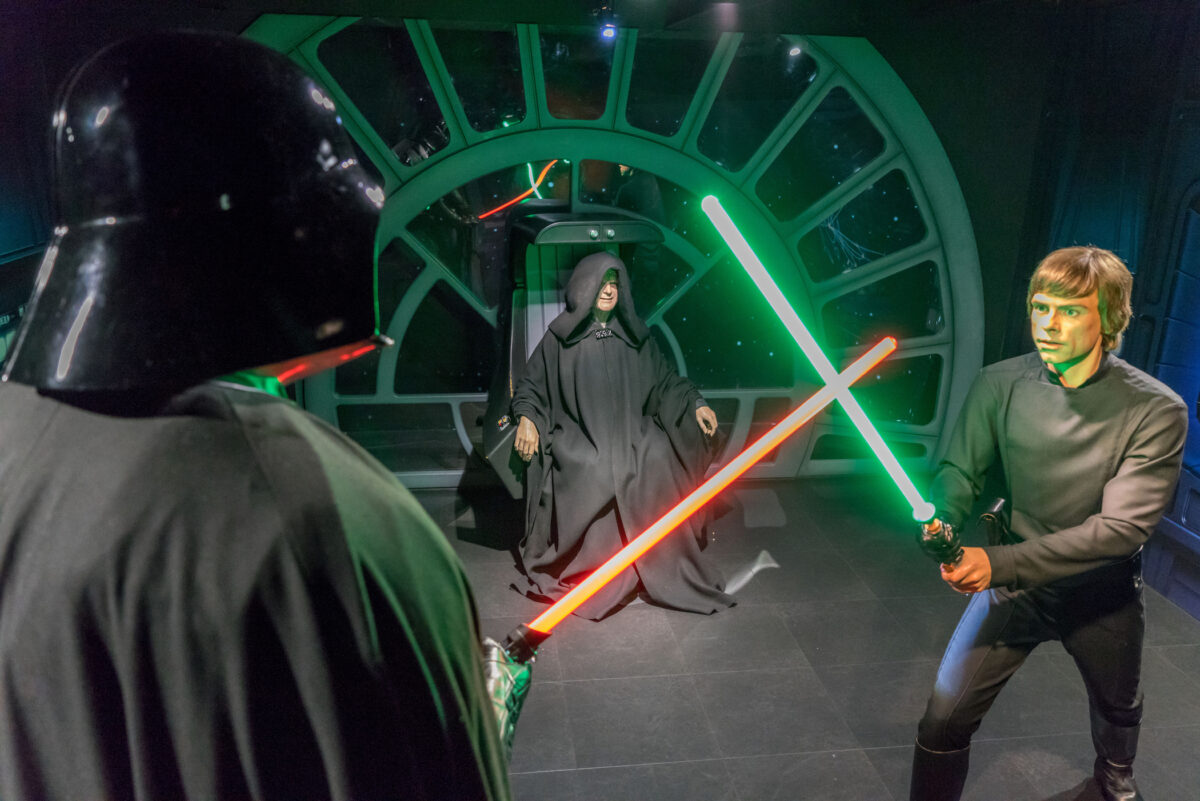 Really. I have zero doubt that the whole exercise was planned by the Chinese military and the CCP as a global operation in alternate warfare methods.
At the same time it was countered by MIL INTEL globally as well and we are in the final stages of WWIII. Part of this was the Q feed which i now believe to be directly informed by the future. this is huge of course.
while this has been going down and yes, it has been going down we have all been asked to wait and endure things we should be reacting to. It is very hard to keep the faith but this also appears to be working.
There Was No Pandemic Mastermind
https://www.theepochtimes.com/there-was-no-pandemic-mastermind_4676182.html?
Madame Tussaud's Waxwork Museum, London, December 2015, Star Wars display, Luke Skywalker fights Darth Vader with glowing lightsabers, while being watched by the Emperor (RichartPhotos/Shutterstock)
"The line separating good and evil passes not through states, nor between classes, nor between political parties either—but right through every human heart." – Alexander Solzhenitsyn
There is a lot of celebratory football-spiking going on in COVID response-skeptic social media circles.
When two groups of people are diametrically opposed to one another on a singular issue, and the beliefs of one of those groups is validated by events, the other group may just wish to slink away and "put everything behind them."
I think this is happening with the COVID-19 pandemic. After years of misleading, politically-driven information campaigns designed to increase vaccine uptake, the CDC has finally admitted something that everyone knew, but most couldn't say, that SARS-CoV-2 infection-acquired immunity protects against severe disease upon reinfection just as well or even better than vaccination.
The problem wasn't just the messaging on protective immunity. From pushing damaging and unsustainable lockdowns to contriving a false consensus on masks to massively inflating risks of COVID-19 in children and schools, the CDC's record has been utterly dismal.
After the reality-mugging of the last two and a half years, I'm sure many people in the CDC and other government agencies would like to quietly move on, much as the rest of the world already has.
But that can't happen just yet. Some very tough and pointed questions need to be asked about the decisions that led to shutdowns and mandates and who made, influenced, and benefited from those decisions. The pandemic exposed a dysfunctional, politicized and risk-averse health bureaucracy with little incentive to act beyond its own naked self-interests. A bright and continuous spotlight on the systemic failures of government agencies is only the first step to meaningful reform. But it has to happen.
The temptation to place the blame for these failures on a single person or a small, yet powerful group of people will be irresistible. The concept of an evil mastermind or a sinister cabal of deep-state illuminati pulling all the strings to shutdown the world, hurt working class people and keep poor children out of school has been a reflexive way for many people to make sense of the messy world we've lived in since March, 2020.
There are some problems with this way of thinking. The fact that most Western governments acted in a very similar manner—initially trying to reassure the public, then panicking and issuing lockdowns and other damaging policies and blaming the people when they didn't work—raises an important question. How could a single person or group of people orchestrate all that so quickly?
When people are angry about so much needless destruction and waste, they want to put a face to that anger, to identify a target. They need someone to blame, someone to put on trial, condemn and cancel. It's much more difficult to put institutions, systems, or a culture on trial, and much less satisfying.
There were certainly many people who took advantage of pandemic chaos in rather dubious ways. They stockpiled masks or drugs to resell at huge profits, were compromised by ties to pharmaceutical companies, or gained notoriety by feeding the media's insatiable appetite for sensationalized predictions of doom. Those representing special interests lined up to use the crisis to their advantage, and when they were successful, lobbied for more. This misbehavior should certainly not be ignored.
Yet if all the blame for the disastrous pandemic response is successfully put on one person or a group of people, it ensures there will be a scapegoat, and only that. They might be put on trial, demonized, and cancelled, a process which many of us would enjoy watching. But the systems and culture that incentivized them to behave badly will remain in place.
The CDC has already started the process of rebranding itself in light of its admitted failures. Predictably, it involves some cosmetic reorganization yet otherwise increases institutional power and reach. With these superficial changes, the ossified, dysfunctional culture will continue to balloon and lumber on, consuming more and more resources with an ever-decreasing net benefit, waiting to be exposed again by another crisis. Rinse and repeat.
Accepting the CDC's faux contrition and bogus pledge of reform would be a mistake. The organization is in need of a serious overhaul. The conflict of interest that results when government organizations make policy recommendations and fund research to support those recomendations needs to be removed by separating both functions. Positions should not be guaranteed for life, but subject to periodic renewal, and easier to terminate. The power of permanent bureaucrats to micromanage national health policy should be minimized as much as possible.
Most skeptical readers will read the above and say, "Yeah, right. Not gonna happen," and I would tend to agree with that. In fact, I think problem is even more intractable than just institutional reform. After all, as many people in the CDC and other government agencies liked to remind us during the pandemic, they only make recommendations. They didn't force the federal government, states, and cities to implement and enforce mandates. All of those places did so on their own, unfortunately with great energy and enthusiasm. For many aspiring totalitarians, CDC recommendations were merely a convenient foil for increasing their own power and influence.
Perhaps the most important question is, where would leaders get the idea that all of this behavior was, not only acceptable, but commendable?
The answer is—they got the idea from us. The public long ago accepted that government organizations like the CDC have assumed the responsibility for their well-being, during normal times and in times of crisis. If the CDC can't protect us and provide the absolute certainty we demand during times of crisis, then what are they good for? An excellent question.
The pandemic has shown that government agencies cannot, in fact, do those things very well at all. Even if they could protect people and provide them with absolute certainty, they wouldn't be incentivized to do so. Instead, in a crisis government agencies will follow the path of least resistance, in this case providing an illusion of safety, security, and control for politicians and the public. All one had to do was believe the illusion. Because of the absolute terror of the unknown and complete ignorance of the risks of severe disease and death, most people were more than willing to take comfort in CDC recommendations and subsequent government mandates without the slightest hint of skepticism or protest. A pervasive safety-at-all costs culture enabled all of it.
By all means, we need to take a very long and hard look at the leaders and bureaucrats that took the easiest, yet most damaging path of lockdowns and mandates. We need to expose all of their corruption, incompetence, and hypocrisy. It's going to be a huge task that will take a considerable amount of time, and it has to happen.
Yet ultimately, when looking for someone to blame for the disastrous pandemic response, the most important place we need to look is in the mirror.
Views expressed in this article are the opinions of the author and do not necessarily reflect the views of The Epoch Times. Epoch Health welcomes professional discussion and friendly dethrough our form here.bate. To submit an opinion piece, please follow these guidelines and submit