You just read a clear declaration of war regarding the future of the 'Deep State' which has profoundly corrupted everything.
We already know that a massive purge is underway regarding the Pedophilia subculture central to this internal conspiracy to essentially farm American Freedom. This sub culture has given us a creeping internal socialism steadily choking the whole government apparatus.
Trump has been systematically dismantling what he can and has actually done wonders. Yet we are still a long ways from the tipping point. Whole departments will demand proactive leadership and that has been difficult to get.
What is shaping up though is a steady increase in momentum shrouded by ample misdirection from Trump. As i have already posted, you must watch his hands and remember that he understands secrecy in ways few do.
In one year he has confounded both allies and enemies and this is deliberately so.
,
Trump Warns of 'Sickness' Inside America's Institutions
By Jasper Fakkert December 11, 2017 3:30 pm https://www.theepochtimes.com/trump-warns-of-sickness-inside-americas-institutions_2384464.htmlPresident Donald Trump leaves the White House to board Marine One en route to Pensacola, Fla., on Dec. 8, 2017. (Samira Bouaou/The Epoch Times)President Donald Trump said that America's institutions have been made sick from the inside, and warned against powerful forces and "bad and evil" people in Washington who have benefited from the situation for years. "There's a lot of Washington lobbyists, bureaucrats, politicians, who don't want to see things change. They made a fortune," said Trump in a speech in Pensacola, Florida, on Dec. 8.While not giving names, Trumps said that the people in question "like things the way they used to be.
They don't like it so much now." Since coming to office in January, Trump has made an effort to restore the rule of law, protect America's sovereignty, align government with the powers given in the Constitution, and give power back to the citizens. Trump said the lobbyists, bureaucrats, and politicians undermining these rights are part of a group called "the resistance.""They're resisting the will of the American people. That is what they are resisting," Trump said.Trump described it as a "rigged system" that is "sick from the inside."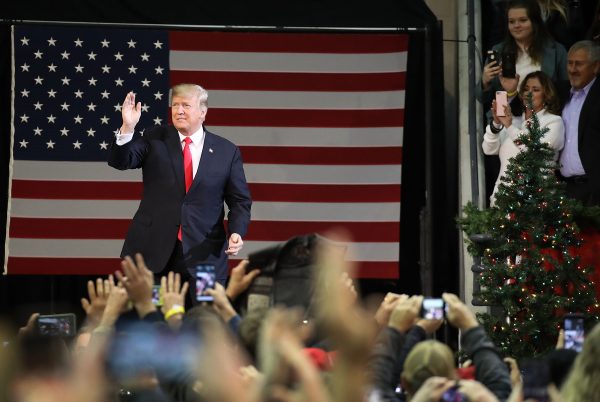 President Donald Trump walks on stage as he holds a rally at the Pensacola Bay Center in Pensacola, Florida, on Dec. 8, 2017. (Joe Raedle/Getty Images) "You know, there is no country like our country. But we have a lot of sickness in some of our institutions. And we're working very hard. We've got a lot of them straightened out," Trump said."The only thing they really care about is protecting what they've been able to do, which is really control the country. And it's not to your benefit."In his speech, Trump also made reference to the "deep seeds inside."The so-called deep state refers to the bureaucracy of permanent and unelected officials in branches across the U.S. government.Diana West, journalist and author of the book "American Betrayal: The Secret Assault on Our Nation's Character," said during a panel discussion on Sept. 15 that deep state officials have been irked by Trump's positions on immigration, radical Islam, national trade and tariffs, and the restoration of American sovereignty, as well as his bid to end wars not fought over American core interests.
"[The deep state] is interventionist. It favors mass immigration and even open borders. It supports free trade," she said, adding that it also appears to support radical and political Islam.
Its policies, she said, "are building blocks of a socialist 'paradise.'" Members of this permanent structure appear to exist not just among Democrats but also Republicans, she said.
"During my own campaign coverage, I was able to find striking similarities between the beliefs of mainstream, anti-Trump Republicans and the programs set forth in a 1932 book called 'Toward Soviet America,'" she said, referring to the book by William Foster, who was chairman of the Communist Party USA. The party was believed to have operated under the auspices of the Soviet Union.

Trump said that those opposing his agenda are the same people who had sacrificed America's sovereignty, wealth, and borders, and were responsible for wars in the Middle East that cost the United States $7 trillion.

"They've had their chance at running this country, and they failed," he said.

Trump went as far as using the word "evil" to describe some of the people in question.

"There are powerful forces in Washington, trying to sabotage our movement. These are bad people. These are very, very bad and evil people," Trump said.

"These are the people who made their money, their names, their careers, their power, off the corrupt and broken system. And they liked it the other way. So they will do anything at any time, and they'll never stop."


Trump said that these people are now being stopped by his administration.


"As long as we have the courage of our convictions and the strength to see them through, then there is no goal beyond our reach. As long as we stay true to our values, loyal to our citizens, and faithful to our God, then we will not fail," he said.


Additional reporting by Joshua Philipp


If you enjoyed reading this article, support our independent journalism by sharing it on social media.