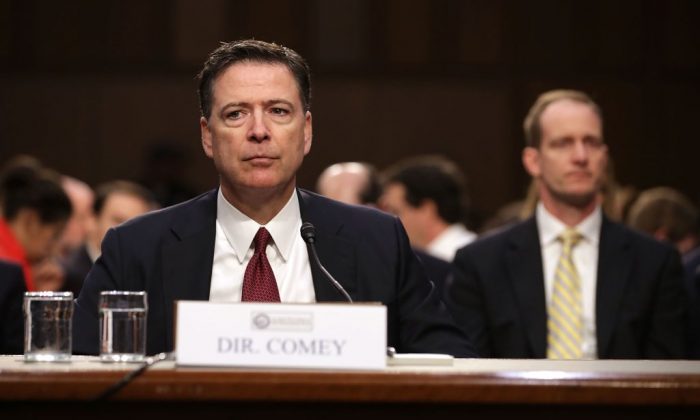 Of course. The inner cadre all had private emails to allow off the record conversations. You were in or you were out and this been illegal was also seriously inconvenient for a serious group of connivers.
Stupidly they went for it. Much easier that coffee shop meets or a long walk in the park or even a friendly Golf Game. They likely included GOOGLE's Eric Schmidt as well.
That explains his brisk retirement last December and it is also apparent that Google has provided all the data on these emails.
Their mistake was letting Hilary in on the scheme who really could be counted on to screw it up and even get caught. Welcome to the dumb criminal rule.
Comey Is Likely Lying on Reasons for Using Private Email, Says Veteran Agent

By Joshua Philipp, The Epoch Times

June 20, 2018 4:41 pm Last Updated: June 20, 2018 6:37 pm

Former FBI Director James Comey testifies before the Senate Intelligence Committee in the Hart Senate Office Building on Capitol Hill in Washington, D.C., on June 8, 2017.

https://www.theepochtimes.com/comey-is-likely-lying-on-reasons-for-using-private-email-says-veteran-agent_2569521.html


Former FBI Director James Comey was forwarding emails from his secure FBI email account to a private Gmail account, which he was using to conduct some of his FBI work.

This was among the numerous cases highlighted in the inspector general report released on June 14, which detailed how top officials in the FBI and Justice Department violated policies to ensure transparency and prevent abuse.

Comey told the inspector general that he used his personal email account, instead of the secure FBI account, since he allegedly didn't have a working FBI internet connection at home and "didn't bother to fix it." Comey also claimed he wasn't aware it violated policy if he forwarded the FBI emails to his private account, and kept records by forwarding emails back afterward.

According to a retired FBI agent who spent 27 years in the agency, however, Comey is very likely lying. All agents, let alone top leaders such as Comey, are provided secure devices for their FBI email, which they are permitted to take home with them, and even field agents are aware that it's a violation to forward emails from an FBI account to a private account.

"You have a bureau-issued smartphone," said Marc Ruskin, a retired FBI agent and columnist at The Epoch Times. He noted that when he was in the agency, the smartphone he was given could text and access his FBI email account, and "for security reasons, they set them up so we could not use our personal emails on the phones."


"Everybody, including me, everybody has a laptop and a smartphone from which you can send and receive official email. You can take it home—you're allowed to take it home. It's not like you need to leave it in the office. There's no legitimate reason you need to bypass that," said Ruskin.

Aside from the issue that Comey's FBI was investigating former Secretary of State Hillary Clinton for criminal conduct in using an unsecured email address while Comey was doing the same, it's now being revealed that this was a common practice among top officials in the Obama administration, including former President Barack Obama, who used a pseudonym.

Ruskin said, "There are very strict policies against putting anything that's sensitive or classified on a nonofficial email. You're required to use official email."

The purpose of this requirement isn't just for security. The purpose is also to prevent fraud and corruption among agents, since communications on the government-issued devices provide an internal record for the agency.

"There's no rational reason that anybody in those positions could give you to use a Gmail account, other than that they were trying to circumvent official channels so nobody could keep track of them," Ruskin said. "They understand perfectly well that if they use their White House or FBI email, that's going to exist forever and be retrievable forever."