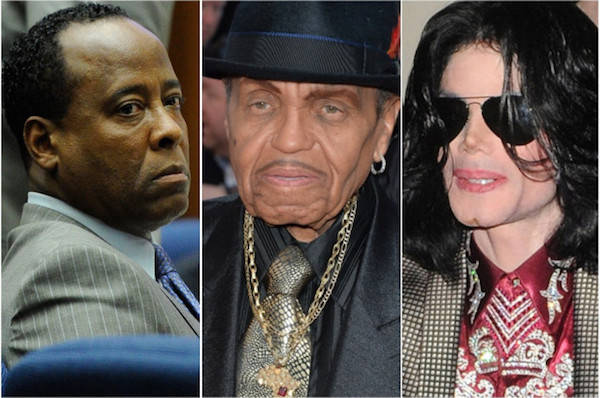 That explains a lot. The days of the castrati may well be long gone, but not apparently for this family. That the program actually succeeded is indisputable.It also destroyed one Michael Jackson.
Yet we presently live in a time in which horrors are been perpetrated on our biology in pursuit of a absurd political agenda of sexual mutability. The science on this is not even fussy. it is abusive as you can imagine. But because it is new, we are having gross experimentation been pursued well ahead of any reaction by our legal system to address it.
The time may well arrive in which we can transition into new forms. What is clear though is that this is not the way to approach it.
.

Michael Jackson Was "Chemically Castrated" By Dad, Says Ex-Doctor
Published July 11, 2018
http://allthatsinteresting.com/michael-jackson-chemically-castrated

Michael Jackson's disgraced physician wasn't saddened by the death of Joe Jackson, calling him one of the worst father's in history.
Joe Jackson, the patriarch and manager of the Jackson family including his late son Michael Jackson, died on June 27, 2018 at a hospice in Las Vegas at the age of 89.
Now the disgraced personal physician of Michael Jackson, Conrad Murray, has spoken out, saying, "Joe Jackson was one of the worst fathers to his children in history."
In an video clip obtained by The Blast, Murray doesn't just condemn Joe Jackson for being a horrible dad, he also claims Joe "chemically castrated" Michael Jackson.
"The fact that he was chemically castrated to maintain his high pitched voice is beyond words," Murray said in the video.
Murray alleged that Michael told him of the many sufferings he endured at the hands of his father, saying, "It was dreadful beyond imagination and words."
Michael Jackson was pronounced dead at a hospital in Los Angeles in 2009 at age 50. "Acute propofol intoxication" combined with sedatives caused Jackson to go into cardiac arrest.
Murray was Michael Jackson's doctor at the time. In February 2010, he was charged with involuntary manslaughter for administering the lethal dose of propofol found in Jackson's system. Propofol is an intravenous anesthetic administered to patients before undergoing certain medical procedures. Murray maintained his innocence but was found guilty in November 2011 and spent two years in prison before being released on parole.
This isn't the first time Murray has made allegations against Joe Jackson. In 2016 he claimed that Joe had given Michael hormone injections to stop his voice from getting deeper. Murray also said that Michael was so scared of his father that he'd vomit when he saw him.
Having faced repeated claims of abuse and mistreatment toward his children, Joe Jackson was a controversial figure ever since he launched the careers of The Jackson 5.
He also engineered the solo career of Janet Jackson, who spoke out about her late father on July 9, saying, "He was very strong, and without his drive, his strength… we wouldn't have this success."
The co-executors of Michael Jackson's estate released a statement that read in part, "We are deeply saddened by [Joe] Jackson's passing," and that "Joe was a strong man who acknowledged his own imperfections and heroically delivered his sons and daughters from the steel mills of Gary, Indiana to worldwide pop superstardom."
Murray made it clear that he was not deeply saddened, saying he "would not shed a single tear for the passing of this cruel and evil man." He also stated, "It is said that only the good die young. I hope Joe Jackson finds redemption in hell."
Joe Jackson was interred at the same southern California cemetery that Michael is buried in.